Basic Knit (or Crochet) Shawl
I finally finished a shawl I have been working on for some time. Larger projects take me awhile to finish since I can only knit or crochet while the baby is napping or already asleep for the night. Makes a big dent in my crafting time. :)
Here's a photo of the finished shawl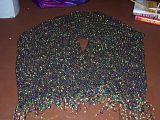 The pattern is very basic, using a worsted weight boucle yarn and a carry-along ladder yarn,
Eros
by Plymouth. Eros is a little pricey probably because it's an Italian import (I paid $10 a ball for it), but Walmart carries a similar ladder yarn that is about half that much. I took a small bit of Eros into Walmart to compare it to the cheaper version. I saw no difference in the strength or quality really -- but the difference is in the colors that are available. The cheaper version is in very basic colors and Eros has a much larger range of colors, including the bright jewel tone variegated that I chose.
Ladder yarn is very pretty, but slips off the ball easily. I learned to prevent tangles by putting the ladder yarn inside a small ziploc bag. I sealed the bag except for a small space for the yarn to pull through. That really helped prevent the two yarns from getting tangled.
The pattern is very easy and basic. My completed shawl is 5 feet long and 1 foot wide.
**If you like my blog and patterns, please vote for me on the Crochet and Hook list. Vote by clicking the blue box towards the top in the left margin of my blog. Thank you so much!! Let me know what you think of my patterns -- just click the email link (also in the left hand margin).**
KNIT SHAWL
Size 13 circular needle
Crochet hook (for making fringe)
3 100 yard balls worsted weight boucle, or other "textured'' yarn of your choice
3 balls of Plymouth Eros, or other ladder type yarn (or Red Heart Tiki would work as well)
Cast on 160 stitches (or longer/shorter depending on the length of shawl you want)
Each row is Knit across, making the shawl garter stitch throughout.
When shawl reaches desired width, bind off.
Fringe: For each fringe, cut 4 lengths of Eros (or whatever carry along yarn you are using) about 10 inches long. Using crochet hook attach fringe at each depression between garter stitch ridges on both short sides.
CROCHET SHAWL:
Size J crochet hook
3 100 yard balls of worsted weight boucle
3 balls of Plymouth Eros, or other ladder-type carry along yarn
Chain 160 (or # required to get desired length)
Row 1 - sc across, chain 2, turn
Row 2 - hdc across in Back Loop Only, ch 2, turn
Row 3 - hdc across in BLO, ch 2, turn (repeat row 3 until shawl is desired width)
End with a row of SC. Finish Off.
Fringe: Cut four 10" lengths of Eros (or whatever carry along yarn you're using) for each fringe. Attach fringe with H crochet hook at the end of each row along both short sides.
I haven't crocheted a version of this shawl yet, so I don't have a picture of the crocheted version. If you make a crochet shawl using this pattern, please share a photo with me, and I'll add it here. :)