Wonderful Mail Day!
It's been raining all day here in western NC. We've been getting so much rain lately, I am tempted to build an Ark.
I had planned to take Little Joshua to the park to feed the ducks today, since it's his birthday. But the weather brought those plans to a halt. It's been raining so much here lately, that parts of town are flooding. My poor husband is working outside in the muck again today. Yesterday he really had a beastly day. Not only did a customer's dog bite him, but he got stung by a wasp while riding his bicycle home. Then, he asked me to go out and get him a burger and fries -- and the restaurant got his order wrong. Sigh. Hopefully, he has a better day today. I really felt sorry for him.
As for Joshua, he's had a great 1st birthday so far, despite not being able to play outside. :) We bought him some large size Lego blocks and he's been having a great time with them. He really doesn't build anything -- just strews them all over the place. :)
Then the postman came! My friend
Karla
and her daughters made Joshua the NICEST birthday cards!! I just love them. Here's a picture: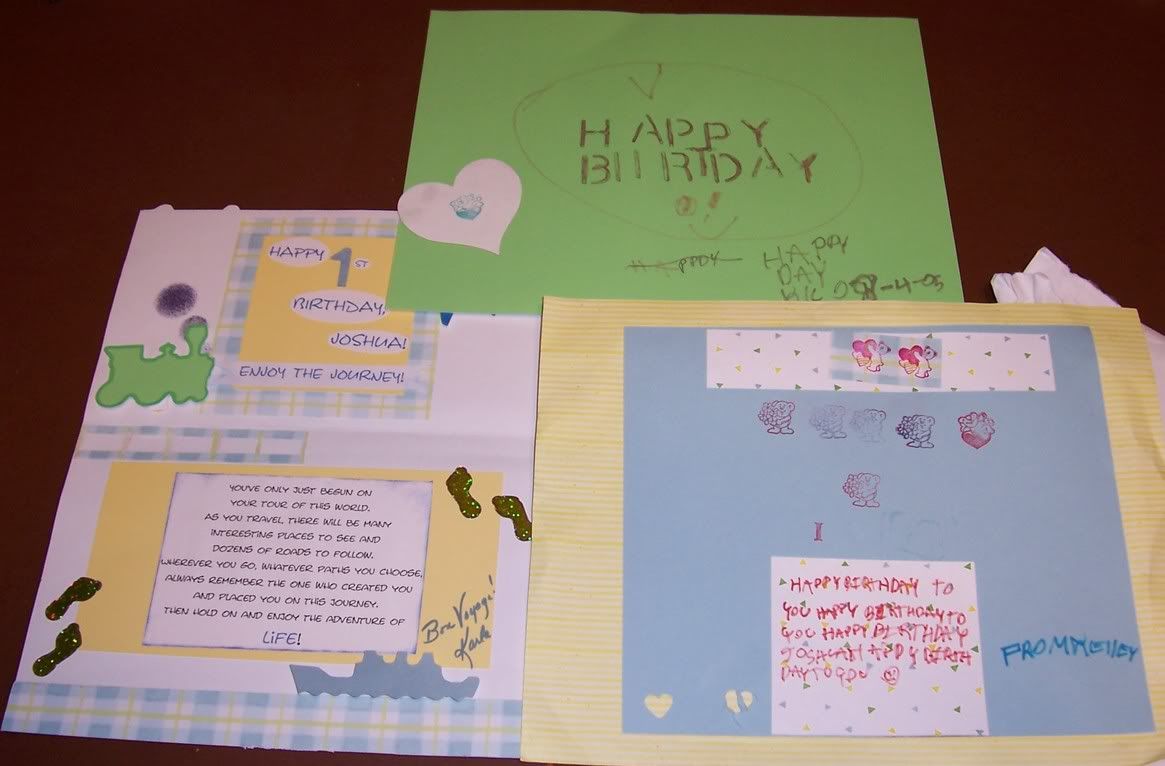 The cards are just beautiful, Karla!! Tell your girls thank you. You all did a wonderful job on the cards you made!! They are definitely going in the keepsake box -- I need to start a scrap book SO bad! My friend Kathie used to own a stamping store....I need to recruit her to help me. :) She's also my personal trainer, so if she doesn't kill me with pushups before I get the scrapbook done, I will post photos. lol.
I was a good girl, Karla and did not read your blog. My husband did though. I had a good laugh earlier this week when I went to read Karla's blog. In a big headline at the top it said "Juli Wyant, do not read this blog.'' lolol. It made my husband curious, so he read it and had a good time reminding me for a couple days that I couldn't peek. She had photos of the card she made for Joshua on her blog, and she wanted to keep it a surprise. Thank you again Karla -- you are so sweet! :)
Then I also got several packages in the mail today.
Thank you to Terri from Crochetville for the great tea exchange. She sent me a huge coffee mug and some flavored green tea. I can't wait to try it! It sure smells good!
And a wonderful Crochetville Elf (MW) from Oregon sent me a Christmas in July package. I got a bookmark, some really neat post-it notes, and two beautiful beaded stitch markers. Thank you!! It's all beautiful and I appreciate it so much!
Here's a picture: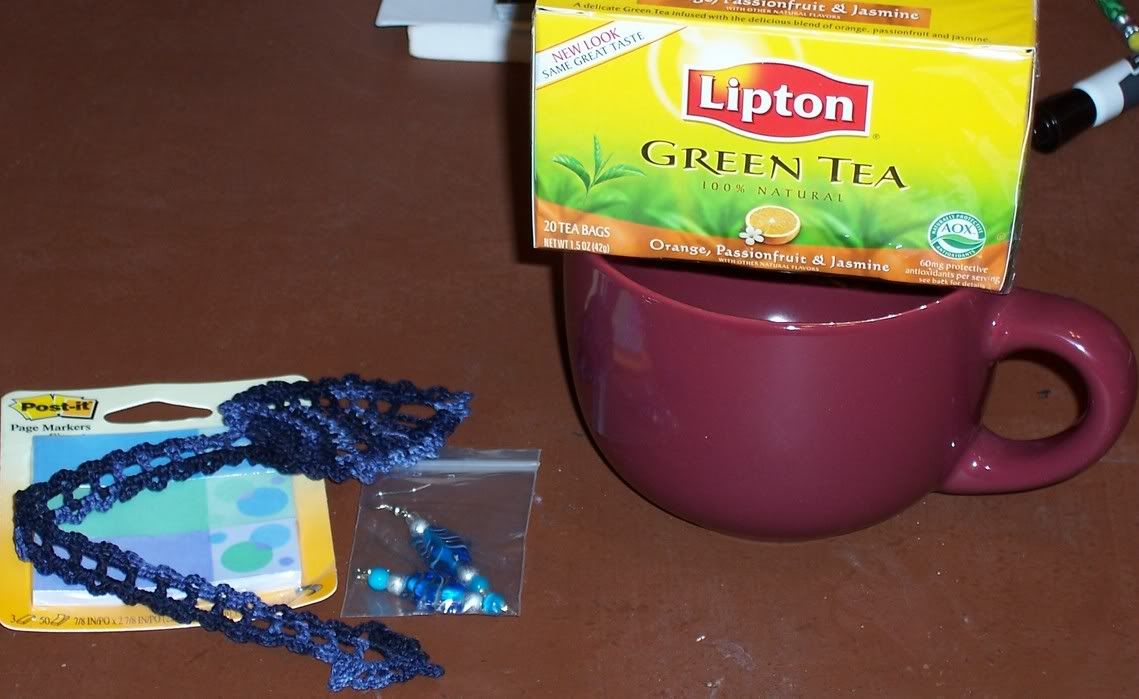 I also got another Christmas in July package from another Crochetville Elf from AL, with some lovely vanilla scented lotion, soap and lip balm and a pretty white washcloth! I love it! Thank you! And an unmarked package came from WI, with a beautiful thread dress potholder/dishcloth. Not sure if it was meant to be an exchange, or if it's a Christmas in July package.
Here's a picture: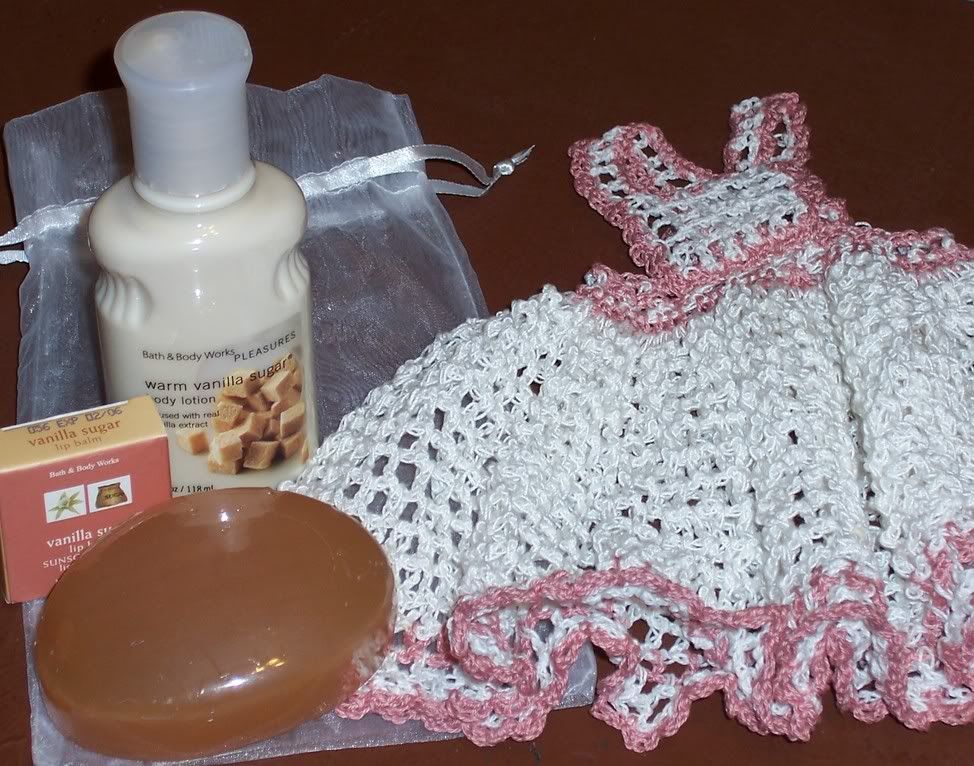 We're having a barbeque for Joshua's and my birthday on Saturday. I turn 37 on Monday. So, Josh will get his chance to smash cake all over his face this weekend. lol. I will be sure to post a picture. :)