Tea's here!!
My
Knitters Tea Swap
package arrived yesterday!! I was so excited! And I LOVED everything that
Jaime
sent me!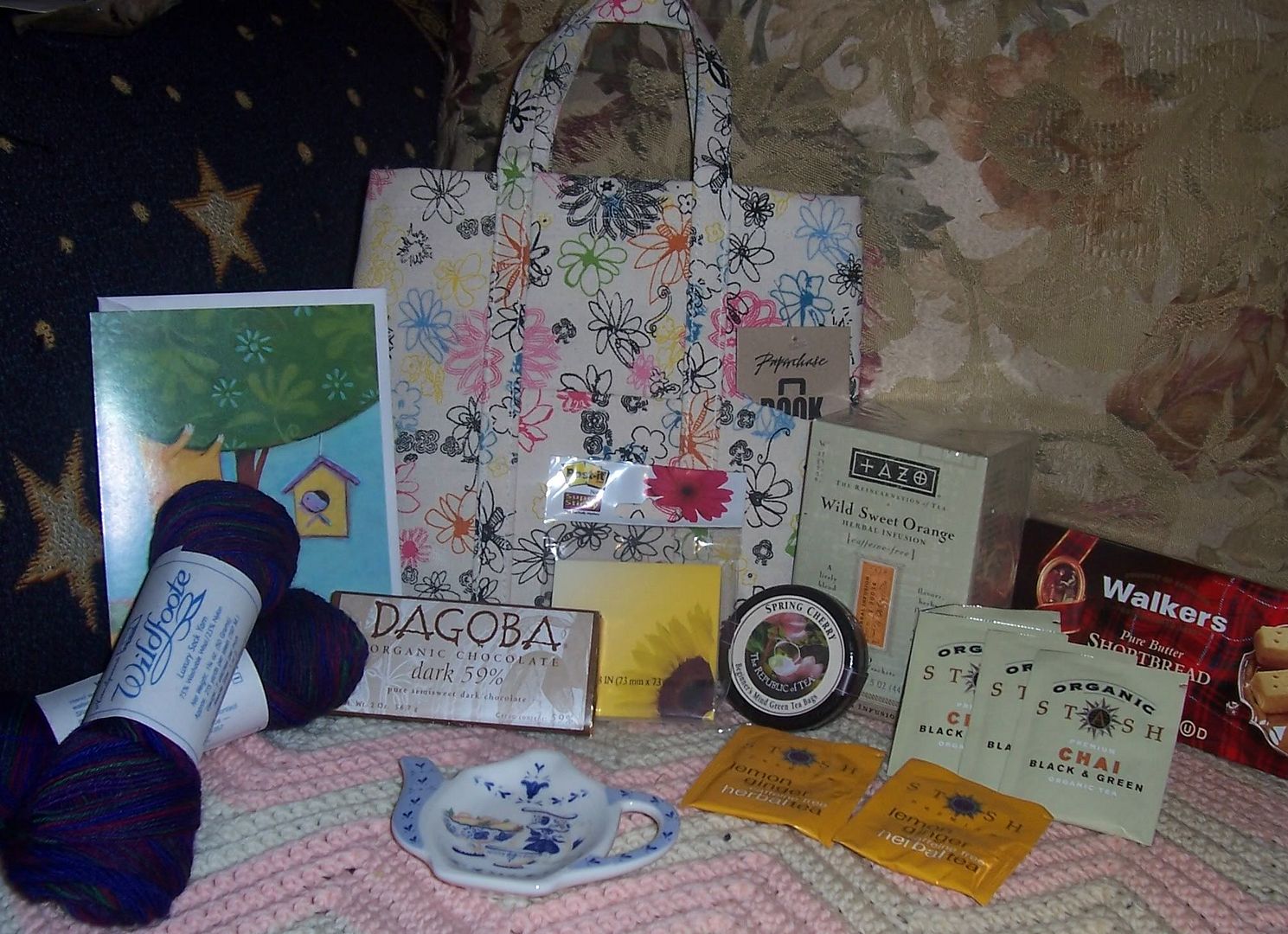 She sent me a cute notecard, a small tote bag (perfect for holding a knitted sock-in-progress!), sunflower sticky notes, a cute teapot spoon rest, butter shortbread cookies, a bar of organic Dagoba dark chocolate, lemon ginger tea, organic chai, Tazo's Wild Sweet Orange decaf, and Spring Cherry green tea. :) Not only that, but she also included 2 skeins of wildfoote sock yarn in Rhapsody! Such a pretty color combination -- I love it!!!
Thank you Jamie!!
And I'm finally getting around to flashing my tea stash....lol. Better late than never. :)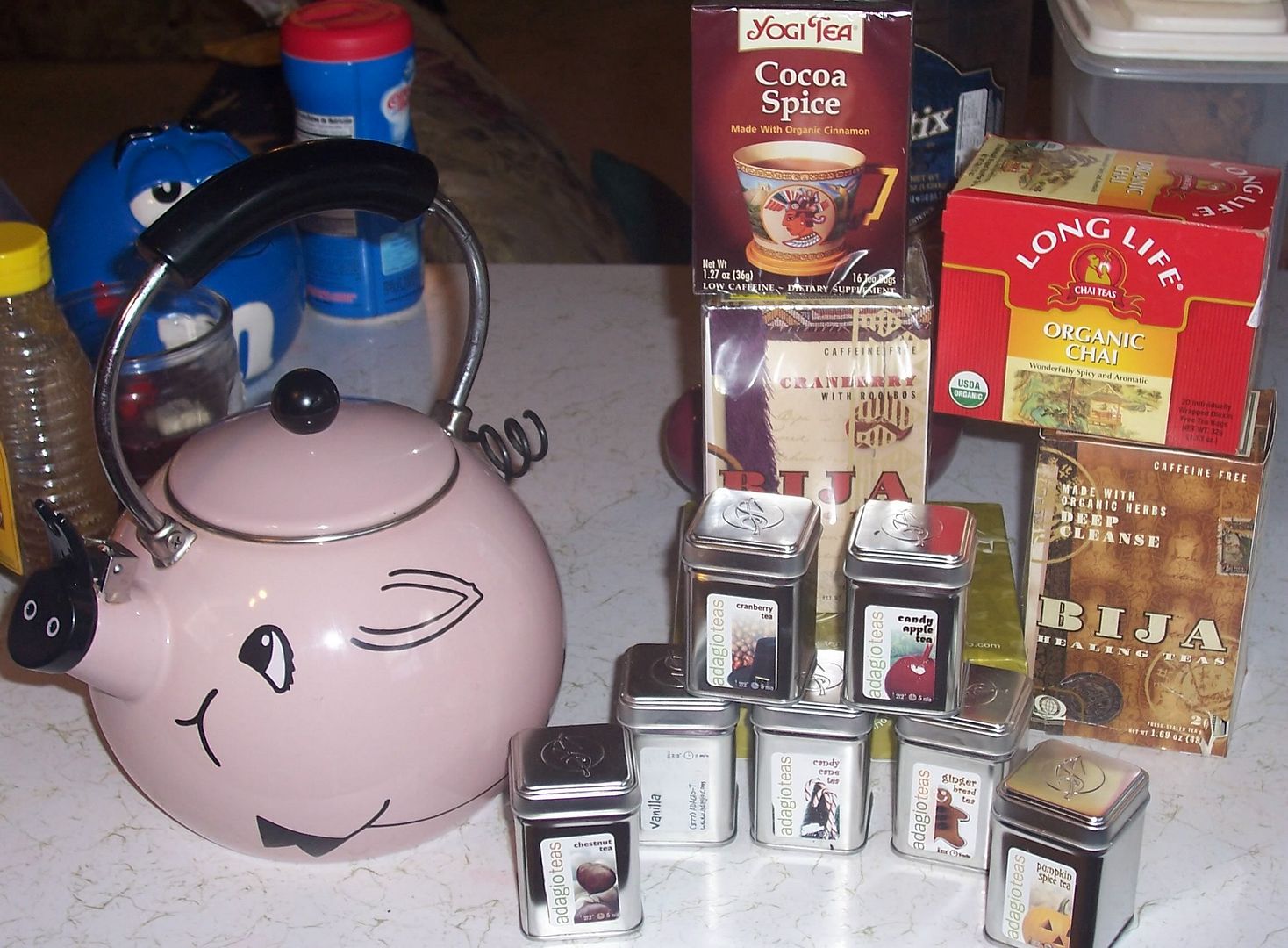 I have a piggie tea pot. :) Bija Cranberry Rooiboos and Deep Cleansing herbal tea, organic Chai by LongLife and Yogi Cocoa Spice, along with several loose teas by Adagio Teas. Plus all the great tea that Jamie just added! :)
I received a bookmark yesterday from
Donna
. It's the 2nd one I've received in the Crochetville bookmark swap.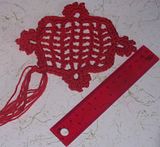 Isn't that pretty?? Donna also sent me a small ruler. That will come in handy for swatching!
My first bookmark was from Heidi. I'm using it already in the book I'm reading. :)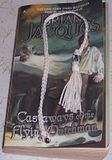 Speaking of books I'm reading -- I've gotten started on the Summer Reading Challenge! I read like I knit/crochet though....I'm reading 3 books at once. lol. I just can't seem to start one project, or one book, at a time. :)
All 3 books I picked up at the thriftshop. Two are old short story horror books: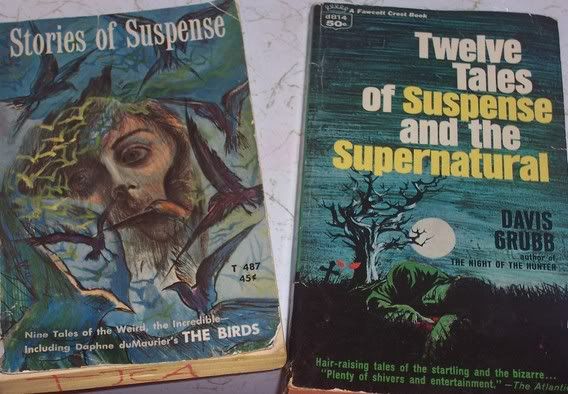 These paperbacks have been around for awhile! You know they're old when the original price was 45 cents. :) The stories in both books are very good psychological horror. One includes the story The Birds by Daphne duMaurier -- Hitchcock's movie was based on this short story.
I also found a book by Brian Jacques that I didn't know he had written. It's called "Castaways of the Flying Dutchman.'' I'm familiar with Jacques' Redwall series. My son had every one of the Redwall books when he was younger. This book is not part of the series, and is about a boy and his dog that are on the Flying Dutchman when the crew is cursed for blasphemy. It's great light reading with some interesting plot twists. :)
The day I found my books at the thriftshop, I also found a really neat black cat plaque. Can anyone translate French for me??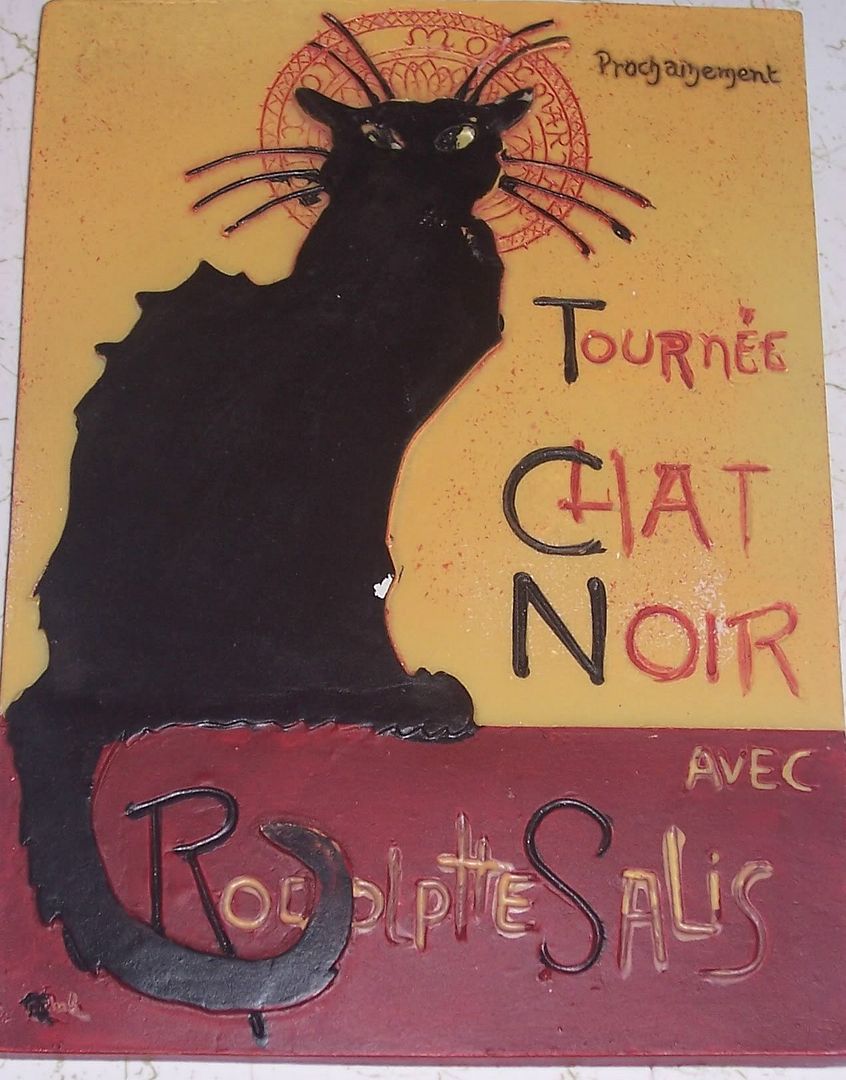 I know chat noir is black cat....but the rest is French to me. :) I tried babel fish, but it said something like "the dirty black cat is coming soon.'' Gee, I really hope that's not what it says. LOL. Cute plaque anyway! If anyone can translate for me, I'd appreciate it!
I also bought something recently to make our neighbors wonder about us even more. Hee hee. I know they already think that we are strange, so why not give them something to talk about over their coffee?? They're favorite pastime is gawking at us. Not a very exciting life to sit out on your porch and spy on the neighbors. I figure I should do them a public service and be weird.
So I nailed a face to the tree in our backyard. We're the only house on the block with an Ent!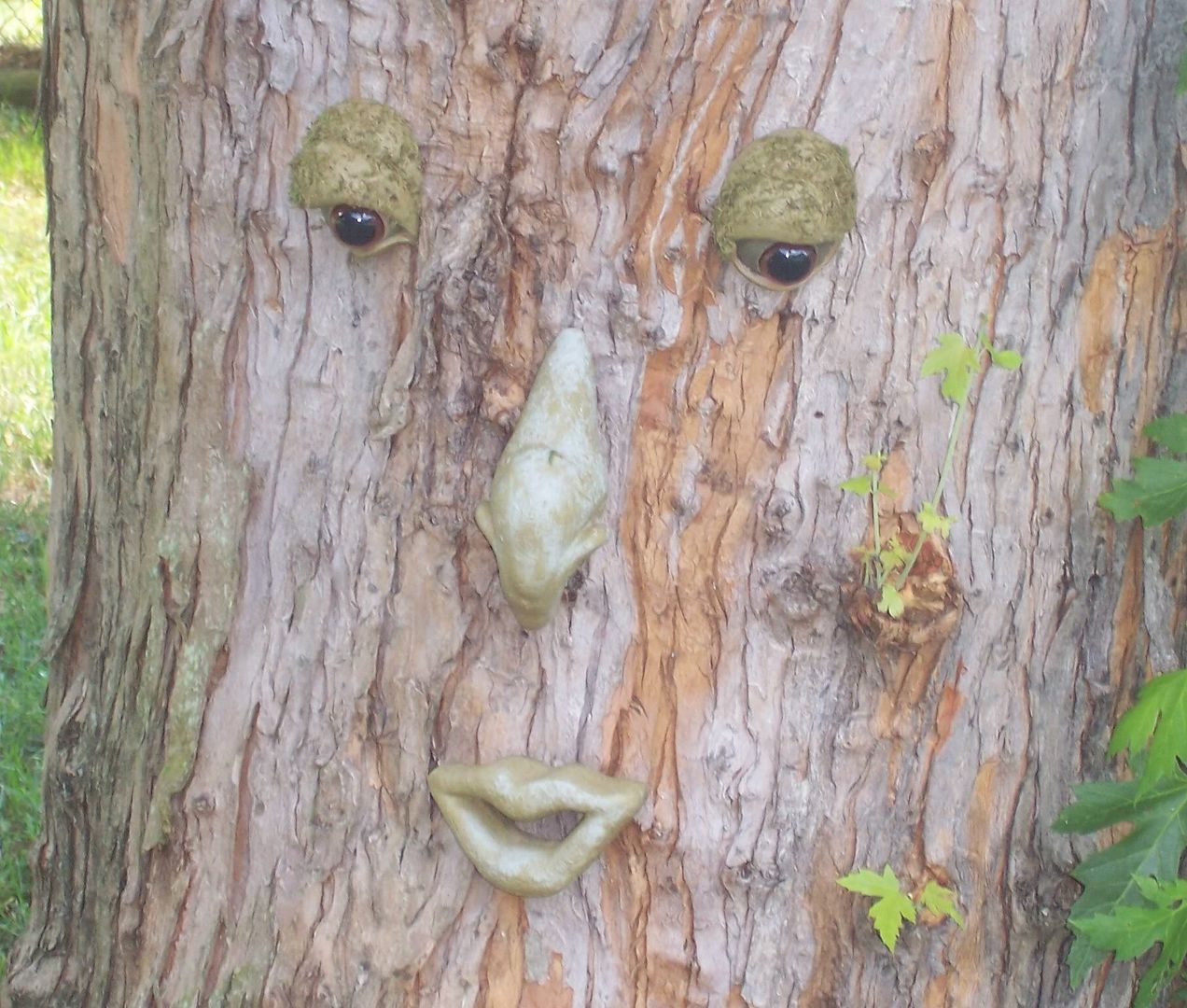 I should start talking to the tree. LOL. Now wouldn't that get the neighborhood buzzing? Or sit out in a lawn chair and crochet my husband a willie warmer.
Evil people like me should not have nosy neighbors. It is just TOO fun!
TTFN!!!