A tale of Two Tawashi
For years, I was a believer in the rule that kitchen items should all be made from cotton yarn, because acrylic doesn't soak up water and some acrylics will melt under heat, etc.
But, when I started to make Tawashi scrubbies, the patterns call for acrylic yarn, stating that it has a better scrubbing effect than cotton.
I'm a "I'll believe it when I see it'' sorta gal.....so I have decided to test to see which way is better.
But I'm expanding the scope of the test. I also want to know how both yarns compare when cleaning other things, not just dishes.
So, I thought about it for a day, and decided that first I wanted to test a difficult to clean area in the kitchen. The stove.
Our stove is the one that was in the house when we bought it. I'm not sure how old it is, but in the next year or so we're going to have to replace it, or at least replace all the drip pans from the burner units. We bought the house 4 years ago, and the drip pans were not pristine with badly damaged finish, as well as the burner coils themselves. I don't like to take the cooktop apart, so the drip pans are usually dusty and have small spills here and there. So, I figured the stove was a good place to test scrubbies.
For the sake of my little experiment, I crocheted a scrubbie in cotton, and one in Red Heart acrylic. And, I tackled the stovetop.
We had beanie weenies for supper that night, and of course the guys spilled some while filling their plates. Plus I added a bit more here and there to make sure the stove was nice and dirty. A little soft scrub right down the middle, and the contest was on.... Pink and white is 100% acrylic and green and yellow is 100% cotton.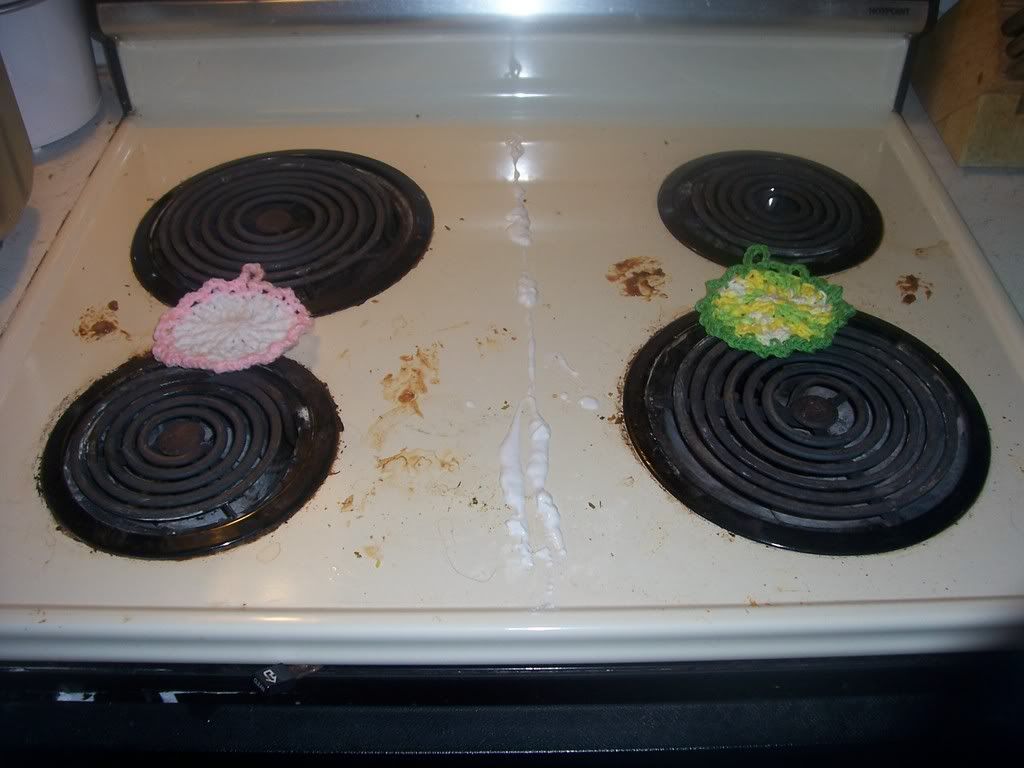 Each scrubbie cleaned 1/2 the cooktop, and 2 burner units, plus half the hood and oven door.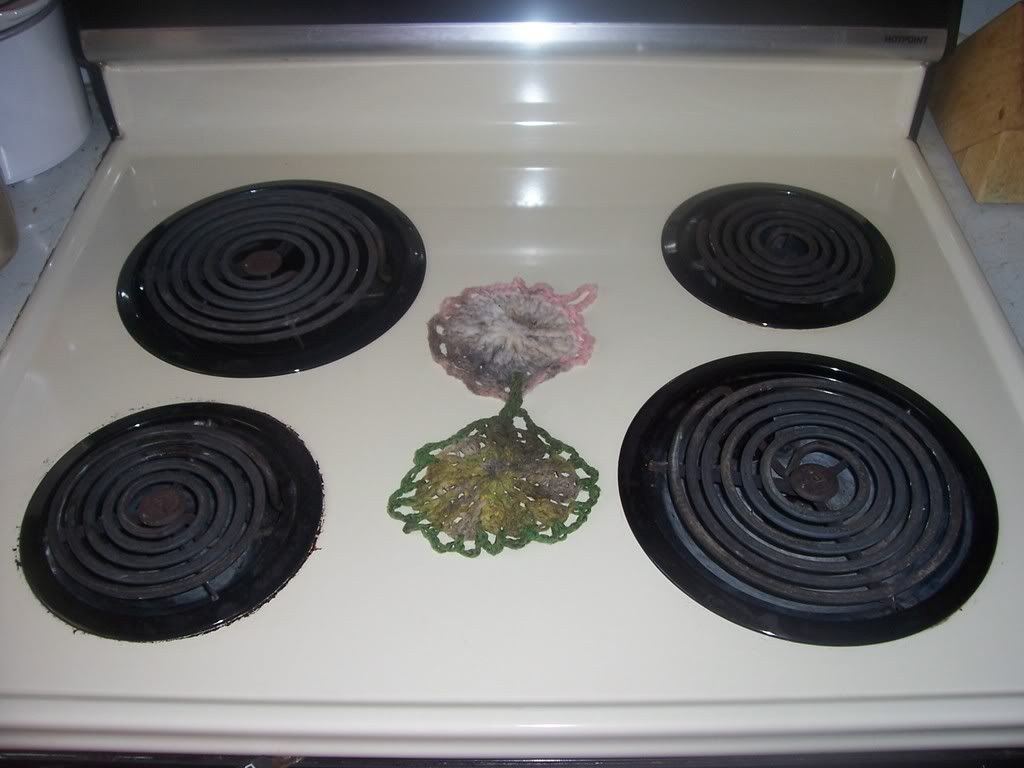 Looking a bit worse for wear, both scrubbies performed excellently! They easily cleaned away the mess, and did a great job scrubbing the drip pans and burner coils. The only thing neither one could remove was some damage to the finish on one side that I have never been able to scrub away. Our stove is probably about 20 years old....on a newer stove that doesn't have a damaged finish, I am sure a little scrubbie like these would do an excellent job keeping everything shiny. But, I do think with the help of some oven cleaner and patience, I could get the last bit to come off as well. I don't want to make the old thing look too good though....I almost have my husband talked into buying me a new stove. ha ha. :)
The only complaint I really have is about the acrylic scrubbie. It did great at scrubbing, but acrylic yarn doesn't absorb anything. When it came to wiping up, the acrylic scrubbie pretty much fell flat. The cotton absorbed what it scrubbed up, and that did make it perform better at scrubbing the cooktop.
While I had them out, I also used both scrubbies to clean and shine my metal kitchen sink. They did a great job!
Both scrubbies were then tossed in the washing machine, and came out with a bit of wear, but still useable for cleaning projects.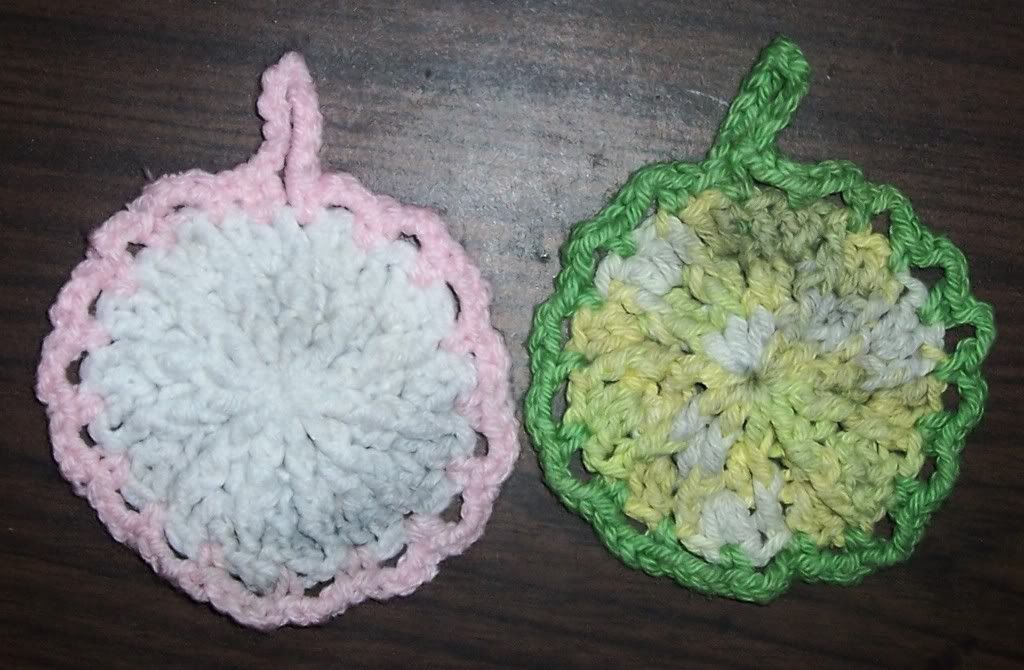 I would say after this first round, the cotton scrubbie is just a smidge ahead of the acrylic.
Round two for these two veteran scrubbies will be: Cleaning a bathroom! One will be used to clean our master bathroom and the other will be used to clean our hall bathroom. Fixtures, tile, etc.
We'll see how they perform on porcelain! Then these two veterans will be relegated to the trash can....
Round 3 will be between two freshly crocheted new contenders -- and I will actually do dishes with them.
Then I will know for sure -- what's best? Acrylic or cotton!