Stash Enhancement!!
Today was a great day for yarn! :)
Hubby was off today and we went shopping. I wasn't planning any stash enhancement, but then some funky summery yarns caught my eye. I just had to try them!
At Hobby Lobby, I bought:
3 skeins of Whirligig in the Sunnyside colorway

3 skeins of Modea Dea Ticker Tape in the Tropical colorway, and 3 skeins of Jewelsong in the Spiced Jewels colorway.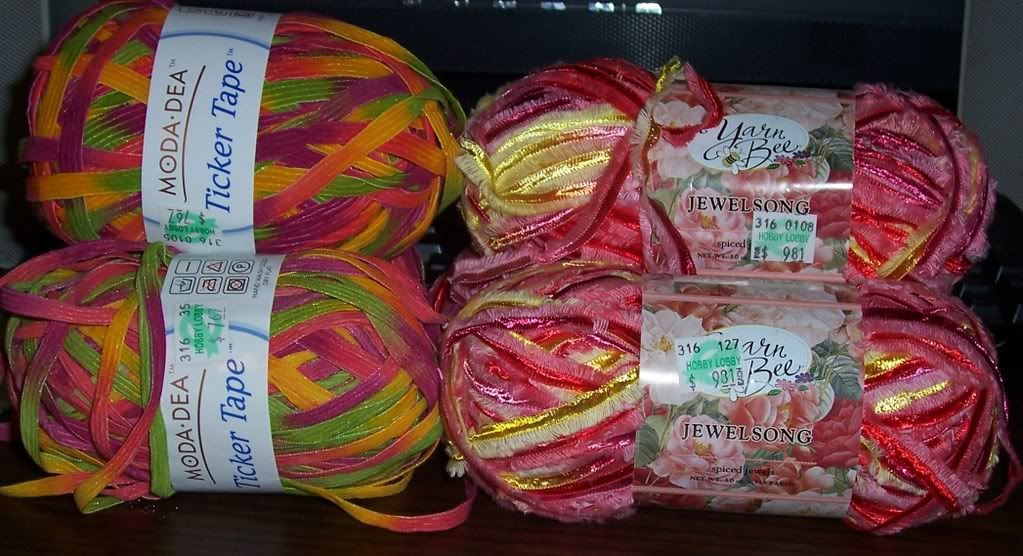 I don't usually do much with novelty yarns, but they do make for interesting summer weight skinny scarves. And it was all on sale. Whirligig is usually 4.88 a skein...I got it half price. Jewelsong's normal price is 9.81 (who is going to pay nearly $10 a skein for acrylic novelty yarn???? I think that's nuts!), but it was on sale for 1.99. The Modea Dea Ticker Tap was priced at $7.67 a ball, but it was on sale for $1.99.
Then we went to Big Lots. And, I found some cute yarn there too!
I bought: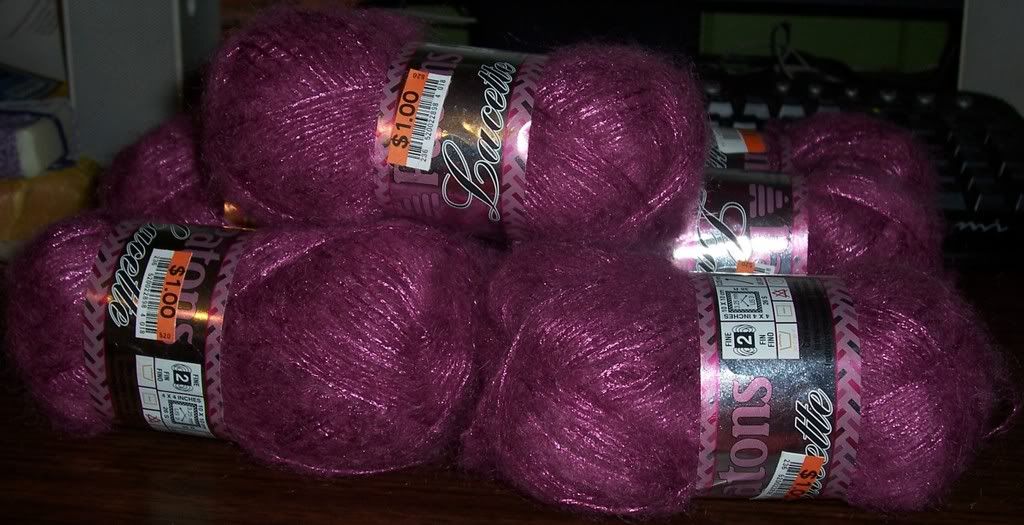 Seven balls of Paton's Lacette in Maroon Mist for $1 a ball.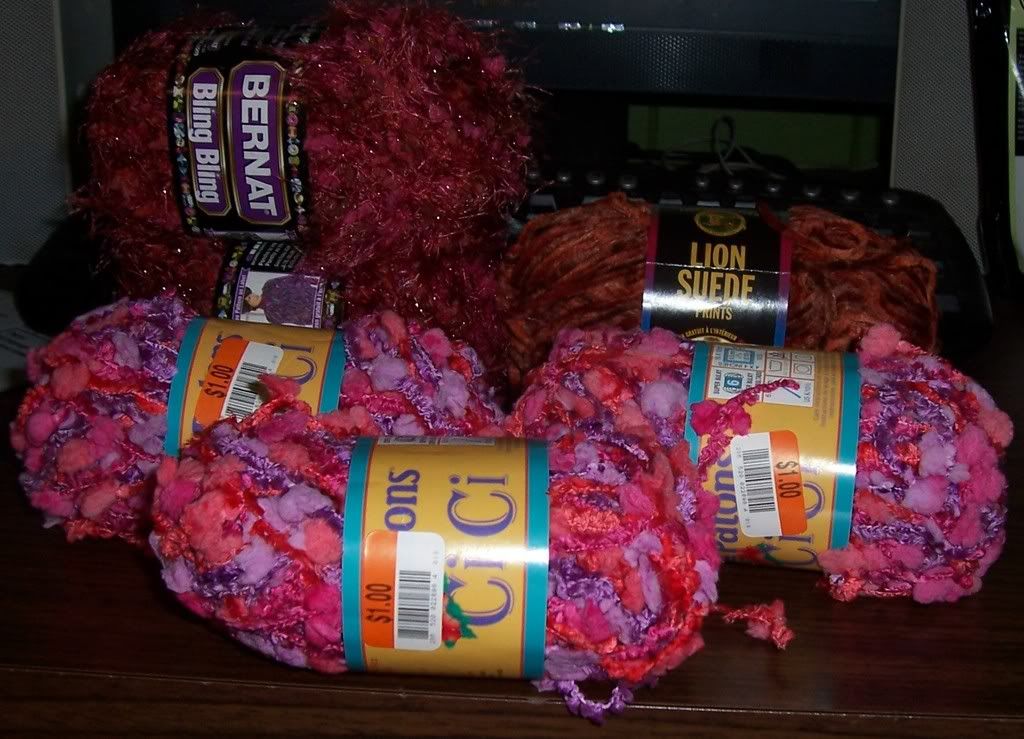 I also got 2 balls of Bernat Bling Bling in Moulin Rouge, and 3 balls of Paton's CiCi in Calypso, both were also $1 a ball. Plus, one ball of Lion Brand Suede Prints in pretty autumn colors for $1.50.
When we came home, there were two packages waiting for me.....that also contained yarn!
My Favorite ColorSwap package came from Frances. She sent me great goodies!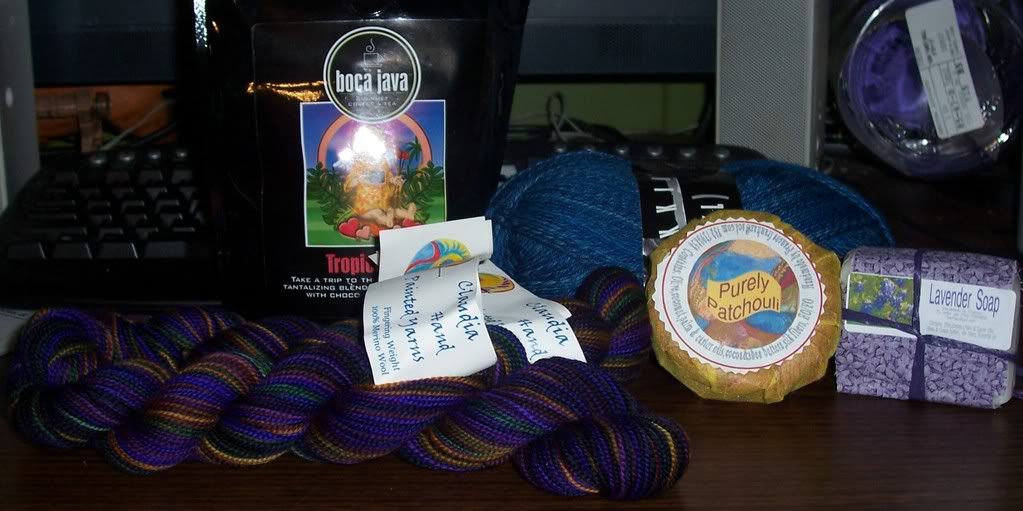 She sent me two hanks of Claudia Hand Painted Yarns fingering weight in the Purple Earth colorway (definitely will be a pair of socks for me SOON!), and a ball of Trekking XXL in a pretty blue. She also sent a big bag of Boca Java Tropical Kiss (chocolate and coconut), and some homemade soap in Patchouli and Lavender scents. Thank you Frances!! :o) What a nice package!!
I also had a package from a fellow member of C'ville. I purchased 7 balls of Trendsetter Charm yarn from her.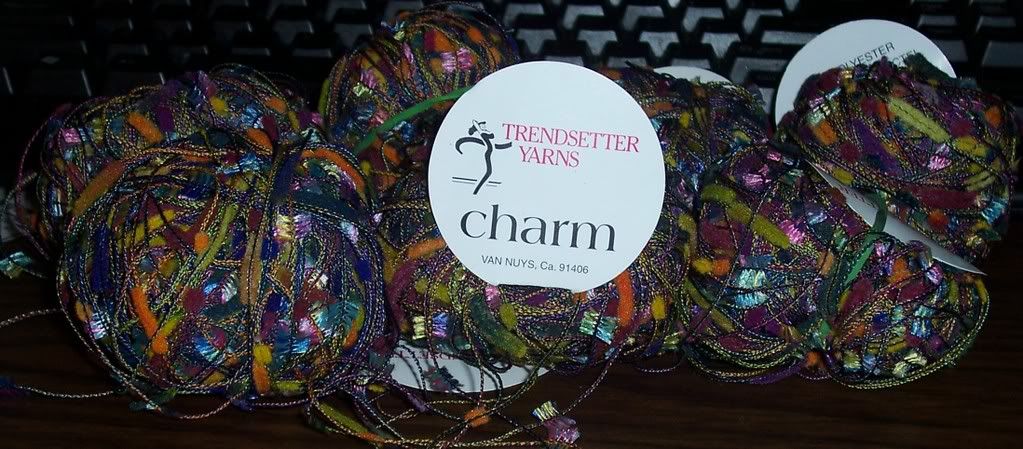 It's a really cute ladder yarn. :) I just love the confetti like colors. It's the Golden Rainbow colorway.
Then we ventured out to the thriftshops. My hubby was looking for some old pans that he could use for candle and soap making. And I was on the lookout for crafty stuff and gardening books.
I found some thread in Christmas colors for 25 cents per small ball and 50 cents for the two larger balls. The smaller balls of red thread are a brand I have never tried before....Lily Skytone.
And I also found two old cross stitch Christmas kits. I just love making these old vintage decorations!!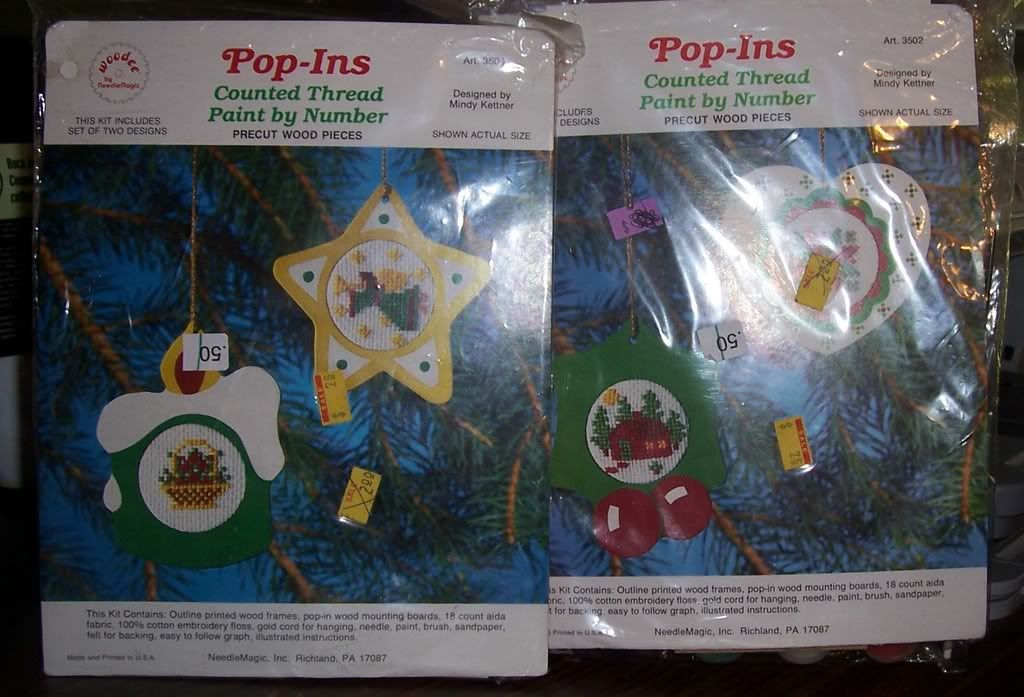 They were 50 cents apiece. I assume the paint is dried up, but I have tons of Apple Barrel and other craft paints around here. The rest of the kits are there.
My goal is to make enough handmade ornaments for our Christmas tree to be entirely filled with only handmade decorations. At least the tree we put up in the livingroom anyway. :) I don't know if I will meet that goal this year.....but I will sure try. :)
And, I also found two books on gardening -- one on planting and growing herbs and the other on container gardening. I want to plant tomatoes, herbs and my flowers in containers this year. Then I don't have to till up a garden space. I can move the plants to follow the sun, and I can grow flowers anywhere in my yard without digging through tree or bush roots, and without digging holes in our landscaping plastic. :) Finally found a book that will help me learn what I'm doing before I buy the supplies. :)
I had a blast today!! I needed a day out of the house. And nothing makes a knitter's day like some new yarn!
TTFN!