Whole lotta stitchin' going on!
I finally finished the cuff socks I was working on ....
I just love Wildfoote sock yarn! :) I wish my camera did a better job of showing the Rhapsody colorway....it's just so cute!
I'm making another pair of cuff socks for a friend's daughter (the same pattern) using Bernat Sox in Hot Tamale. It's a variegated with pink, green, blue, orange and brown. I figured the acrylic sock yarn would wear much better for an 8 year old than wool blend that can't be put in the washer.
I've already cast on another pair of socks for myself with some pastel variegated sock yarn I found in my stash. I decided to try something different, so I pulled out all my sock books and decided on a pattern from "Knit Socks Whatever the Yarn'' The mock smock pattern is turning out to be really fun to knit, and cute!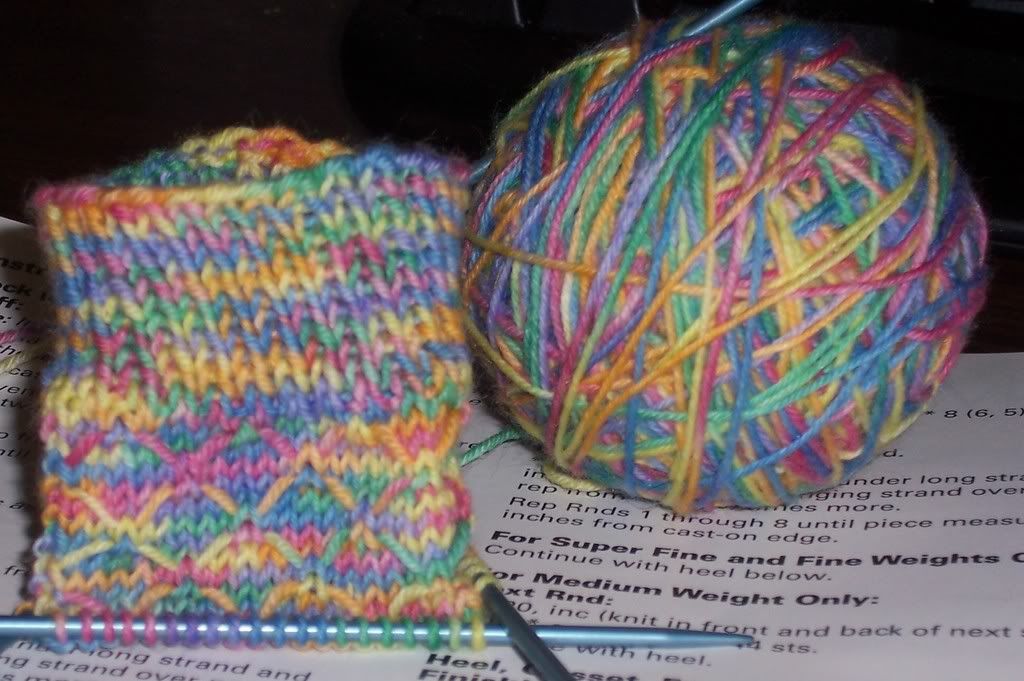 I just LOVE this yarn, and was disappointed to find out the online seller I bought it from is no longer selling yarn. :( I would buy more if I could! It's just so happy looking!
And, I'm also working on a large doily:
The pattern is called Fanfare and it's from an old LA doily book called "Delicate Doilies to Crochet'' I wanted a nice spring colored centerpiece for our table. It's about halfway finished, and won't look like much until it's blocked. 13 more rows to go!
And I'm working on a couple skinny scarves for this summer. :) I got some more Modea Dea jai Alai since I really liked the first scarf I made from it. The new color is Nutmeg....a mix of green brown and purply-pink. It's shimmery and gorgeous!
Hugs! Juli