Christmas in July
My knitting needles have been clickin' like crazy the last couple of days. :) I'm trying out my hand with dpn's for the first time -- making a pair of socks. And I made my first towel topper last night. I still need to sew the button on, but it's basically finished. For Christmas I think I'll make matching sets of towels, dishcloths and hotpads for a couple family members. If I start now, I won't have to rush around like a mad woman in a few months. :)
Here's a picture of the towel topper and the few rows I have done on my socks: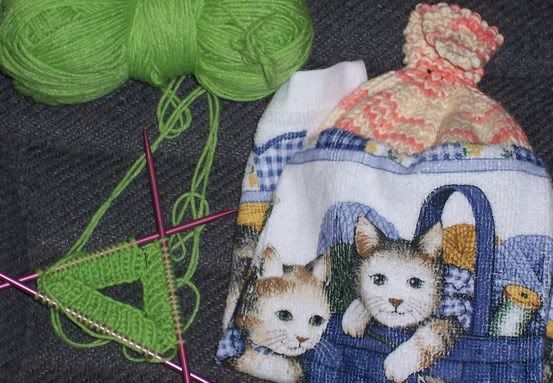 I'm using a free pattern from Bernat.com for
ankle socks
. I've only done a few rows so far. Trying to get the hang of holding onto so many needles. I've wanted to learn to knit sock soooo bad though, so I'm determined. :) I'm going to finish this "practice'' pair in lime Bernat Sox. And then I'm going to make another pair out of the Magic Stripes sock yarn I have in my stash.
So far, I like working with the Bernat Sox yarn. I definitely like the colors! I ordered several different colors from Herrschner's on-line.
I have been trying to figure out how to knit socks on two circulars because the pattern in the Debbie Macomber book I have uses circulars. I've read through directions on the net several times, and found it really confusing. And I haven't bought the tiny circulars yet -- gotta find them in size 2 and 3. I will get the hang of double points first -- and then figure out the cirular method. I can tell it's something you just have to cast on and figure out as you go along.
Yesterday and today have been awesome days for mail. Yesterday, my Harry Potter book came!!! And I got a Christmas in July package from an Elf in Springville, IA. She sent me a Skein of a pretty fluffy yarn called Divine, a skein of Paton's Cha Cha, a candle (which is now on my mantlepiece), some pretty glass beads, and 3 great sci-fi paper back books. THANK YOU!!!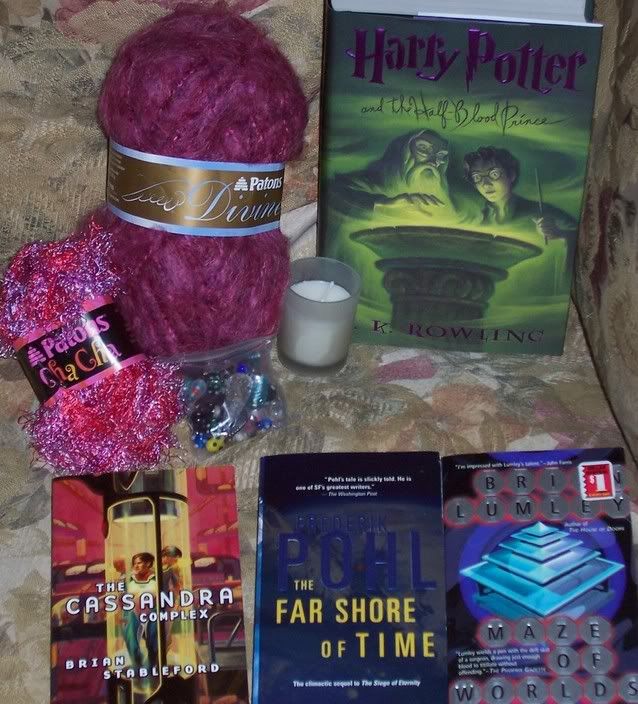 I had to laugh when I finally started reading Harry Potter today. There was a scene where Dumbledore went to use the bathroom at a wizard's house. He was gone for a long time. When he came back they asked him why he had been gone for so long. And he said "I was reading your magazines. I love knitting patterns.'' LOL. Me, too!
Then today I had 3 more packages in the mail. Two were from Christmas in July elves -- and one from a secret pal.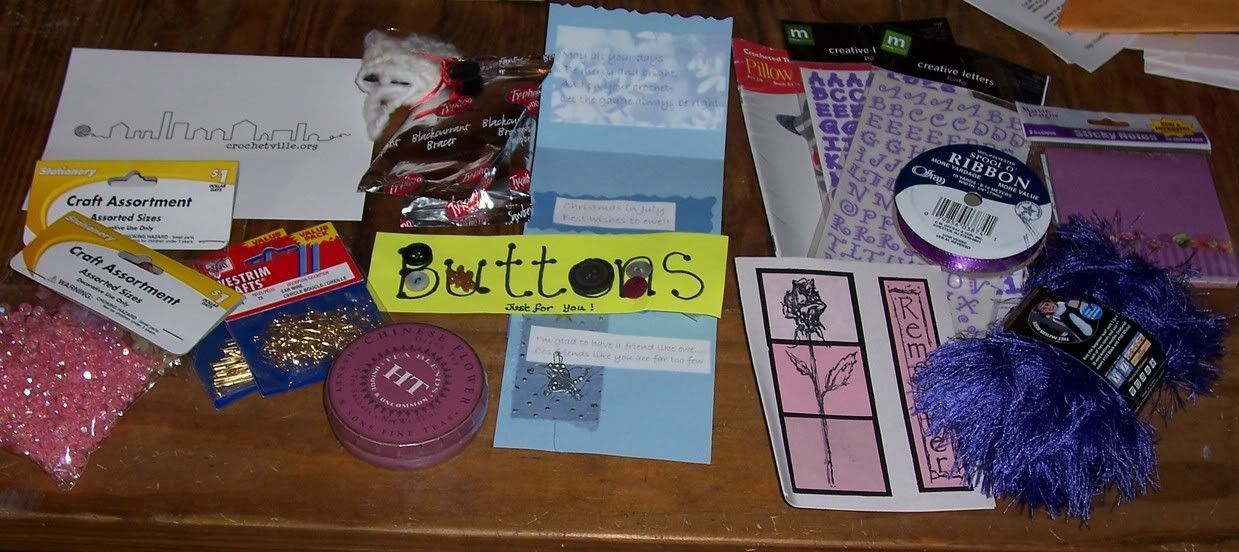 An Elf in Florida sent me a Crochetville card, two packages of lovely beads, some pins and earlobe hangers, and some flavored tea. Another Elf sent me a chocolate bar (which my teenager confiscated), some pretty buttons (including a beaded one she made herself), a pretty handmade card, and some flavored tea. My secret pal sent me a package clear from Canada. She sent alphabet stickers, sticky notes, a pretty purple shade of Fun Fur (which my digital camera turned blue for some reason??), a pretty card, some purple ribbon and a neat pattern book for animal pillows. :) THANK YOU ALL!!!!!
I'm packing up all my exchanges for the month today. Nice pile of knitted and crocheted items on the kitchen table. My husband said it looked like a mini craft-fair. lol. I really enjoy making things for my crafting friends every month, and I love seeing what they send to me in return. :)
I have a knitting ? -- if anyone has suggestions just leave them as comments. What is the best way to cast on stitches in the middle of a row?? In finishing the button hole for the towel topper I made, you did a bind off of 3 stitches in one row, and then in the next row you cast back on 3 stitches. I used the thumb method to cast on, but it's awfully tight and it was really awkward to hold onto the needle I wasn't using to cast on in the middle of things. Any suggestions for an easier method to use in that situation?? I'm still a relatively new knitter, so I'm learning as I go. :)
Almost done with a potholder pattern I've been working on. I'll be posting it to the blog soon. Gotta finish it up and take the picture to go with the pattern. :)
TTFN!!! I'm going back to doing the laundry and reading Harry Potter. :)