I received a wonderful SP8 reveal box from
Tahlia
!!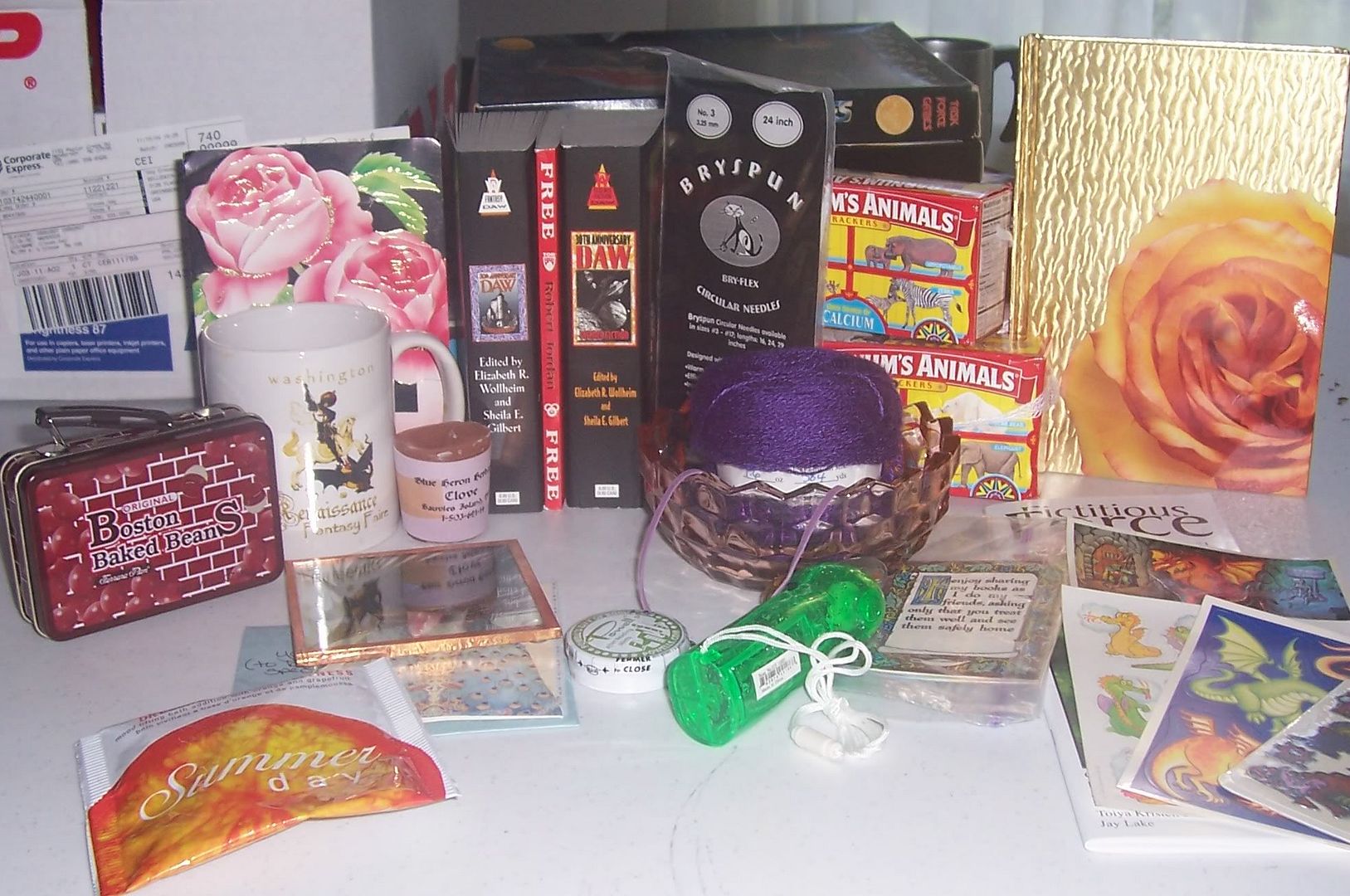 She was preparing to have knee surgery, but still found the time to mail a box to me. :) She's been a really chatty and fun SP! :)
In the box was: dragon stickers, a personal fan (which the baby took and loves), a cute tin with a little box of baked beans inside, book tags, a tin of mints, a wonderful clove scented candle (it smells divine!), a coffee mug from a Washington State Ren-Fest (LOVE IT!!), a pretty pink glass candy dish (it's in my front room with potpourri in it already!), two anthology books from Daw publishing (one sci-fi, one fantasy), a free book with six chapters of the first Wheel of Time book in it and an advanced publishing copy of some short stories (very cool!), a pretty glass heart pendant, Bryspun circular knitting needles, 3 packages of Animal Crackers (and you were right....no mutants!), a journal (I'm using it as my exercise/diet journal now) and a ball of Zephyr lace weight yarn in a pretty purple. But the best thing in the box was a glass trivet with a peacock feather in it -- it's absolutely gorgeous! It's on my mantelpiece in the livingroom. I thought about propping it up so that it would show in the photo better, but I was afraid it might slip and break.
Thank you Tahlia You made SP8 fun!
I also received my August Colorswap box from
Dana
!!
I love everything she sent! I received a teapot shaped candle holder and 3 wonderful autumn scented candles; 2 skeins of a pretty ivory Paton's Lacette, wooden letters spelling out "cafe'' and "bistro'', assorted victorian buttons and embellishments, some stitch markers made with brown beads (very pretty!), mints, assorted candy (which the kids gobbled up pretty fast!), a small jar of peach preserves, a bottle of Mape syrup in a maple leaf bottle, some pretty brown ribbon, knitting notecards (love them!), cat ink stamps, scrapbooking stickers, and a booklet about businesses in Williamsville, NY. Thank you Dana! It was fun to be your partner!
TTFN!