Down to the Wire
Well, I successfully joined the shoulder seams on the cable sweater this morning. It was the first time I used the 3-needle bind off. I like the look....much neater than a sewn seam. At first, it seemed a bit awkward, but it got easier as I went along.
I'm a little unsure if I did everything correctly. I had 16 active stitches on the front and back of each shoulder. So when I lined up the stitches to do the 3-needle bind off, I had active working yarn on both sides. I used the yarn from the back needle to do the bind off, and cut off the working yarn from the front needle with a 6" tail to work in. Is that what you're supposed to do with it??? All the example photos I could find of 3-needle bind off only showed one working yarn, but if you're binding off active stitches from both shoulders, each has active working yarn, not just one side. Was I right to cut the other one off??
I'm a self-taught knitter.....so sometimes I have to ask strange questions. :) This is my first sweater project, so it's been trial by fire. So far so good. **Crossing fingers** Hopefully all goes well and I don't have any problems with the finishing work.
Glad to be one step closer to finishing up this project. My MIL came over to try it on for me. Looks to be the perfect size. One less thing to worry about! So far so good. Now I just have the front bands, armhole bands and pockets to make. I'm going to get busy on those tonight. Maybe I can get it completed by Christmas. I'm not going to hurry, but it sure is nice to see the end approaching. :)
Here's a view of the front: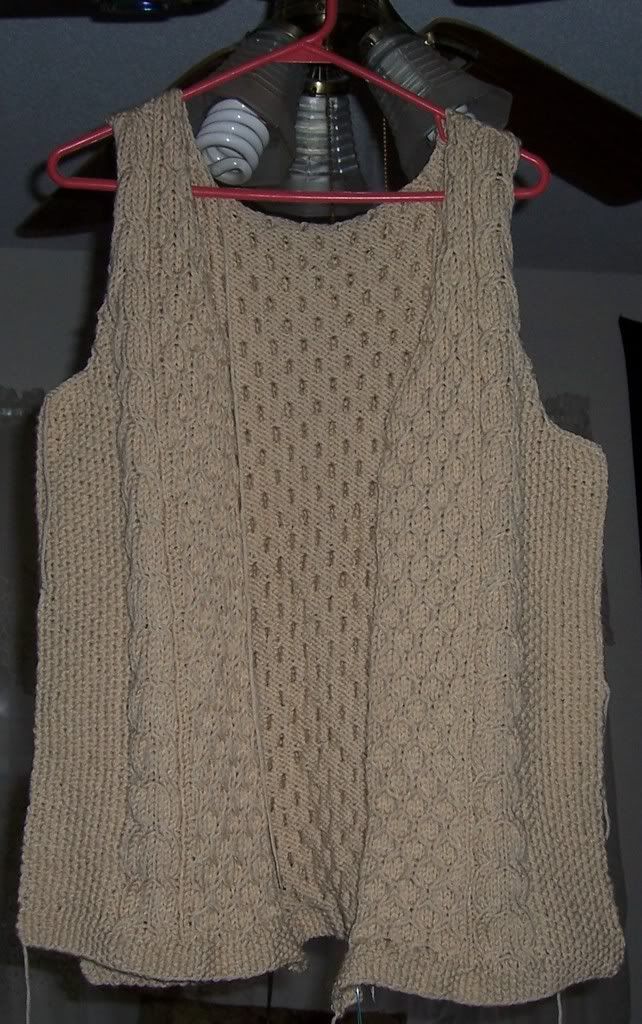 Almost done!!! :)
TTFN!