Goodies!
Now that I can blog again with pictures....I have some catching up to do!
A big thank you to my KTS2 partner who sent me the most awesome tea swap package!
Linda sent me a beautiful green candle with a pretty green flower-shaped trivit to put it on; a drip catcher shaped like a lemon slice; two skeins of Trendsetter yarn in "Dune'' -- a pretty purple and green variegated color; a book "The Green Tea User's Manual'', canister of Daily Green Tea (republic of tea) in Kiwi Pear, and a pretty teaspoon. :) Thank you, Linda!!! And, here's a photo: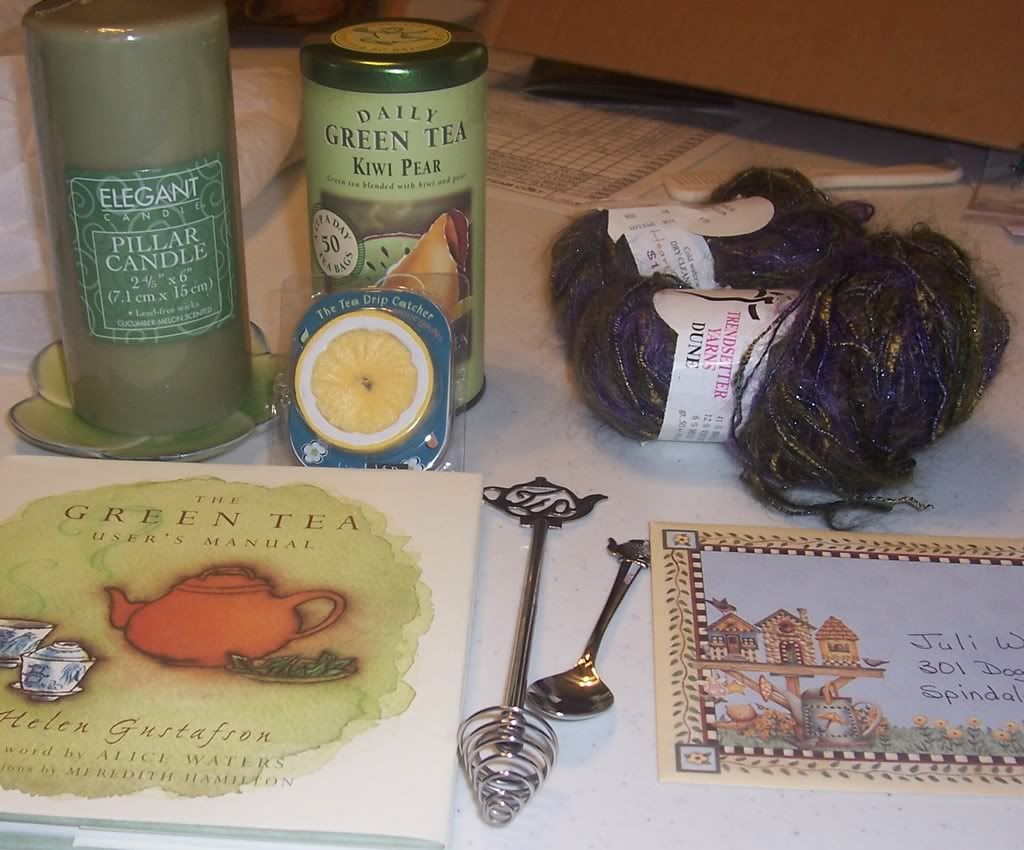 I had a cup of the green tea last night before bed.....it's great!! :)
My SP for the fall round at C'ville was unable to complete the swap, but a troop of "angels'' from the 'ville filled in and sent some wonderful packages to me. I can't thank them enough!
I received a package from a c'ville rescue ranger from Lawrence, KS. I was born and raised in Kansas, so I really love the Sunflower tote bag she sent me. Here's a picture of the goodies...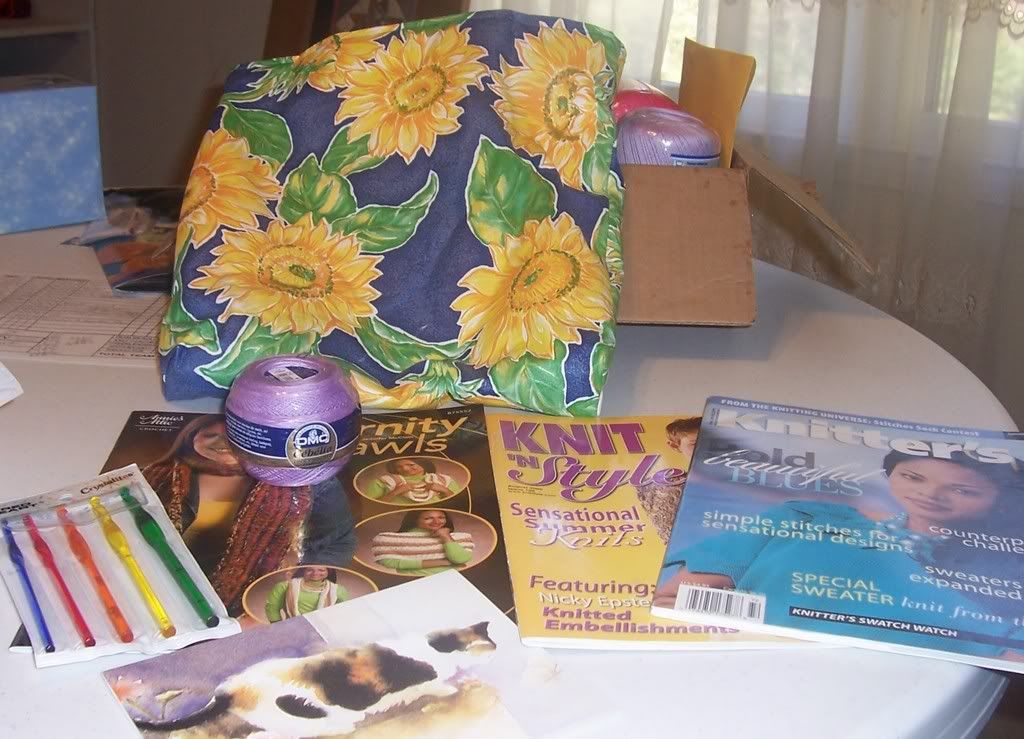 She sent me the tote bag, 5 crystalite crochet hooks, two knitting magazines, a shawl pattern book, a ball of pretty lavendar #20 thread, and a note on a pretty kitty notecard. :) Thank you so much!
I received two boxes from RR's in Wisconsin. :)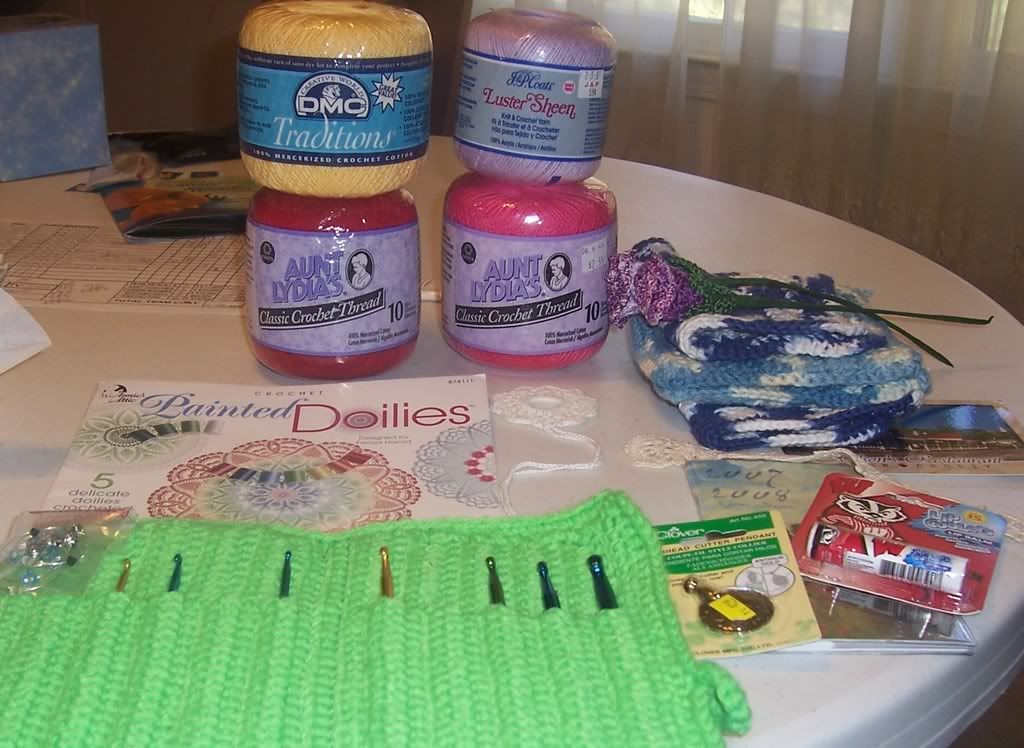 In the first box, I received four balls of thread in pink, red, yellow and lavendar, 2 crocheted dishclothes and 2 potholders, a yarn cutting pendant, Wisconsin Badgers lipbalm, a 2007/08 planner calendar, handmade stitchmarkers, two crocheted flowers, a crocheted hook holder with 7 hooks in it, 2 crocheted bookmarks, a pattern book "Painted Doilies'' with patterns for making doilies with sewing thread (very pretty!), and a postcard from Ephraim, Wis. Thank you so much!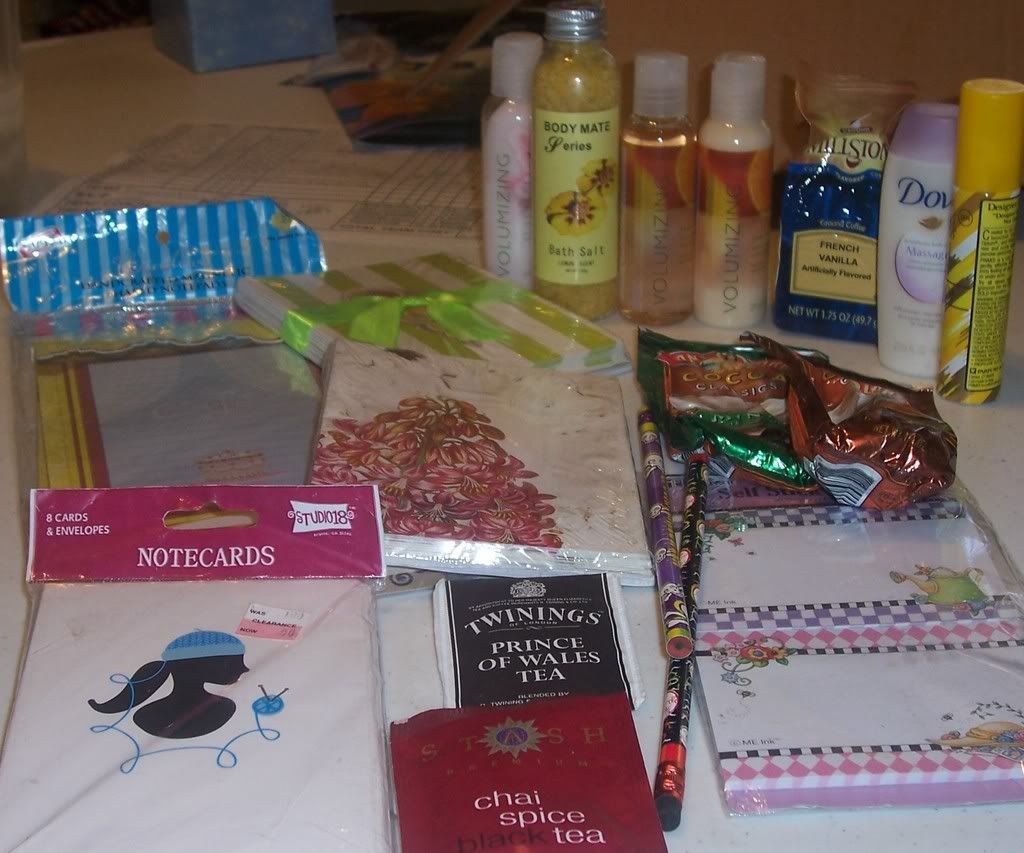 The 2nd Wisconsin box contained: 2 small bottles of hair conditioner, 1 small bottle of shampoo, 1 small bottle of shower soap, bath salts, primo body spray, 3 packages of notecards (knitting,shells, and flowers), package of sticky notes, shopping/memo pads, 2 packages of cocoa, two tea bags, two packages of flavored coffee, and two Halloween pencils. :) Thank you!
Oooops....two items got left out of the photo......some pretty stitch markers in their own holder, and some flavored coffee.... Here's a photo: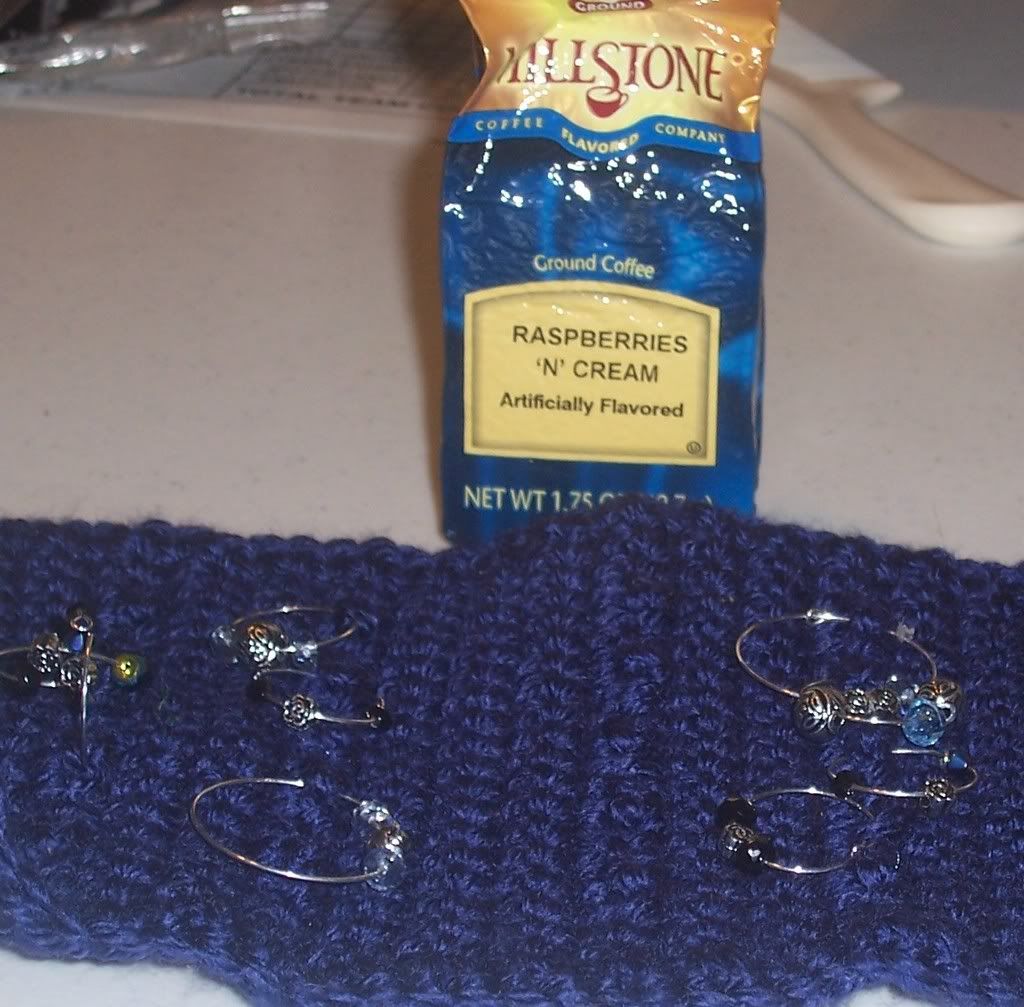 I also received a great package from a NC rescue ranger (howdy neighbor!!). She sent me a crocheted headband, several types of tea, lacey notes with a tea theme, some handmade soaps, and some beautiful teapot earrings. :) Thank you! :)
Here's a picture: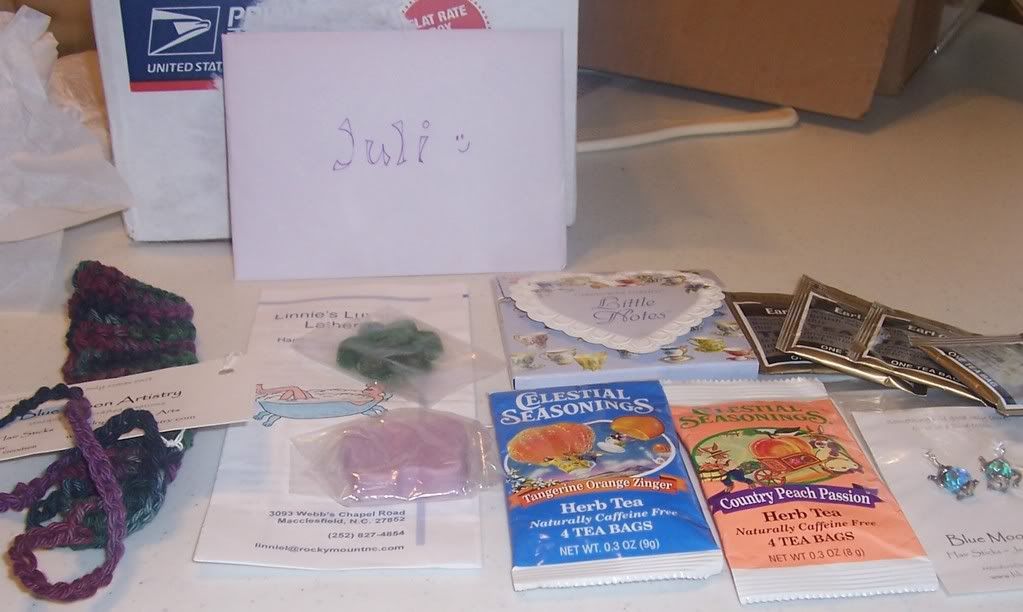 And here's a closeup of the earrings she made for me: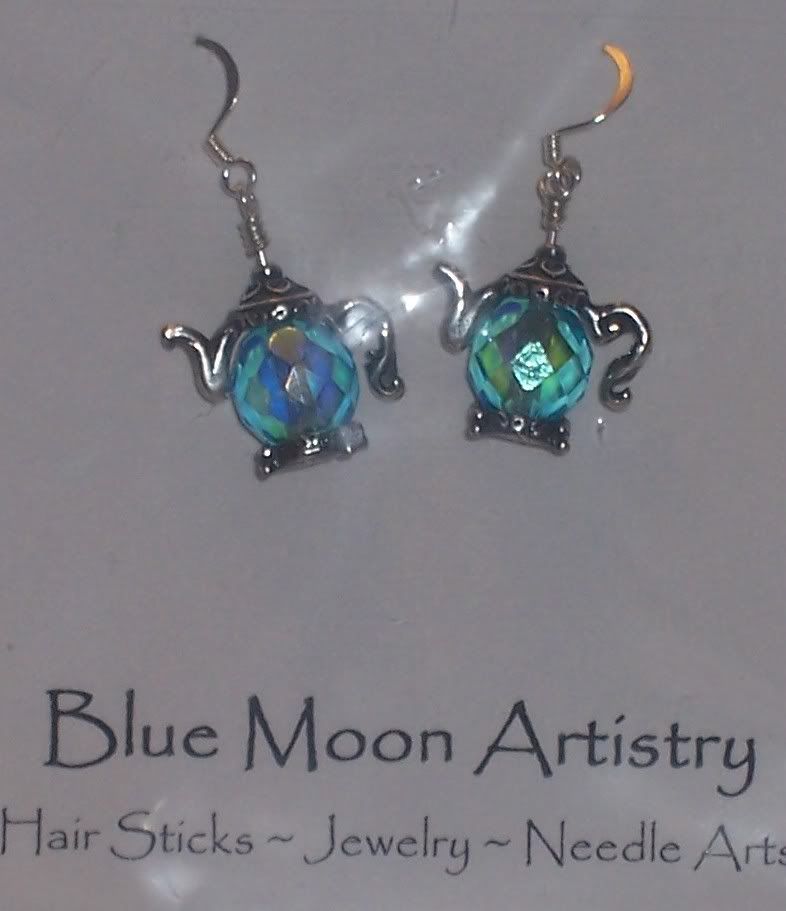 Then today I was totally shocked when the postman came with two more packages....wow! Thank you so much, everyone!
I received a boxie from a rescue ranger in Arizona.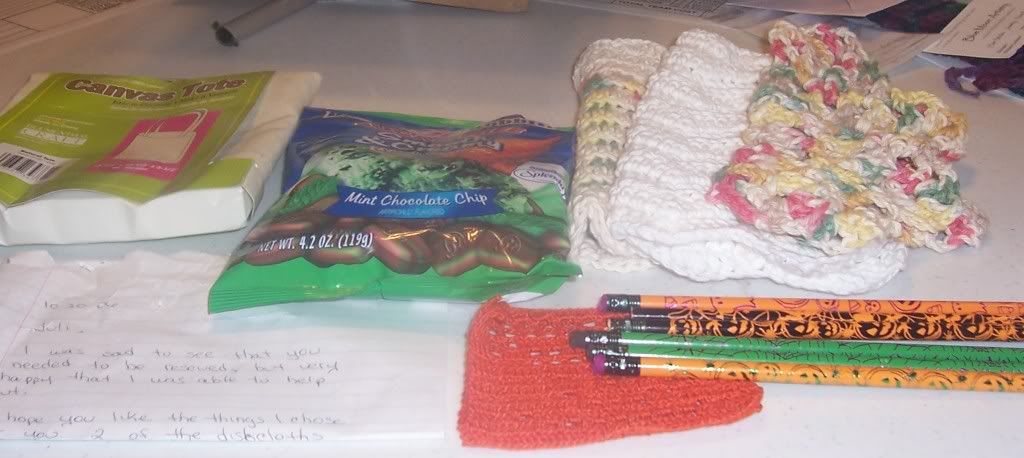 She sent several really cute Halloween pencils, a tote bag, several dishcloths, 2 thread coasters and some yummy sugar free mint chocolate candy! Chocolate I can actually have! Thank you so much!!! :)
And, I also received a box from another rescue ranger in Washington.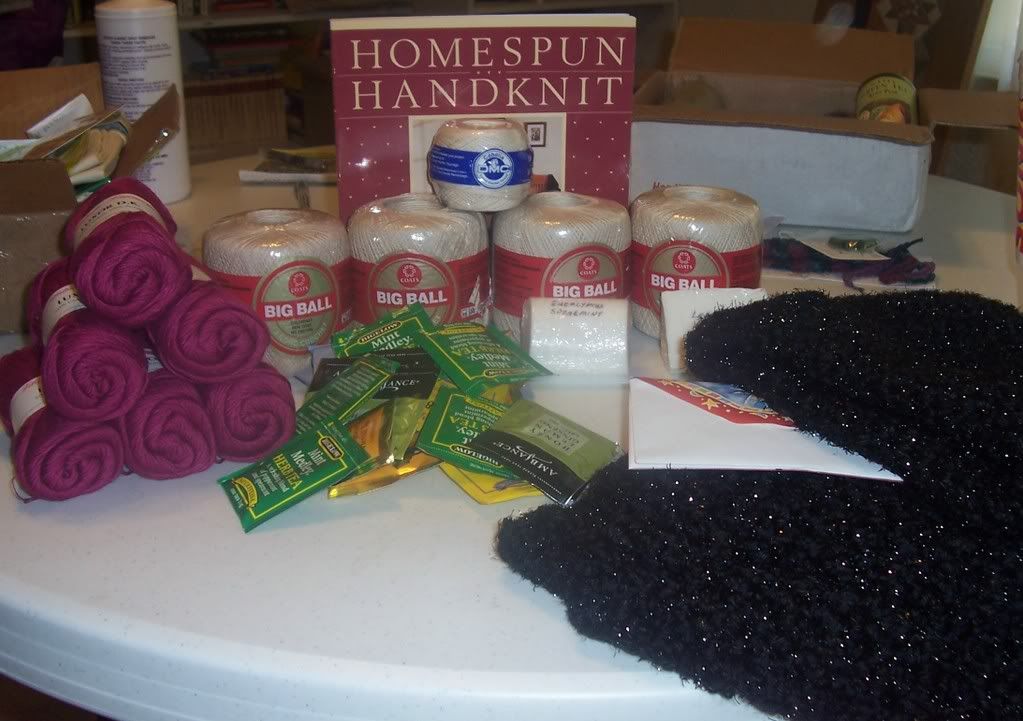 She sent me six skeins of Luxor DK in a pretty fuschia, lots of tea in yummy flavors, 4 balls of beige #20 thread, a ball of #10 thread in beige, a pattern book "Homespun Handknits,'' two bars of homemade soap (they smell SO good!), a pretty black sparkly scarf and hat set, and a nice letter. Thank you!! :)
And, I also received a $10 gift certificate to Handy Hands (they carry the BEST tatting supplies) from LC, also a rr from c'ville.
THANK YOU to all of you -- I can't believe how wonderful you have all been to me. :) Big hugs for all of you. :)
Hugs! Juli