DIY....Our Big Project
We've had an ongoing project here at our house for the last 2 months. We pulled the carpeting out of our front room and livingroom, painted the walls, installed laminate flooring, and swapped the two rooms around. Now our former livingroom is a dining room, and the front room is our livingroom. :) We're still dealing with odds and ends to finish -- wallpaper border for the livingroom isn't up yet, surround sound speakers still being installed in the livingroom, caulking and shoe molding isn't all installed yet, and there's a couple thresholds that still need to be installed. But we're mostly finished!!
I will take some "after'' pictures once we have the rooms totally finished, but here's some "In progress'' pictures.
We did the front room first....
First we tore out the carpeting and pulled all the staples out of the floor: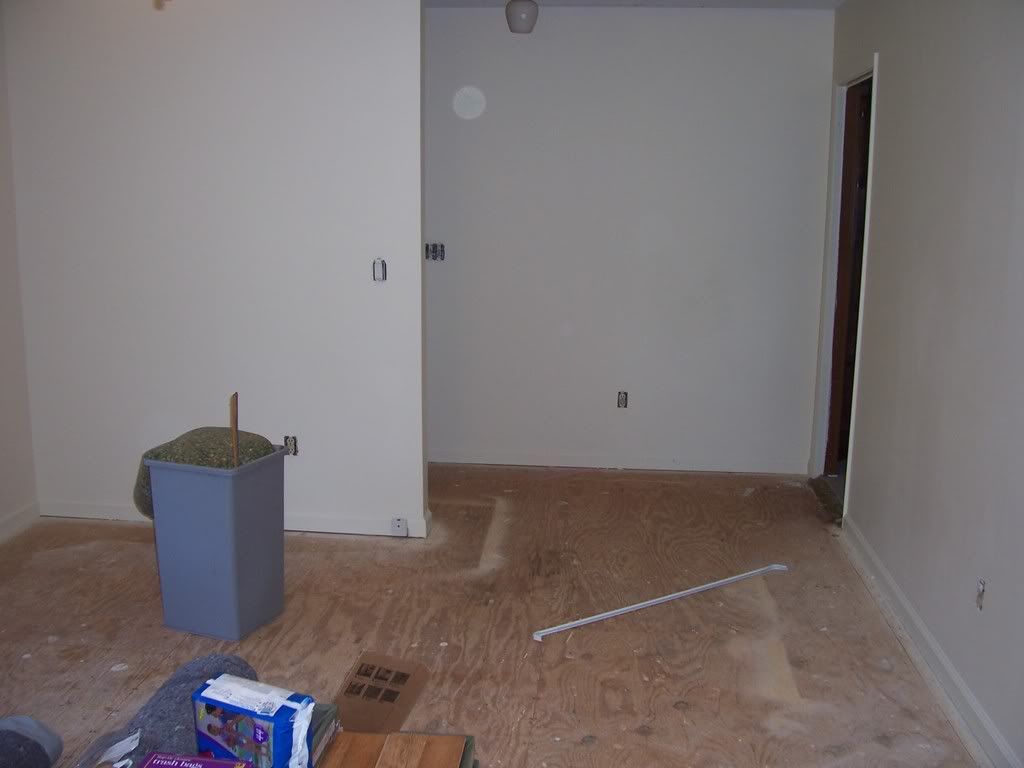 Then, my teenage son and I painted the room.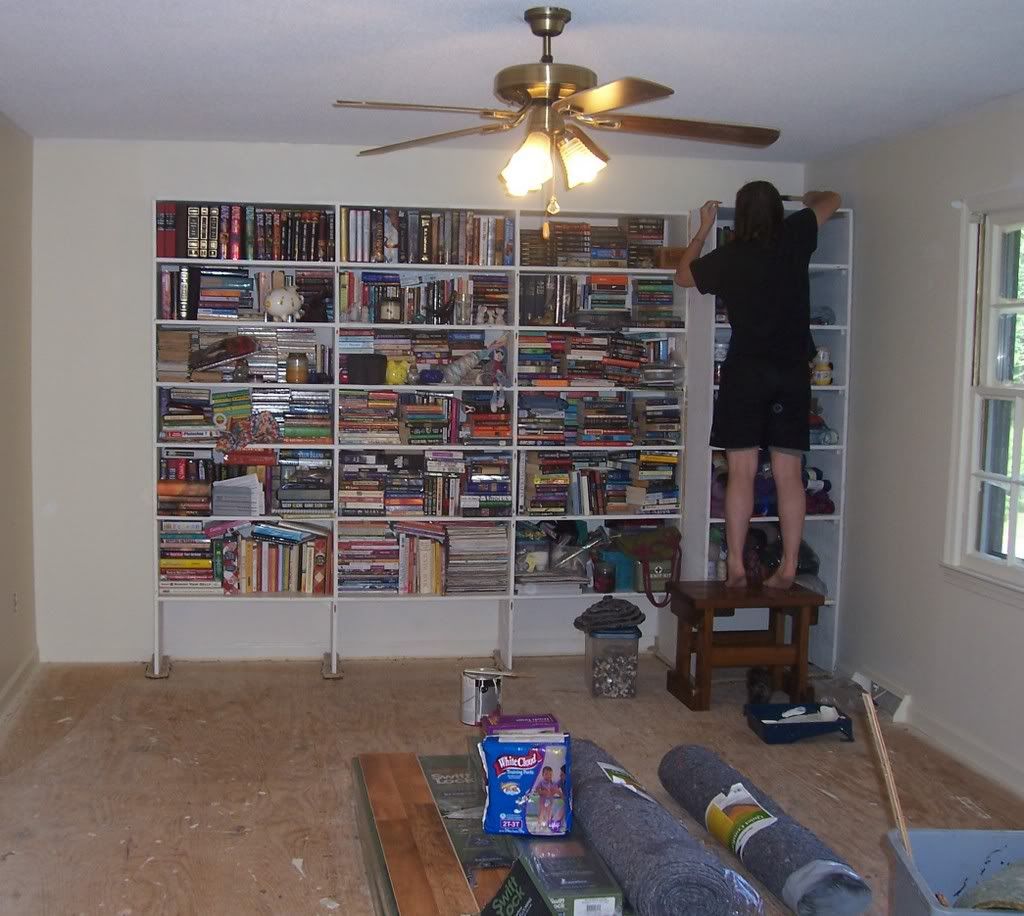 Hubby and his brother John installed the flooring. It was laminate flooring that clips together, rather than the sort that uses glue. It was relatively easy and quick to install. We got a color called "Antique Oak''. It was the color that looked most like real wood flooring.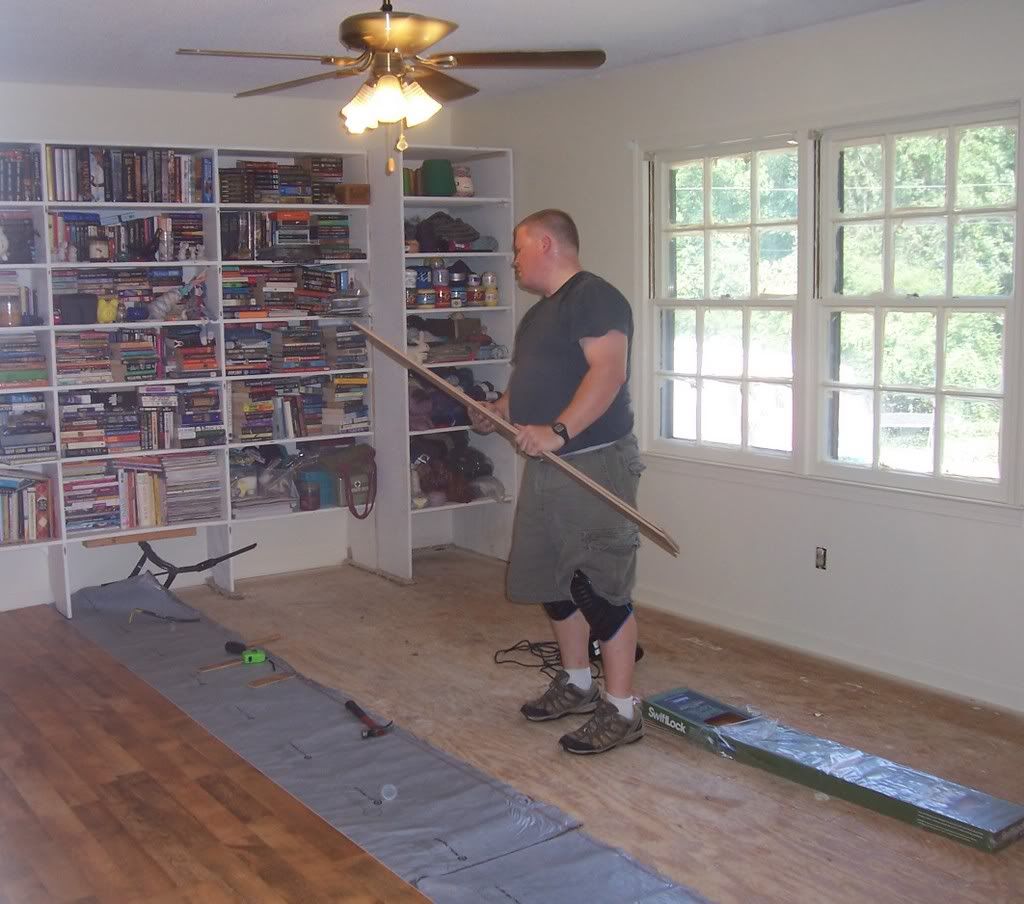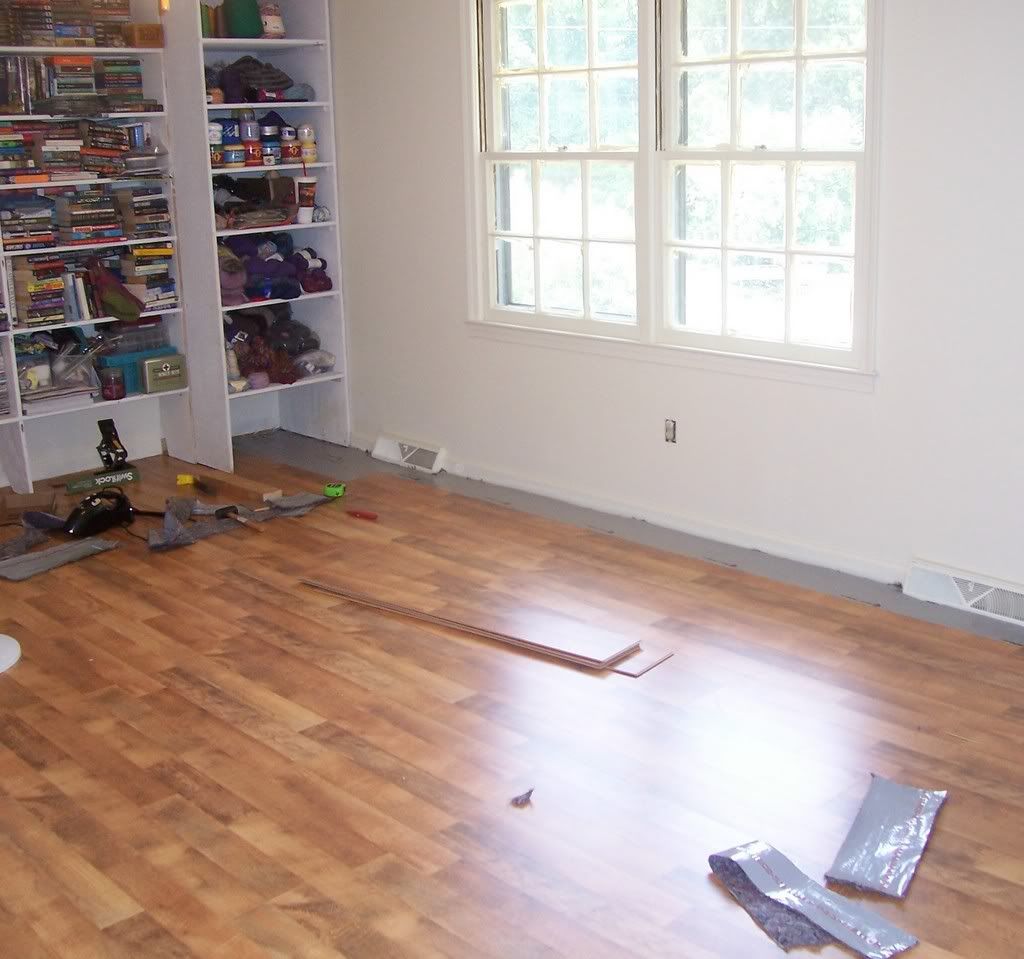 The kittens were very curious. Gracie liked the smell of paint (notice the paint on her ear....)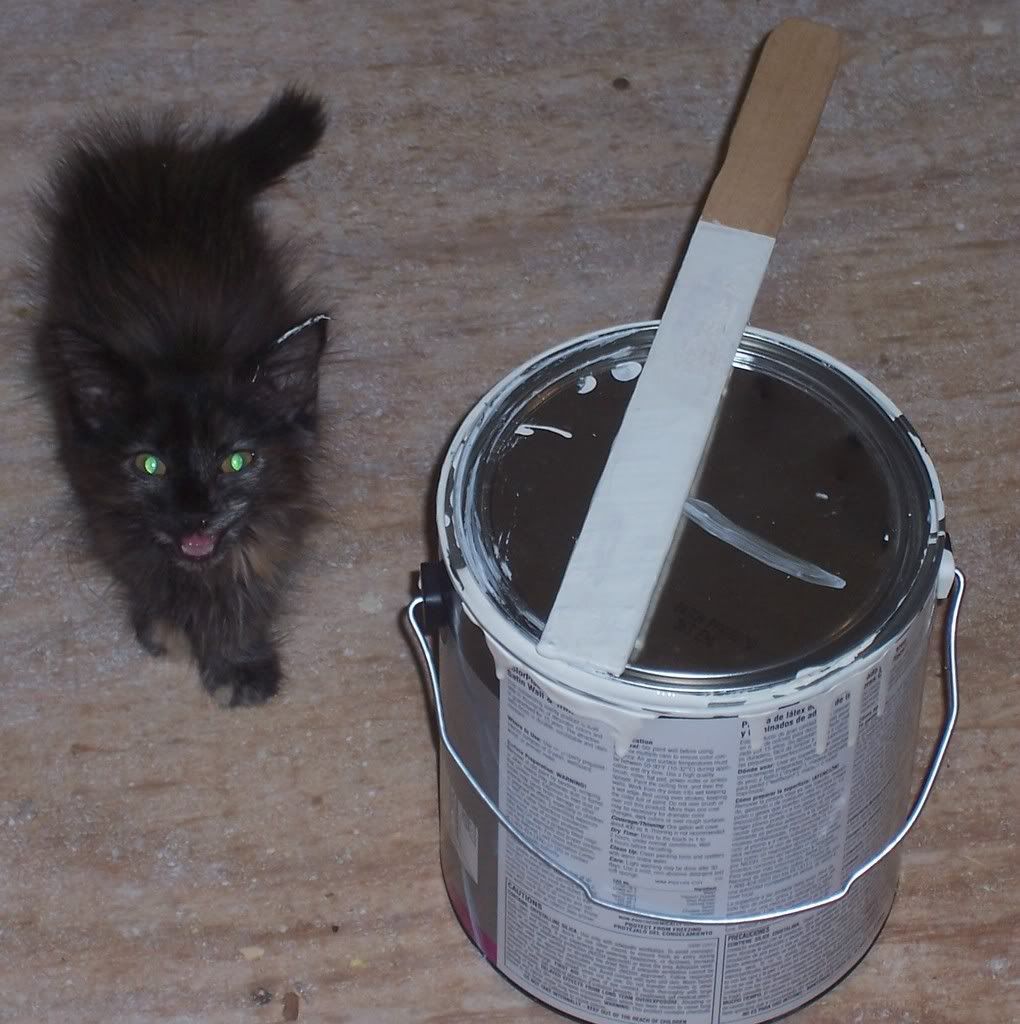 After we got the flooring down in the front room, we got a new sofa and an HD large screen television and turned that room into our livingroom. :) I'll post a picture of the finished room as soon as we have the wallpaper up and the pictures back on the wall. ;) Here's a picture of the kittens sleeping on the new sofa. :)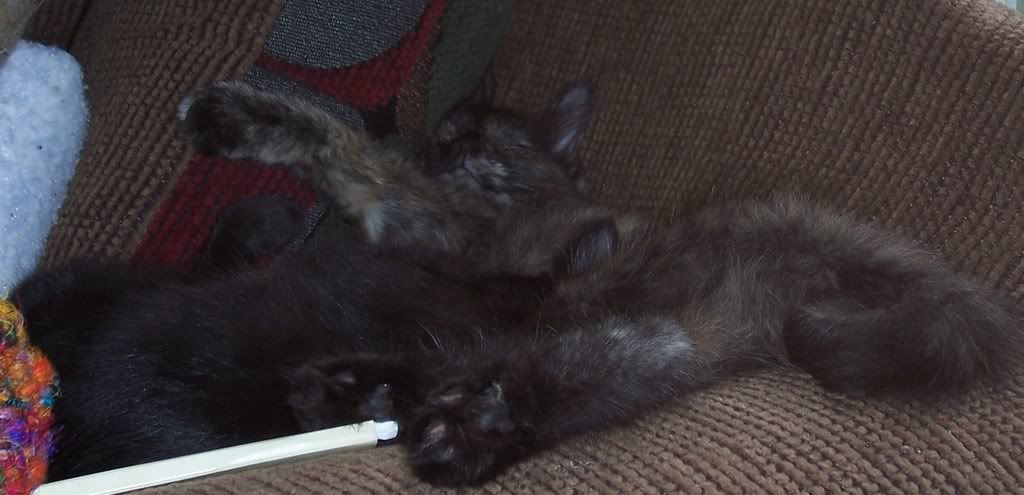 Then we moved on to the other room....it had been our livingroom, but we wanted a dining room. So the carpet was pulled out, and we painted over the 1970's dark paneling on the walls. We primered it, and then painted it. Worked great! Here's hubby starting to put flooring down in the hallway. It gives you a good look at the colors we picked out. :)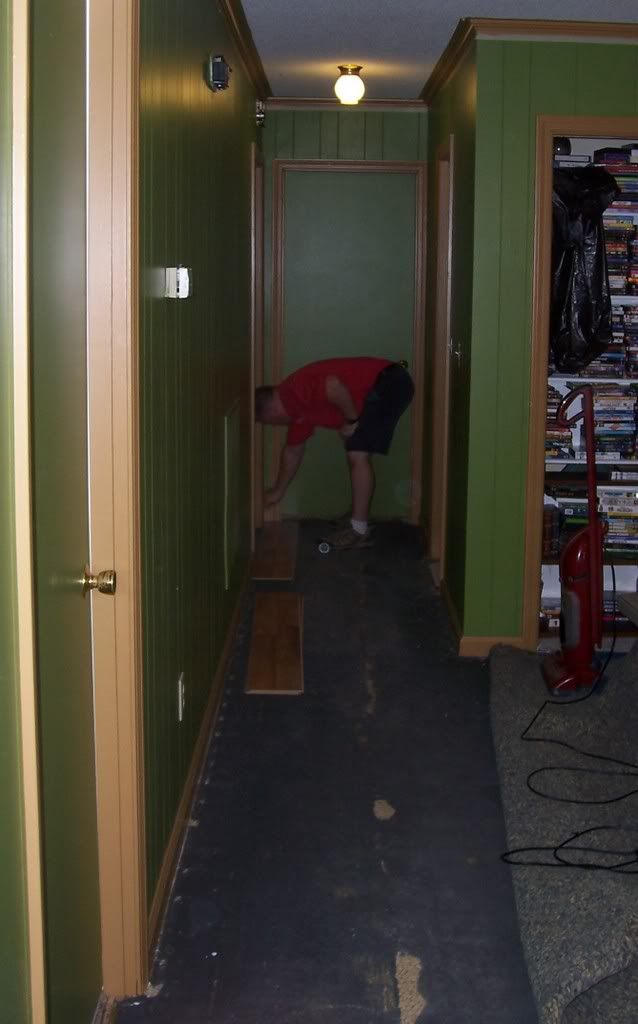 You can see the color of the paneling before we painted in the left edge of this photo. Our kitchen is still paneling (until we decide what we want to do to update our kitchen). The green and brown paint we chose made the dining room look SO much bigger, and the colors really draw attention to our red brick fireplace. The dark paneling made the house look outdated, plus it made the room seem small and too dark. Painting it made all the difference!
I'll post photos of both rooms when we're all finished and have curtains and pictures up, etc. :)
It was quite a project, but it really updated the look of our house! And we all had fun pitching in to help!
I'll take some "after'' pictures of the dining room after I have curtains up. :)