On the Needles
After what feels like a very long hiatus from blogging, swapping and nearly all things crafty.....my needles are once again clicking, and I'm going to start blogging on a regular basis again.
Healthwise, I am doing 100% better! WooHoo!! I've lost 52 pounds....lots more to go, but that's a great start!
On the craft end of things, I'm glad to be back to knitting or crocheting at least a little bit every day.
On my needles right now:
A Samaras Hat out of Lion Brand Wool Prints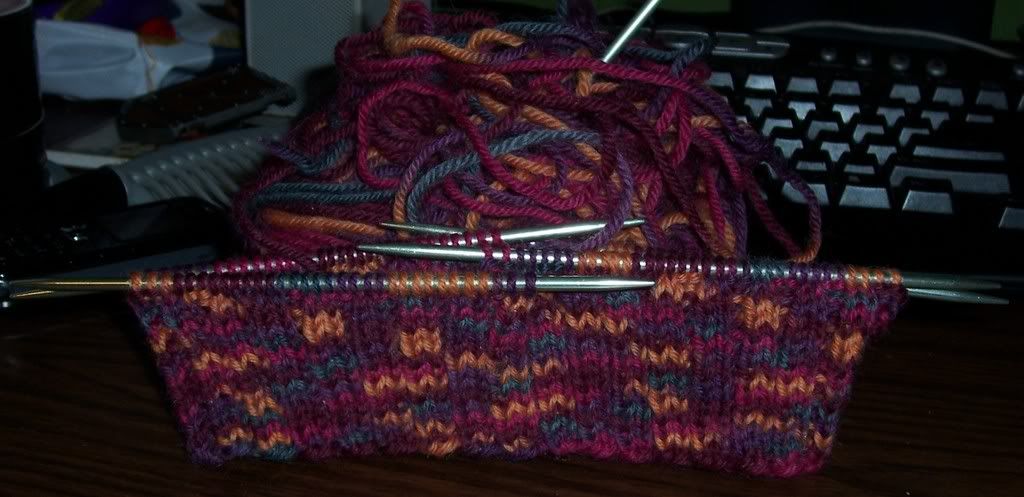 I want a nice warm hat to wear when I go for walks outside, and I love how this pattern works. I've had the yarn in my stash for about 3 years. I wanted to make a scarf out of it, but I think it really is making a much cuter hat. The pattern can be found at knitty.com. The pattern was designed by Jen, who also has several more patterns on her
blog
.
I'm also working on a pair of cuff socks using Wildfoote sock yarn in Rhapsody (mix of purple, blue, fuschia and green). My digital camera skews the color a bit....it's much more purple than blue in reality.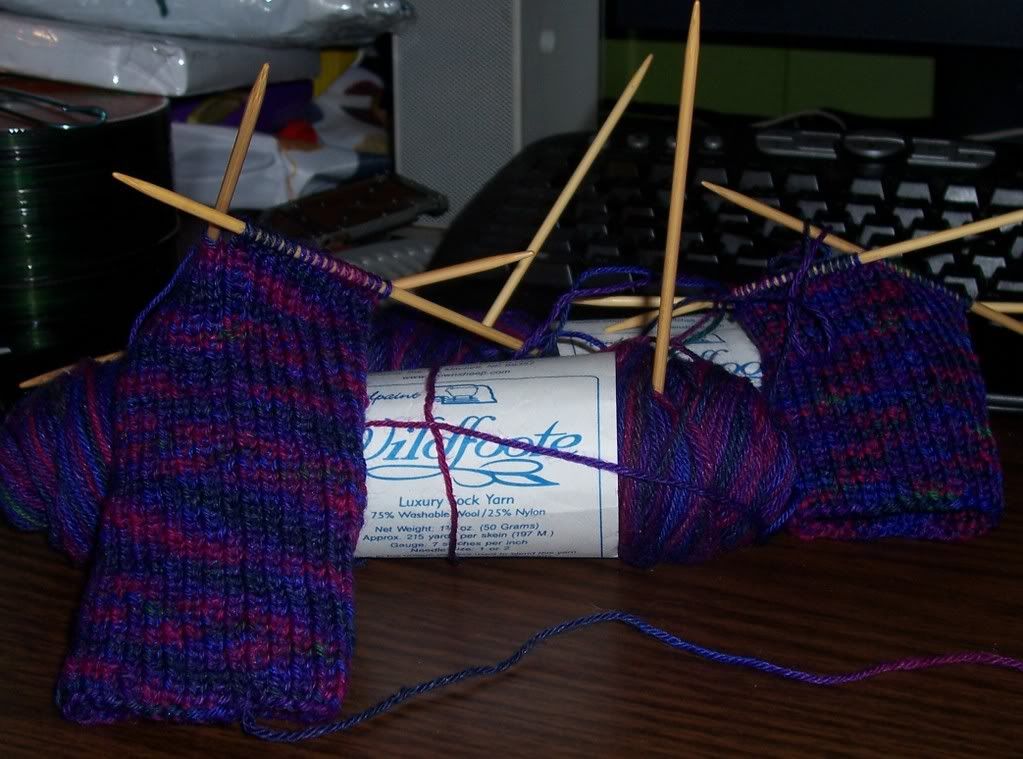 I'm using a free pattern off the Bernat website for a simple cuff sock. And I have learned to knit both socks at the same time. Otherwise that 2nd sock seems to take me a very long time to finish. :o) So I knit on one sock for awhile, and then switch to the 2nd sock. That seems to work much better for me. I have the pattern book for learning to knit socks on two circulars, but I haven't tried it yet. Maybe that should be one of my next projects!
I also recently made an Asymetrical Cable hat (from One Skein by Leigh Radford) for a little girl at church. I used a bulky yarn by Lion Brand in a cute pink, blue and green variegated. Of course, I forgot to take a photo of it when I was done. The pattern was fun and simple. If you like doing cables, it does make for a really cute hat, and has directions for children's and adult sizes.
Hugs! Juli