Whipping out the WIPS
I have finished two scarves that have been on the needles for some time. The bottom of my knitting bag seems to be a vortex that hides old projects for long periods of time. :) Or could it be that my knitting style has a bit of ADD mixed in there?? I tend to have several projects going at once because I get tired of working on only one thing.....but that also tends to mean that I have a lot of unfinished stuff hogging my needles. :o)
2 WIPS Down so far.....
Here is a scarf in really pretty autumn tones of gold, sage green, rust and deep burgundy.
The yarn is Modea Dea Jai Alai in the Raffia colorway.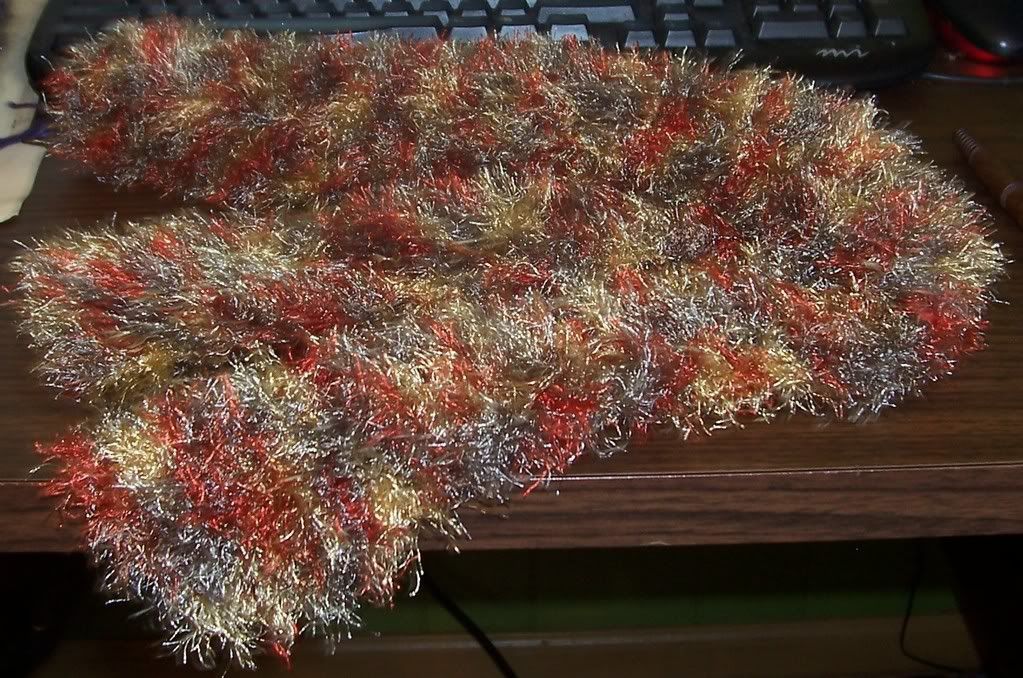 Normally I really don't care for fun fur type yarns or novelty yarns....but this yarn is SO pretty. I made an exception in its case. :)
I also finished up a scarf using Cascade in purple and Trendsetter in Dune. Trendsetter is SO pretty! It's 3 strands...2 are mohair, and one is metallic. It makes for a beautiful, soft scarf when carried along with a soft wool like cascade.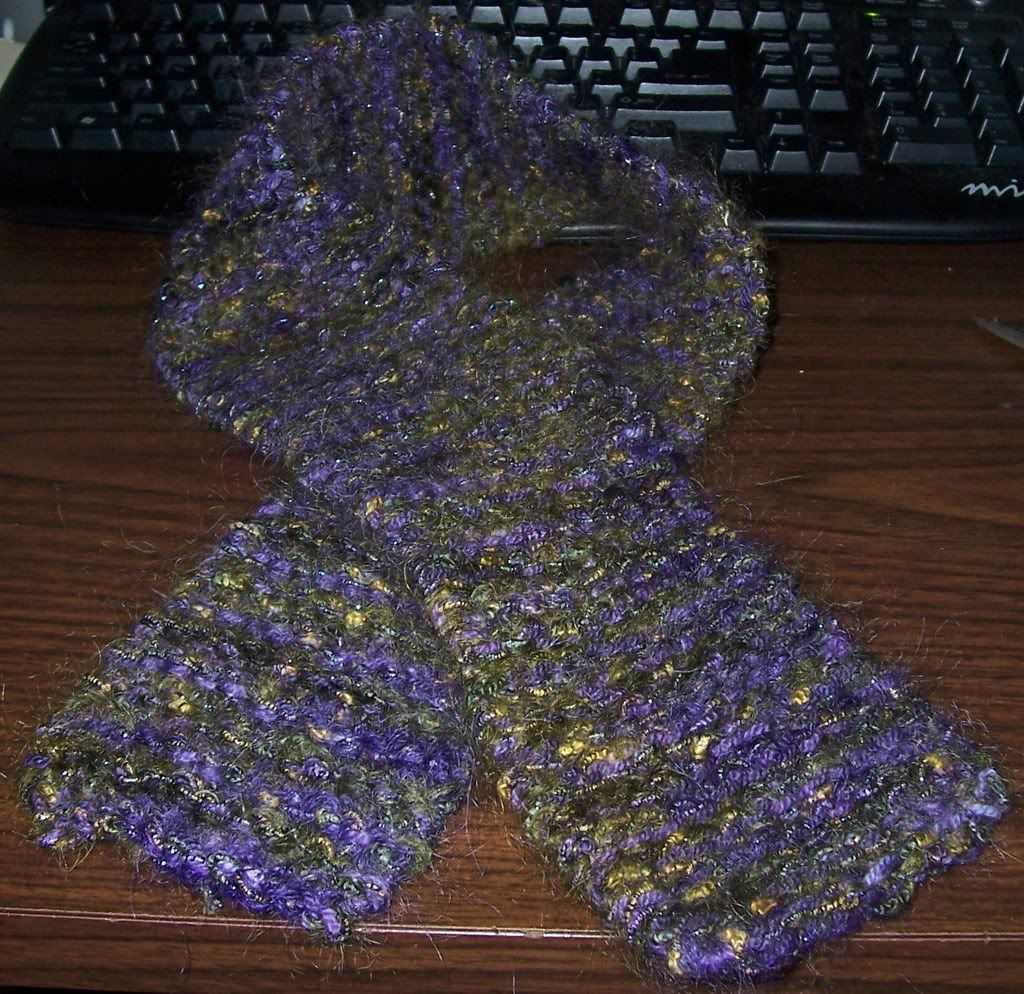 I also turned the heels on a pair of socks I've been working on for a long while. I'm using a cuff sock pattern from the Bernat website and Wildfoote sock yarn in Rhapsody. Now I just have to go buy a pair of Spring shoes to wear with knitted socks. :o) My digital camera doesn't photograph this colorway very well. It makes the deep purple look blue for some reason. The yarn is really more purple with just a hint of pink, green and a grey blue than the photo shows. I'm using size 3 DPNS because I tend to have a bit tighter tension with smaller yarns. I'm knitting both socks at one time so that this pair doesn't fall victim to Single Sock Syndrome. I used to get one sock done, and then 2 months later I would start the 2nd sock. If I get out 2 sets of DPNs and just do both socks at the same time, then I can't get distracted and not finish the pair. It's that Knitting ADD again!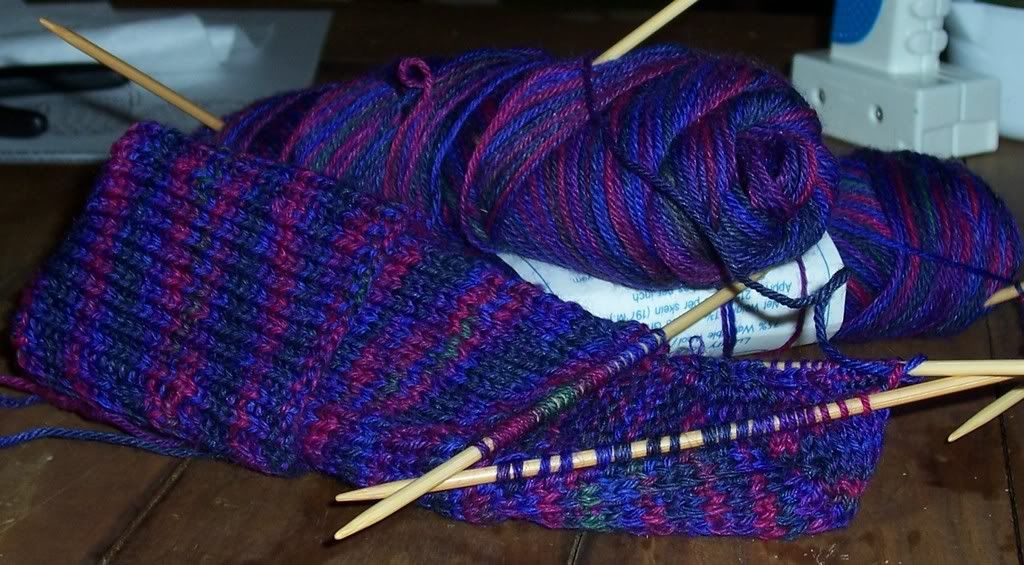 I have the book that teaches how to knit socks using 2 circulars...I need to actually get that out and give it a try. But I kinda like using double points.
I do already have another pair of socks cast on....I started the ribbing on the first sock last night. I'm using a pattern from "Knit Socks: No matter what the weight.'' It's a pattern book that has patterns adjusted to any weight of yarn. Easy patterns....and the skein I wanted to use was a bit short on yardage to make anything but a pair of ankle socks. I'll post a picture of the new pair on another post. It's that Project ADD popping up again....I can't even finish one pair of socks before my needles are calling to me to cast on for another pair. :)
My husband is also getting crafty. He enjoys making candles. He started out simple with a candle making kit and really made some cool things! Now he's graduating to more advanced stuff. The other day a huge box appeared on our porch. 60 pounds of wax he ordered.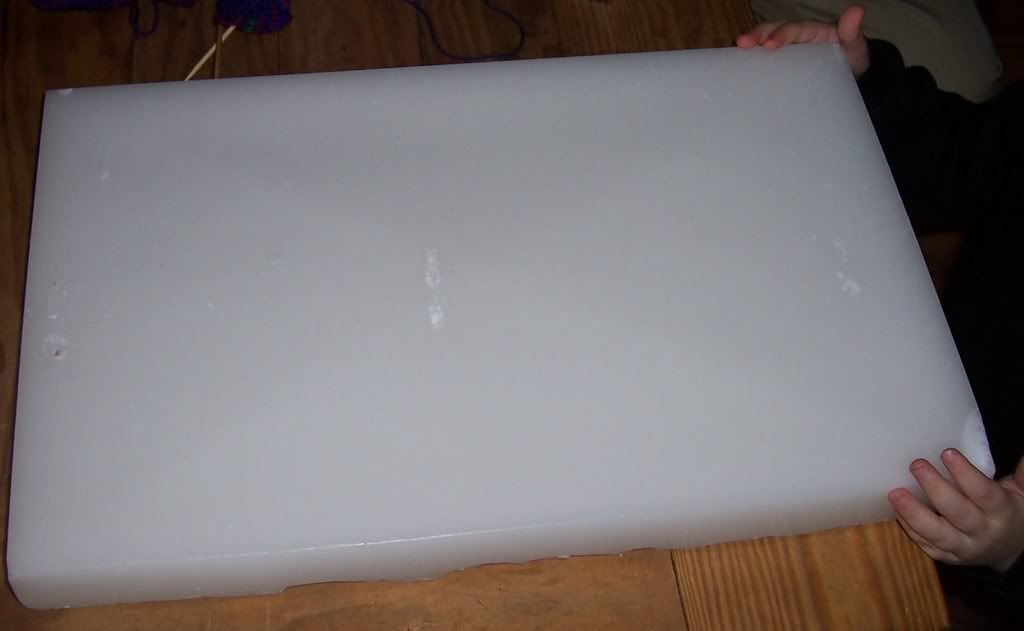 Here's one big 10 pound chunk. The 2nd box which contained some fragrances, dyes and molds that he ordered hasn't arrived yet. Maybe today! We have all decided that waiting for packages is really really hard. My son is waiting for some books he ordered. Hubby is waiting for his candle stuff. And I'm waiting on 3 yarn orders. 1 big one for a yarn swap I'm in, and 2 that I ordered off Etsy for myself as a diet reward. I keep checking the tracking # from the big order....the package keeps getting closer and closer and closer. It says it will be delivered on Thursday (that's tomorrow)....but there's always hope that it might be TODAY instead! And I have a pattern book coming from ebay too! WooHoo!
Here's my little helper: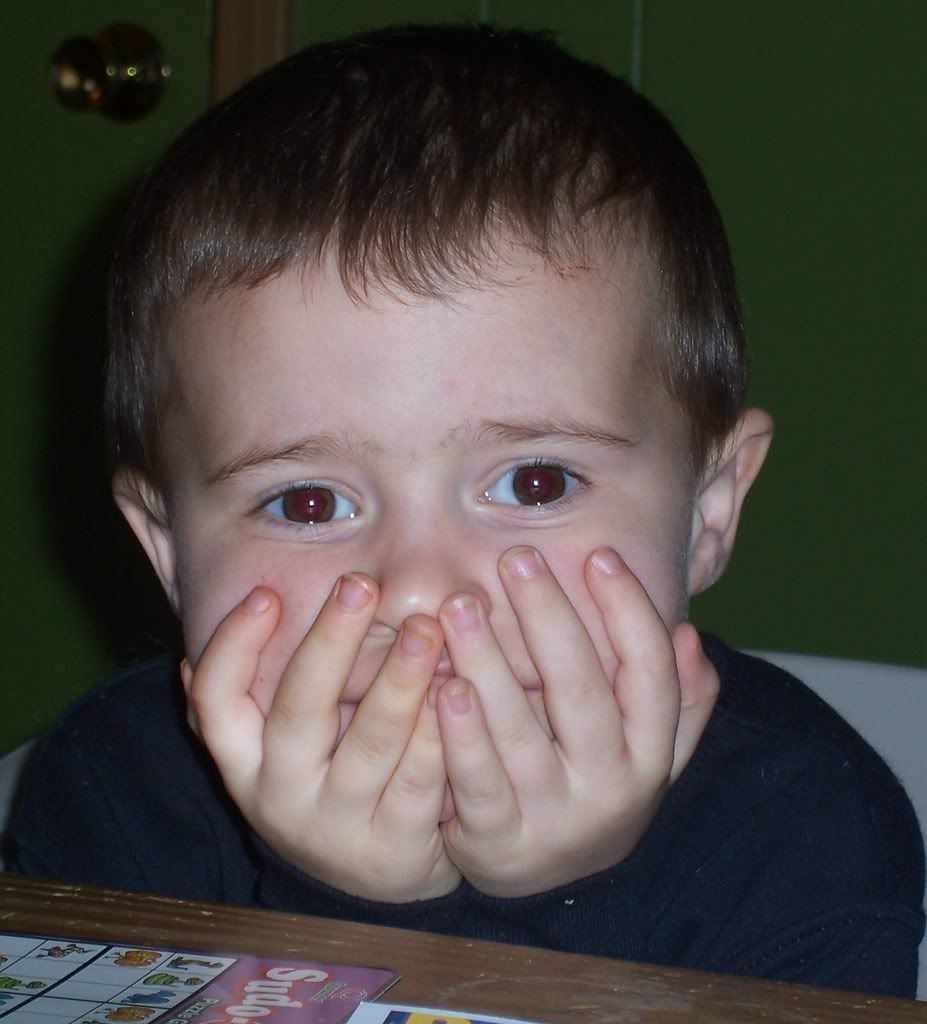 And his Kilroy look:
And a picture of our Tortie cat Gracie. Doesn't she look snooty??
We recently adopted another cat, who we renamed Bruce. He's a huge grey stripey tabby. Our little black cat took to him right away. Gracie, however, would just look at him like she was totally appalled he shared the same house as her. I could just hear her saying, "Stripes??? Oh that is just so five minutes ago!!'' Torties are totally stuck on themselves, you know.
Here's a picture of Bruce. He is a HUGE cat....so we called him Bruce after Bruce Banner who turns into the Hulk. And, also so we could fake an Australian accent and say "Good on Ya, Bruce'' all the time. :o)
Isn't he pretty?? We just love him. :o)
Well, that's enough for today!! I'll save something for a post tomorrow!
TTFN!! Juli