Awesome mail day!
What an awesome mail day!!! :)
I got a great puffie from Doreen!! Look at what she sent me: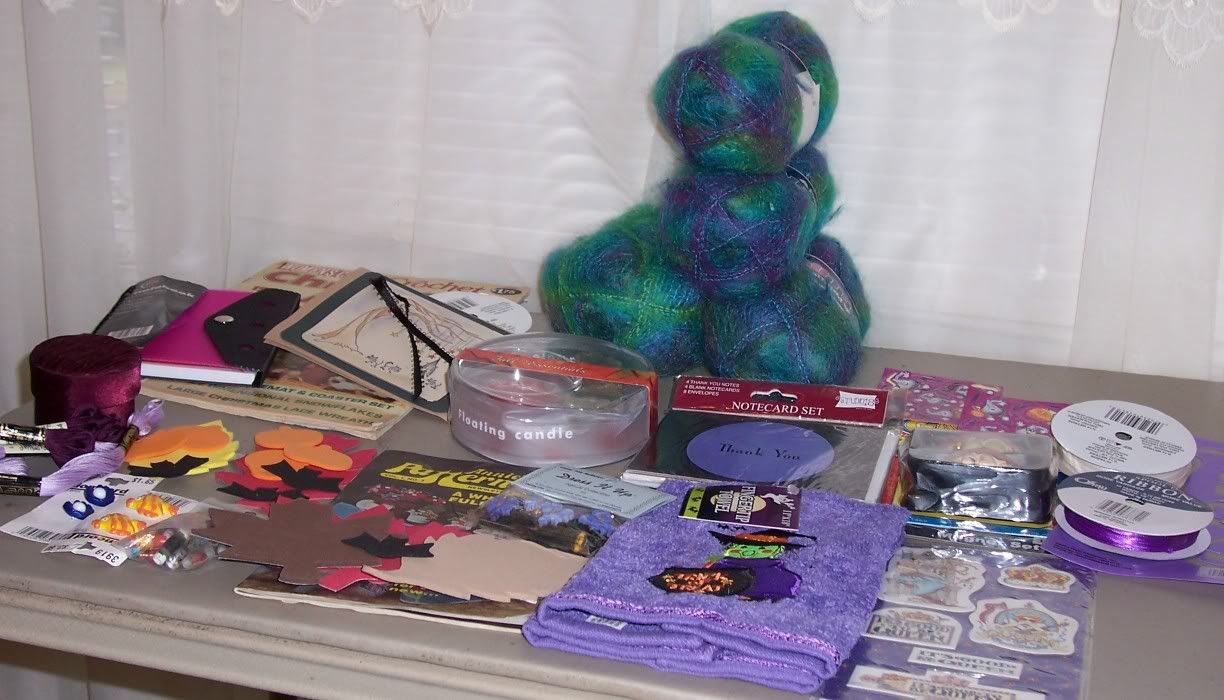 She sent me 4 skeins of VERY pretty blue/green variegated Paton's Allure. I just love the colors! I also got two colors of ribbon, some magnets, a Halloween kitchen towel, a cute little pink notebook, some buttons, beads, floating autumn leaf candles, stickers, a burgundy little box, some foam autumn leaf stickers, DMC floss, 2 craft magazines and a homemade card. I hope I didn't forget anything. It was just an awesome package. Thank you so much Doreen!!! It has been great being your partner for the last 3 months!!! :)
I also got my enrollment package from Crafter's Choice bookclub today. Lookie what I got for $1 apiece: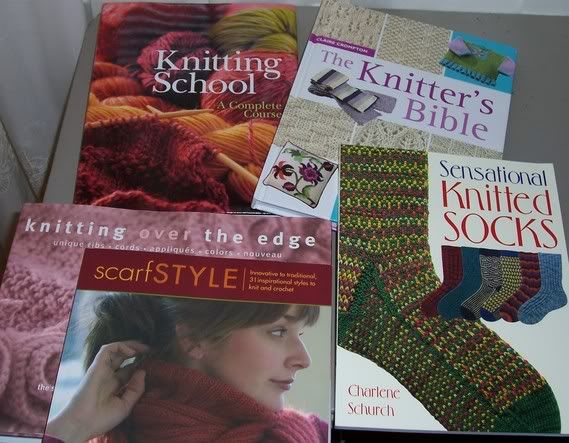 My favorite is Sensational Knitted Socks. It has so many great sock ideas in it. And all the information needed to adjust sizes on any sock pattern, and for any weight of yarn. It's just what I was looking for!! Scarf Style has so many wonderful scarf and stole patterns -- everything from elegant to funky and fun. Knitting Over the Edge is filled with all sorts of borders -- very cool book!! I have heard that there is a prior book called Knitting On the Edge -- I'm going to try to get that one too. Knitting School and The Knitter's Bible are 2 books I've been wanting to have since I started to learn to knit. I can branch out now and try all sorts of new things!! WahHoo!!
Ahhhhhhhh.......knitting nirvana. It's almost better than sex. Don't tell my husband I said that, or he'll start hiding my knitting needles. Hee hee :)
And, not only am I happy because I hit the crafting jackpot today (see prior post), but I also found all sorts of clothes for baby Josh. I was having problems finding nice clothes in size 18 -24 months. A lady let me know she was going to have a garage sale soon, and told me I could look through what she had first. So I met her across town this afternoon and picked out a box full of clothes from what she had. Josh now has jeans, overalls, and pajamas for cooler weather that aren't looking like high water pants. lol. Seems like just a week ago his 12 month size pants still fit.....now they still fit in the body, but they're about 2 inches too short.
He's growin' like a weed! Now I just need to find him some feetie pajamas (they do still make those don't they??? I can't find them anywhere in sizes above 12 months) and a winter coat, and I've got it made. :)
I bought him the Cinderella DVD at walmart tonight. We'll watch it before bedtime. :) Good memories!! :)
TTFN!!!!!!