Secret Pal Goodies and Recent FO's
My C'Ville Secret Pal sent me the nicest package this week!! Here's a picture of the goodies I got: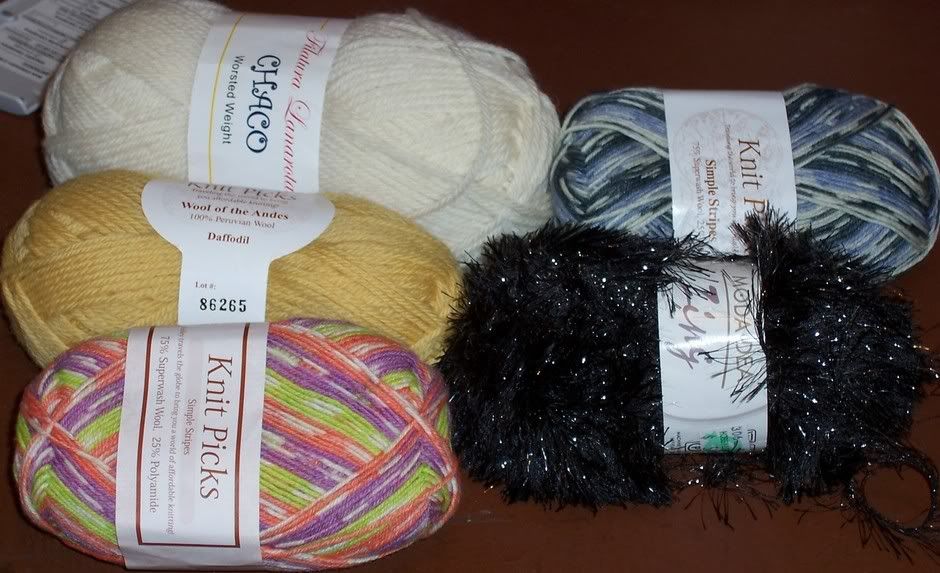 She sent me a skein of Modea Dea Zing in a pretty black sparkly color, two skeins of Knit Picks Simple Stripes sock yarn, one skein of Knit Picks wool in a pretty tan color, and a skein of Chaco wool. Thank you!!!
I finished the double strand Fun Fur scarf I was working on. I used a skein of Lime and a Skein of Fun Fur Prints in Hawaii (varigated green, yellow, orange and pink). I have also started a new scarf using Yarn Bee Pizazz -- Pizazz has one strand of eyelash yarn and a coordinating strand with little tufts of color. You can get it at Hobby Lobby. :) I saw it when we went to Spartanburg, SC about a week ago and just knew I had to make myself a thin scarf from it. I'm knitting the scarf using just plain garter stitch, and really love it so far! :)
Here's a picture of the double strand scarf and the beginnings of the Pizazz scarf: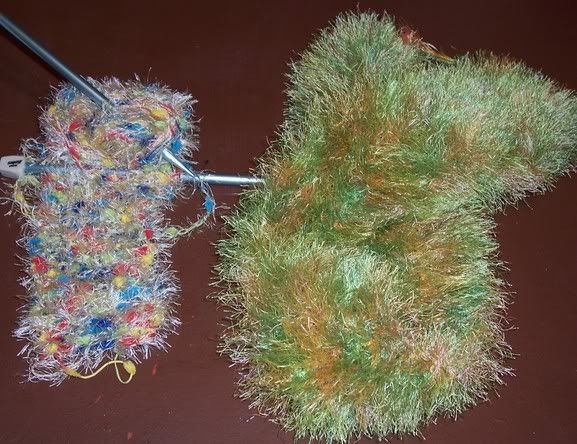 I went to the LYS today and got a yarn fix. I bought some pretty variegated mohair and some purple wool to make a shawl. There's a pattern on KnitNet I have been dying to try! But I have two scarves and a drawstring bag to finish.
TTFN!!!