I was dyeing to try it!!!
The Natural Wool of the Andes I got in the wool swap at Crochetville didn't stay natural for very long. I could hear it calling me.....
dye meeeeeeeeee dye meeeeeeeeee dye meeeeeeeeeeee HEY WOMAN! I said DYE ME!!!
So, I decided to dye it!
I read up on how to dye wool, and got out my food coloring. :)
Here's what the yarn looked like before I dyed it.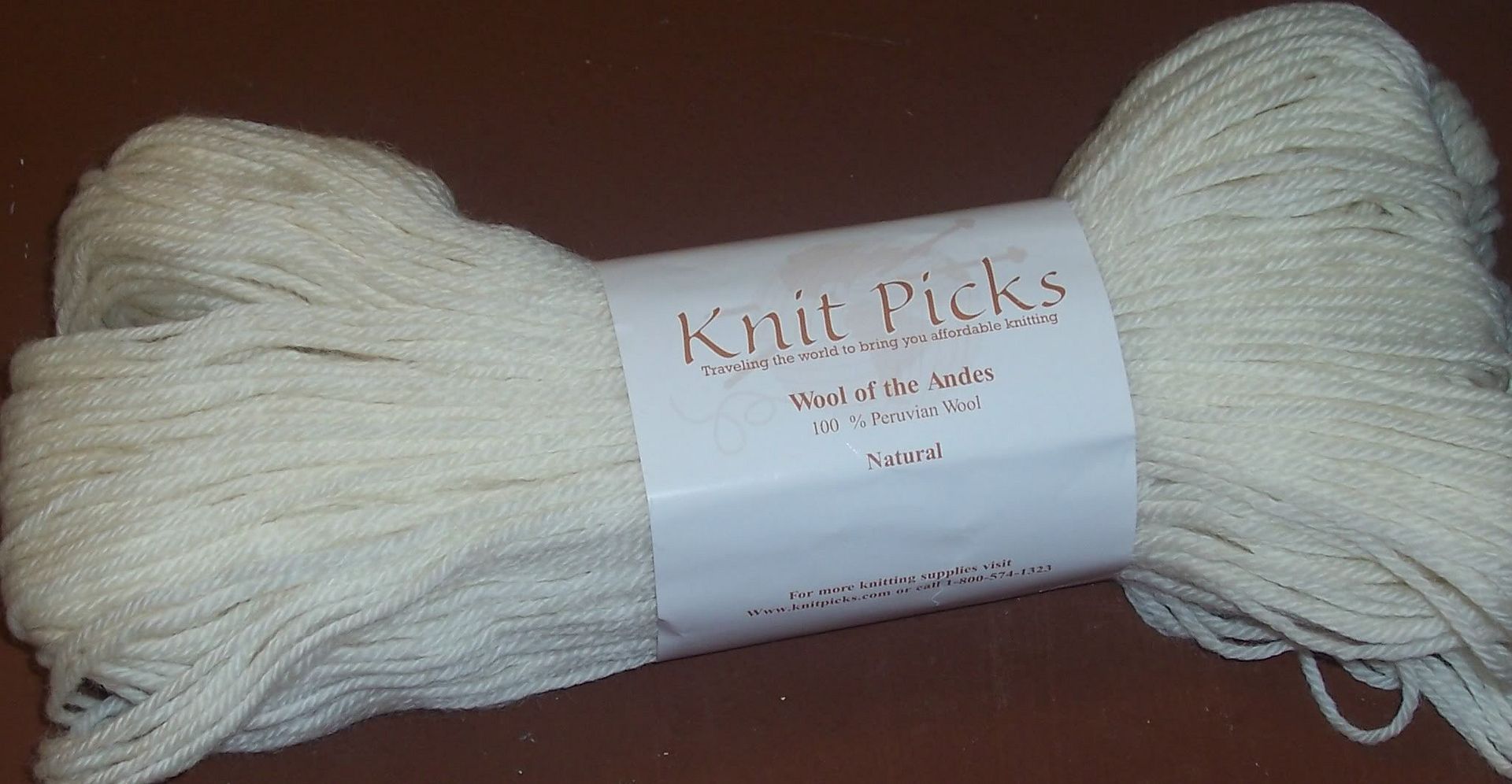 For those who haven't dyed yarn before, I'll show you what I did.
First, I rinsed and soaked the yarn in warm water and vinegar in a glass baking dish.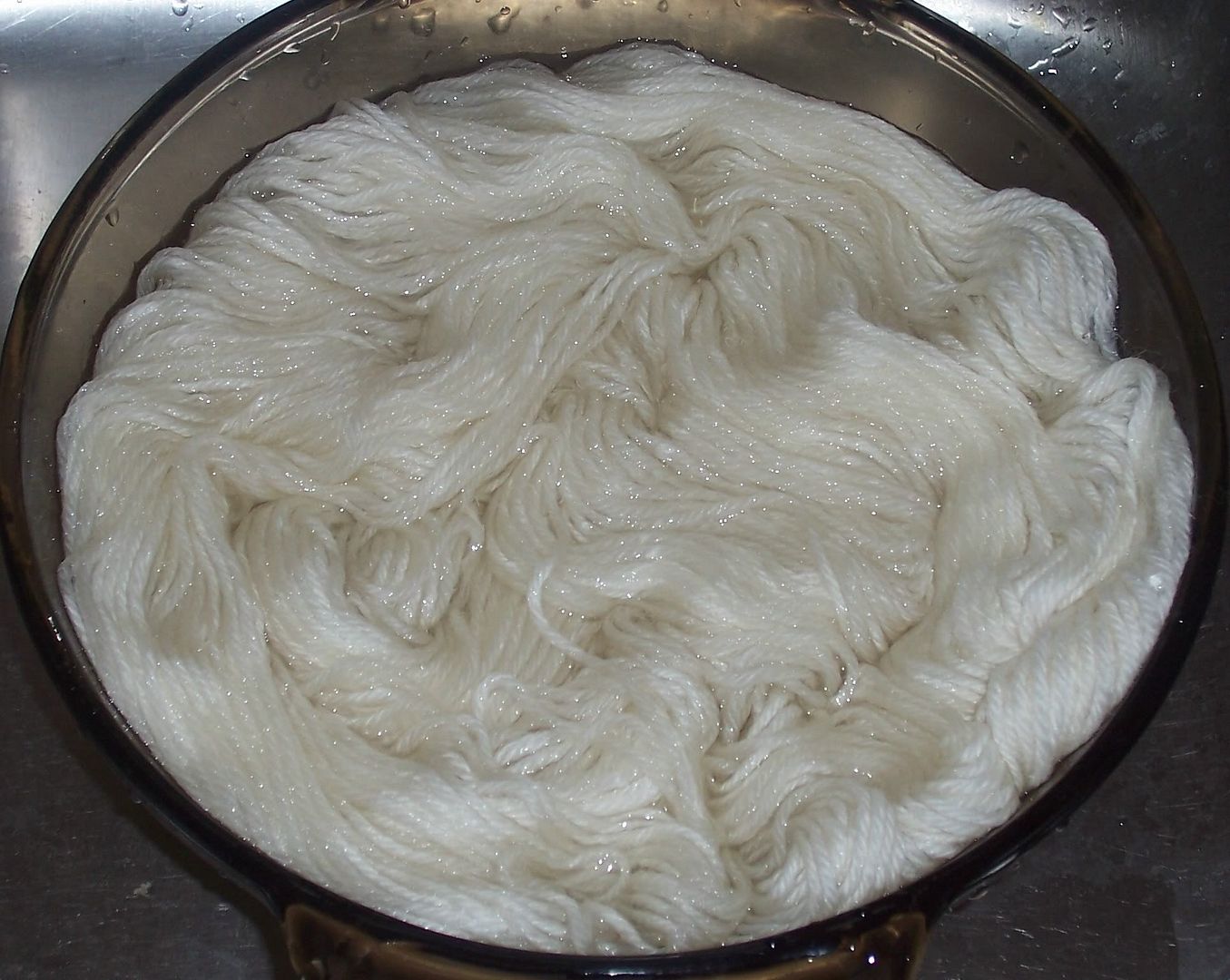 Then I squeezed out the excess water, and covered my kitchen counter with an old towel doubled over.
I put several drops of blue food coloring, a Tablespoon of vinegar and water in a coffee cup, and put the 1st 1/3 of the skein down into the cup, letting it soak up the dye for one minute. The yarn sucked up all the liquid. Then I rinsed out the coffee cup, and made purple dye by mixing red and blue food coloring (equal drops of each), and did the same 1 minute soak using the middle 1/3 of the skein this time. Then I did the blue again with the last 1/3. I darkened the purple and blue by making more dye and doing the process one more time.
Here's the yarn getting it's 2nd visit to purple dye: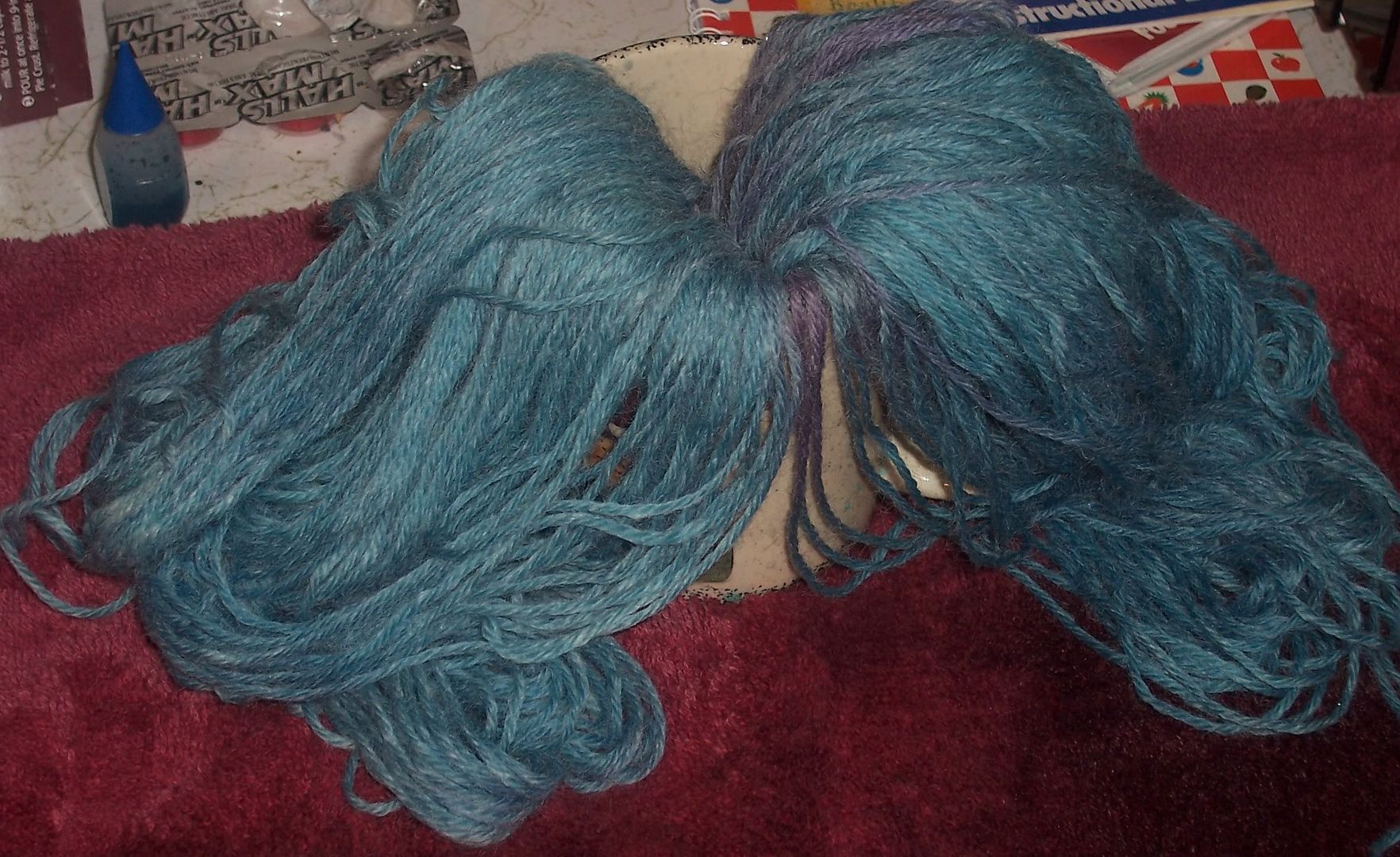 Then I put the yarn back into the glass baking dish and put it in the microwave. I microwaved it for 2 minutes. Then I let it rest for 2 minutes. Then I microwaved it again for 2 minutes.
The yarn came out steaming hot! Here's what the colors looked like: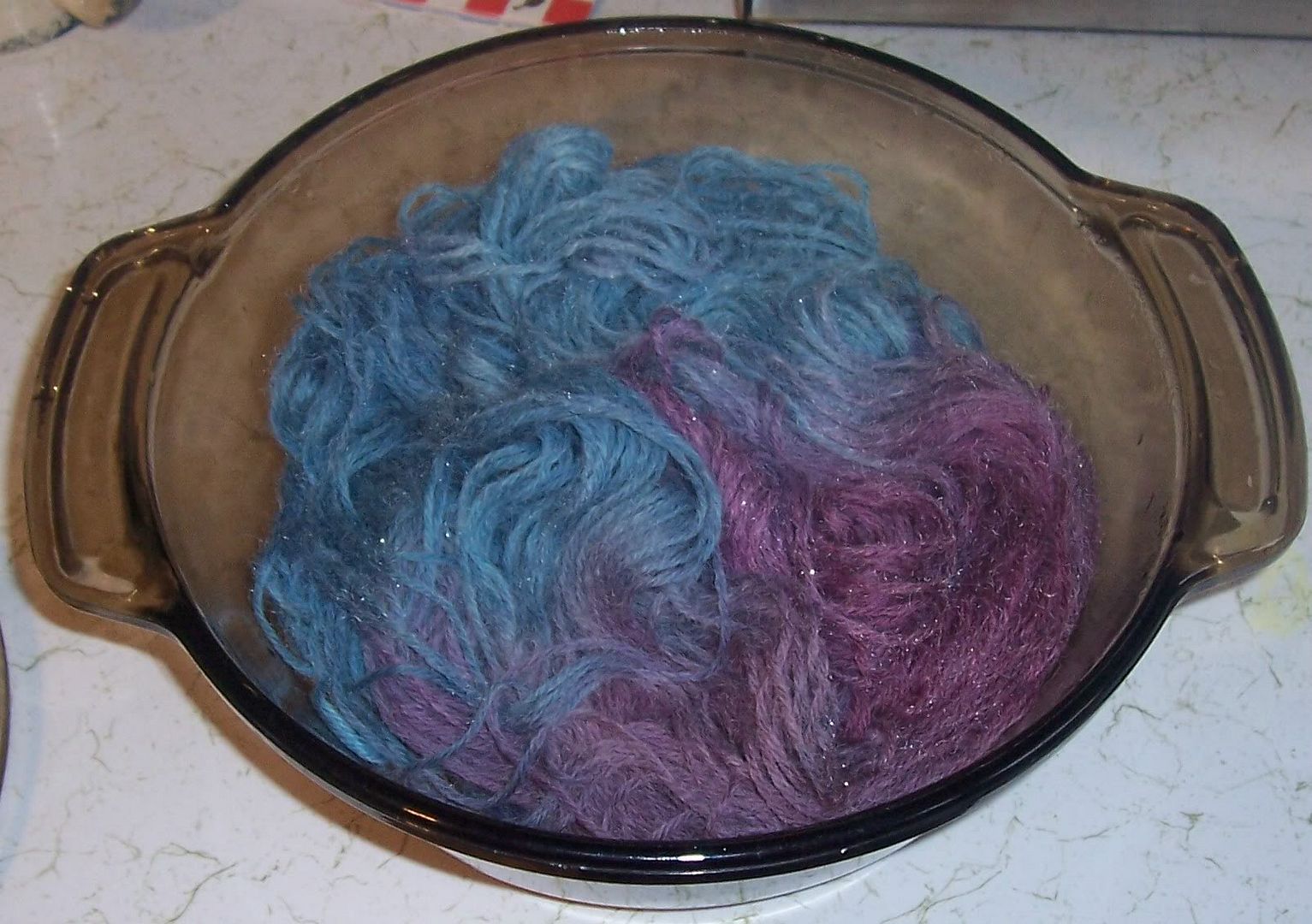 The yarn turned out pretty good! But I did forget one thing......GLOVES.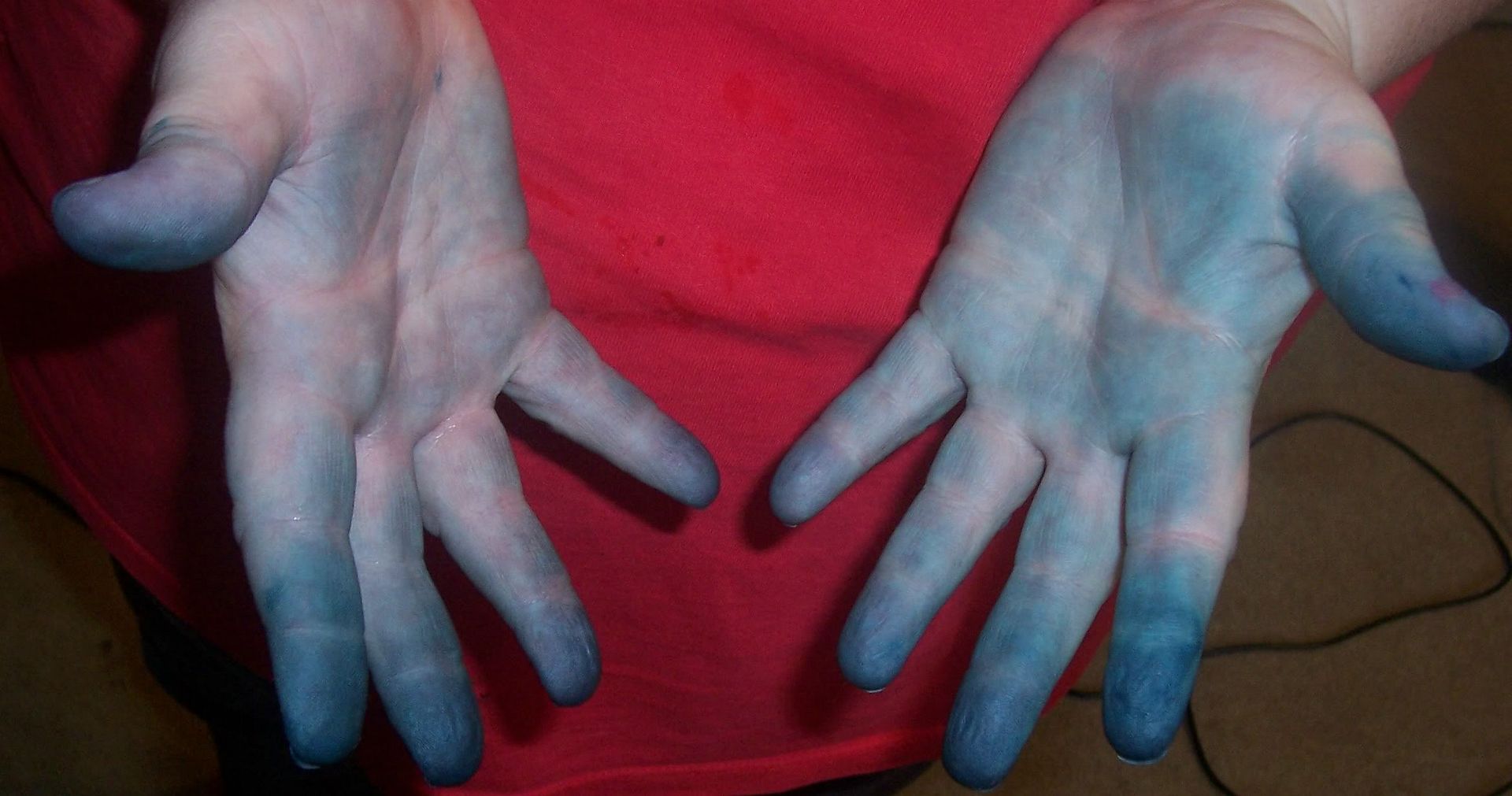 But, thank god for Clorox! lol. While I cleaned up a couple boo-boo spots on the kitchen counter, I used Clorox Clean-Up cleanser and got the dye off my hands. Good as new!
And here's the yarn drying out on the porch:

I had a great time!!! I will definitely try this again and again and again and again. :) I know there are lots of books out there that give great ideas for using commercial dyes, etc. I'm going to have to try it all! For anyone who has wanted to try it and hasn't..........
GO GET WOOLED AND DYE!!!!!
(lol)
Now I just have to figure out how to wind it into a hank. I've never done that before. lol.
Next time I will try koolaid and see if I can get a darker color.
TTFN!!