The FO Challenge
The month of June is nearly over, and I've been hard at work on my challenge to finish up all my unfinished craft projects and swaps. :) I have made progress, but still nowhere near done. So, that means the yarn diet will continue for the month of July. When the old projects are all done, I get to go shop for yarn!!
This is rough!! I'm a yarn addict. But I'm sticking to my guns. Gotta get all the bags, boxes and closet shelves cleared of unfinished projects!!!
I did finish one project this morning! The garter stitch diagonal pillow I've been working on: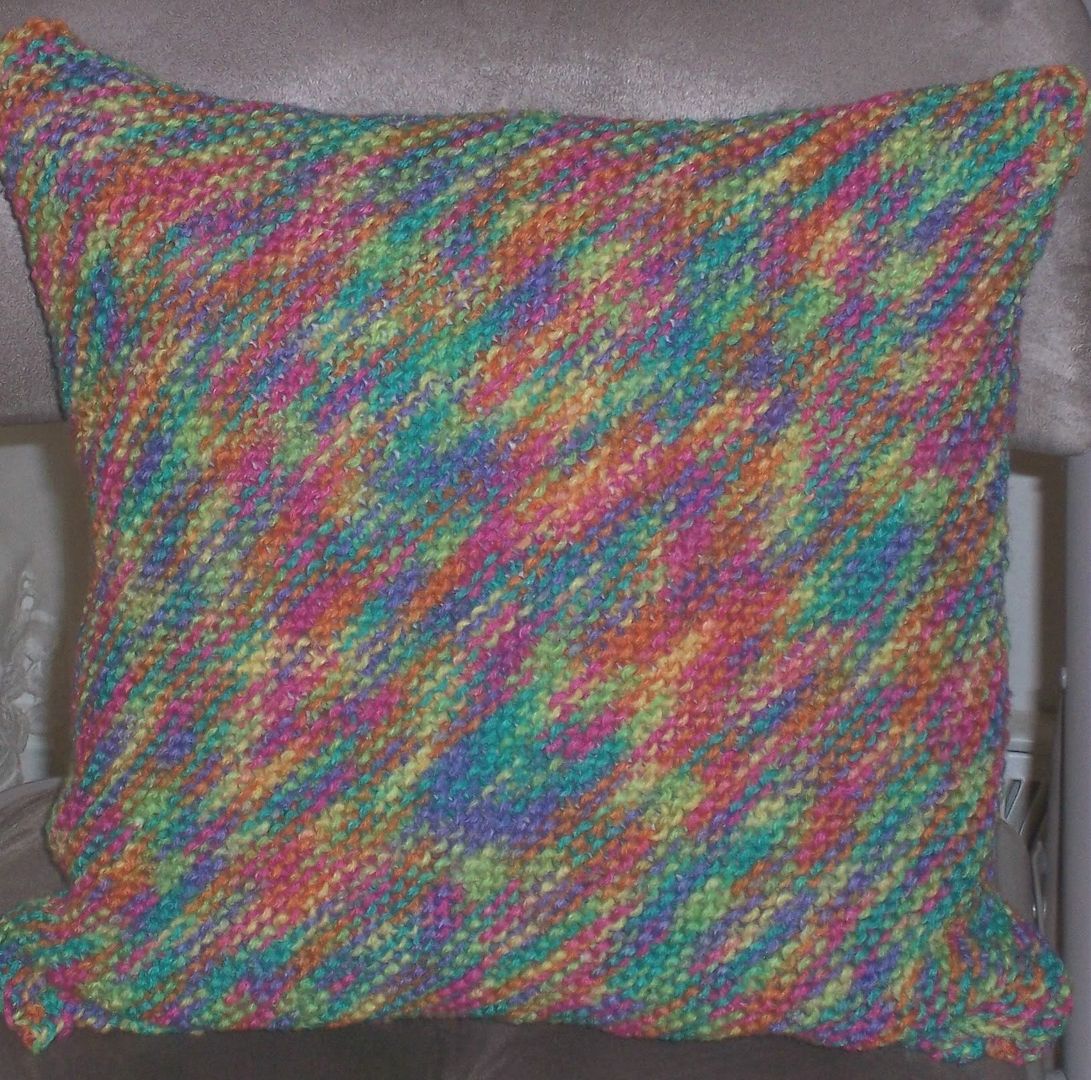 The pattern came from Easy Knitting's Spring issue. :) When I have all my UFO's done, I'm going to make the other 2 pillows from the same issue. :) I used Red Heart variegated in "Pinata'' for this pillow. I think it came out cute! :)
Here's what the list I posted at the end of May looks like now(updates in orange):
UFO
List - All Crafts
Knitted diagonal pillow from Family Circle Easy Knitting - all done!
Cable sweater vest
- started months ago. Two fronts done. Back and finishing left to complete.
Haven't worked on this yet. It's for my MIL, so it's first on my list for July.
Sequin applique/embroidered Christmas tree skirt
-- about half done. Started in 1999 and packed up for a move. Never unpacked. lol.
No work on this yet.
Kitten latchhook kit
- started 1999. About 1/2 done. Packed up for a move -- never got unpacked.
Did some work on this....still ongoing.
Scraps of Beauty crocheted afghan
-- started 3 years ago. Color change every two rows...got annoying. But very pretty pattern. About 1/3 finished. Will look great on the couch when it's done!
No work on this yet. But I did find the pattern, and it's ready to be worked on.
Kitchen swap for C'ville - Sent and received.
Bookmark Swap
- Need to make several cute bookmarks for c'ville swap, plus bookmark/book swap group.
All bookmarks done. Just need to mail them out.
Baby scrapbook
- scrapbook stuff bought, and pictures/baby stuff in box marked "scrapbook''. That's as far as I got. LOL. Gotta get this done before joshua is 27.
No work on this yet.
12" square swap
- Have about six more crocheted squares to make.
All squares, plus some extras for replacement squares done and ready to mail out.
Items for SP8, c'ville SP, and Knitting Pal swaps
- Finishing up a felted totebag, and other items for my swap pals. :)
Sent 2 c'ville SP, one SP8, and one KP boxie. Almost done with all 3!
Accessories swap
- making 2 jewelry/accessory items for swap at c'ville.
Not done yet.
Knitted scarf
- in LB wool from Scarf Style pattern book.
No work on this yet.
Branching Out scarf
from Knitty in multicolored mohair
Only a bit done on this.
Ankle Socks
- pattern from Bernat site.One sock done, one to go. Pretty knitpicks variegated sock yarn.
Not done yet. I will work on the sock and the cable vest first in July.
I made some progress in June, but most of the list is still not finished! This yarn diet might still be plauging me in the Fall. Sigh.
Here's my plan of action: For July, I am going to work on the cabled vest and the 2nd ankle sock first. And I will finish out my swaps. One more c'ville SP box to go, one more SP8 box to go and one more KP box to go. I have all my 12" squares done, plus a bunch of replacement squares to send out. All my bookmarks are ready to go into the mail. And I'm working on my accessories for the accessories swap. :) Then I will move on to the scrap afghan (I have nightmares about weaving in all those ends, with the color changes coming every 2 rows or so....lots and lots of ends!) And then I will concentrate on the Christmas tree skirt and the latch hook kit.
Whew! I got a whole lot of crafting to get done!! I think maybe by the end of August I can have everything finished! *Crossing fingers!*
And, I can say that I have not cheated!! I went to Hobby Lobby the other day, and I only bought BEADS. No yarn. I'm being a good girl! :)
Now, I can't say that nobody has given me any yarn! That doesn't count! :) It's those little unexpected yarn snacks that are keeping me focused! I could never go cold turkey!
Speaking of gift yarn, a big
THANK YOU to my friend Karla for the wonderful RAOK package she sent me! Karla sent me a deep blue/purple skein of mohair (such a yummy color!), a big package of fruit flavored tic-tacs (which the kids devoured quickly!) and a wonderful card which sits on my computer desk now! Thank you so much Karla!!! :)
TTFN!