Almost Done!!
I've made great progress on the cabled sweater vest since the weekend! :) After a year of being on the needles, this project is nearly completed!!! :) One less UFO on my To-Do list!
I made use of the dining room table on Saturday night to block, with some help from Joshua. Everyone knows that Hot Wheels help the blocking process. :) Josh was a great helper!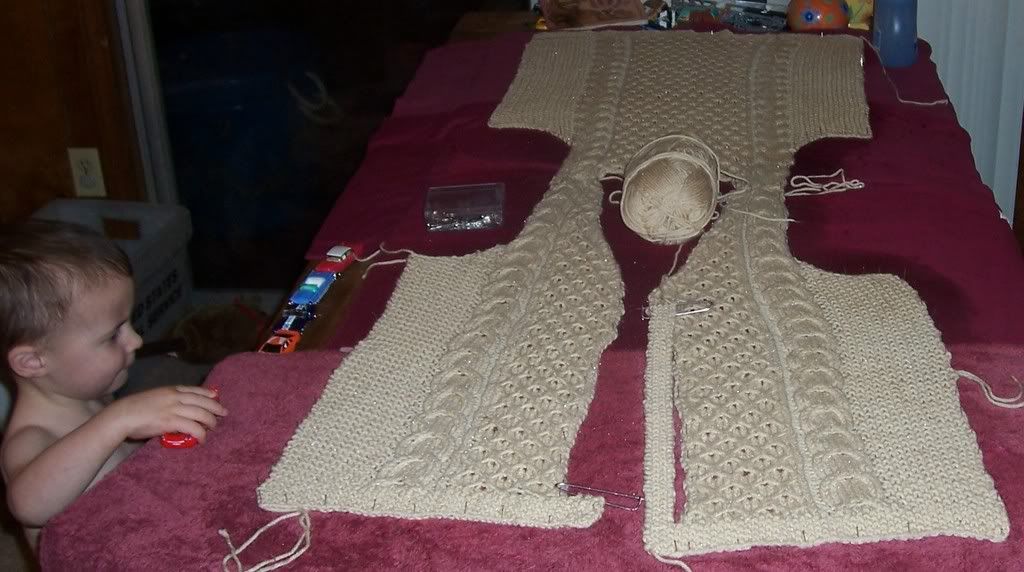 It definitely took up the entire table. My husband supplied me with foam board, and we watched A Christmas Carol on TV while I stuck pins in. I wanted to block it before I finished the front bands and the arm bands so that I would be sure I made them the right length.
Since this is my first attempt at a sweater, I was a bit nervous about the seaming. But, after blocking, when I found that all of the seams were the right length and everything matched up, I started feeling a lot more confident in myself. :)
Last night I stayed up late and finished the moss stitch front bands and seamed them. I also sewed the side seams. This morning I knitted the moss stitch bands for the armholes, and I just finished seaming the last one a few minutes ago.
As I'm typing, the pockets are blocking. Once those are sewn on, all I have left to do is go buy buttons and sew them on. I'm searching through my button box first to see if I have any wooden buttons. I don't think that I do.....or if I do, I don't have 6 that match. But, checking to be sure....I might get lucky and save myself a trip to Walmart. It's still a ZOO with all the after-holiday sales.
So far so good on my first sweater and first Aran project. I'm definitely hooked on cables! And all the little spots that I thought looked funny tightened up in blocking. Down to the finishing touches! :)
And, I've made great progress on my UFO list. For those who read my blog regularly, you might remember I posted a list in June of all my unfinished projects. And I said I would not buy any new yarn or start any new projects for myself until I had them all done. Except for some sari silk I bought myself as a Christmas present and a scarf I'm working on, I have kept my promise. Here's the list, and my progress:
UFO List - All Crafts
Knitted diagonal pillow from Family Circle Easy Knitting
- all done!
Cable sweater vest
- Started a year ago. Will be finished tomorrow!
Sequin applique/embroidered Christmas tree skirt
-- about half done. I'm going to trim off the sections that aren't finished and make a smaller applique pillow from this. It's on my list for after I finished the Cable sweater.
Kitten latchhook kit
- started 1999. About 1/2 done. Packed up for a move -- never got unpacked. Did some work on this....still ongoing.
Scraps of Beauty crocheted afghan
-- started 3 years ago. Color change every two rows...got annoying. But very pretty pattern. I've made great progress on this! I estimate I can finish it in a week after I get the cable sweater done.
Baby scrapbook
- scrapbook stuff bought, and pictures/baby stuff in box marked "scrapbook''. That's as far as I got. LOL. Gotta get this done before joshua is 27. No work on this yet. Scrapbooking just doesn't appeal to me.
12" square afghan to join
- I have a pile of 12" squares that need to joined into an afghan. When the Scrap afghan is completed, I will get them out and crochet them together.
Knitted scarf
- in LB wool from Scarf Style pattern book. I pulled this off the needles, and plan to use the yarn for something else.
Branching Out scarf
- I pulled this off the needles and will try it again once I have more of the older projects finished.
Ankle Socks
- pattern from Bernat site.One sock done, one to go. Pretty knitpicks variegated sock yarn. 2/3 done. This will finish up quickly once I get the cabled sweater vest done.
So, I'm getting closer to being able to buy yarn again!!!!