Spring Sprung! :)
I went outside and dug into my first yardwork project of the spring this afternoon. :) I raked the leaves and crud out of one of my flowerbeds in the front yard, cut out several little trees that were trying to grow (darn squirrels can't remember where they bury those acorns!), and pulled out some dead weeds. Tomorrow I will get the last of the ickys out of that bed and mulch it with cedar mulch. One bed down.....several to go.
It felt great!!! There was such a nice spring breeze, and the sun felt wonderful!!!
Some of my flowers are blooming already! :)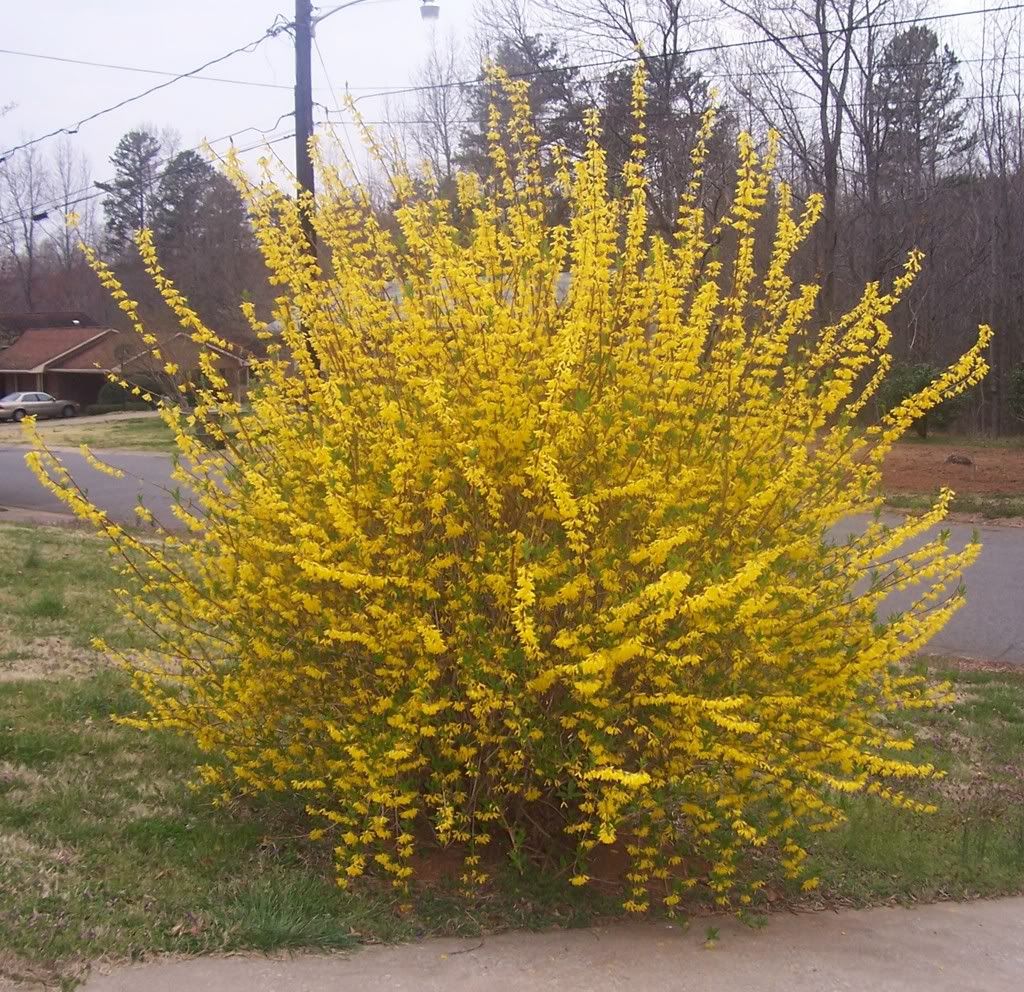 I have two forsythia bushes, but this is my favorite one. :)
A closeup.....
I'm not really an informed gardener so I have some plants that I can't identify.....but the flowers are still pretty. :)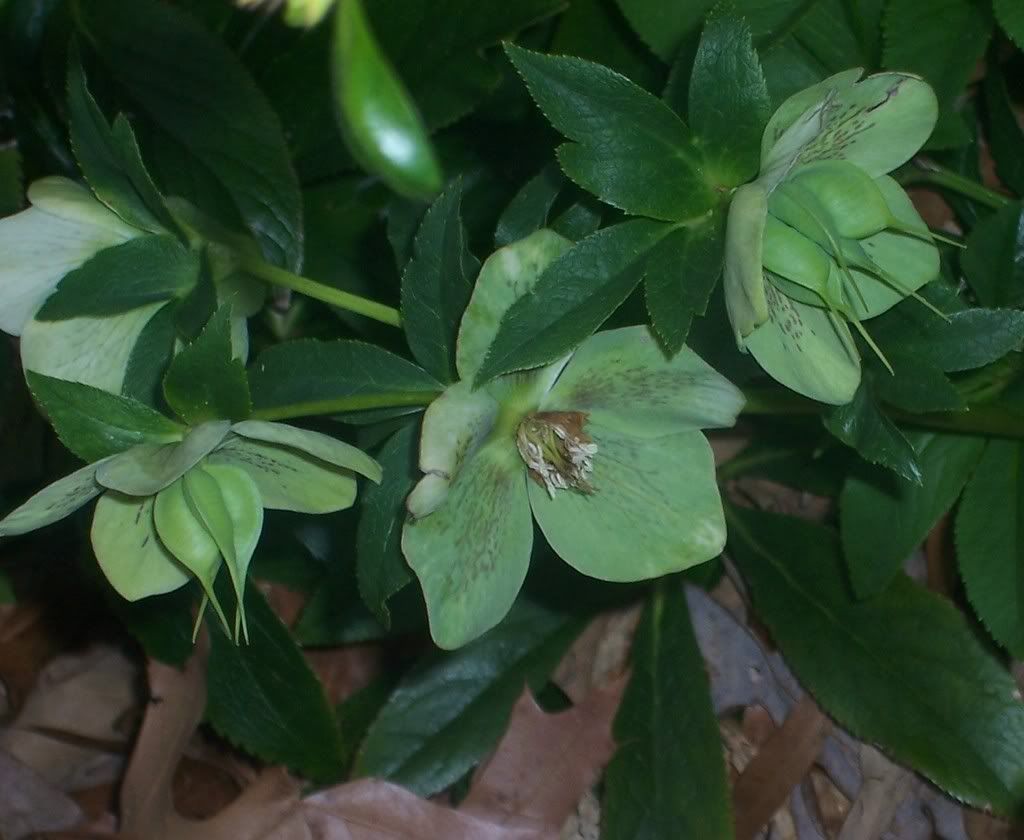 Anyone know what this one is??? It blooms in varying colors from a light green to a pale yellow.
Or how about this groundcover?? It looks like ivy for most of the year, but has pretty purple flowers in the spring....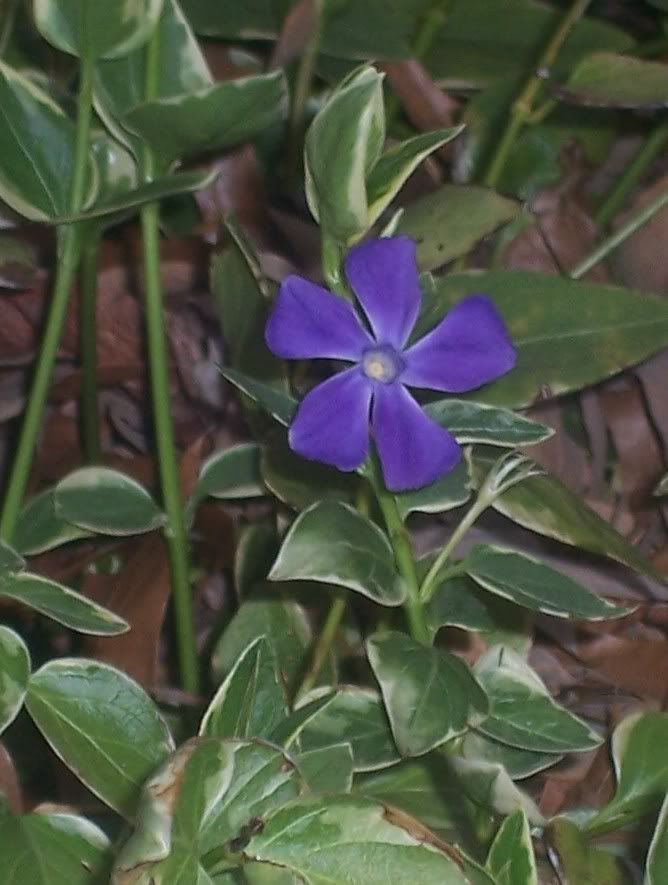 And of course, I have the usual wild violets...
I guess technically they are sorta weeds....but I think they're pretty. :) You can also see the red Southern dirt. :) When I first moved here from the Midwest, I thought it was really cool. Dirt in Kansas is Black, black or black. Here it's red, red, red! I have to say I stopped thinking it was so cool when I started having to try to get it out of a toddler's clothes, off the rug, etc. Oh my, does it ever stain everything!!!! But it does remind me of Tara..... "And, I swear as God is my witness, I will nevah be hungry again!'' :)
The cats are also enjoying the Spring weather...Elmo thinks he is a lion and has been busy climbing trees. He thinks he can catch birds, but really the birds just laugh at him. They let him get close and then fly away squawking at him.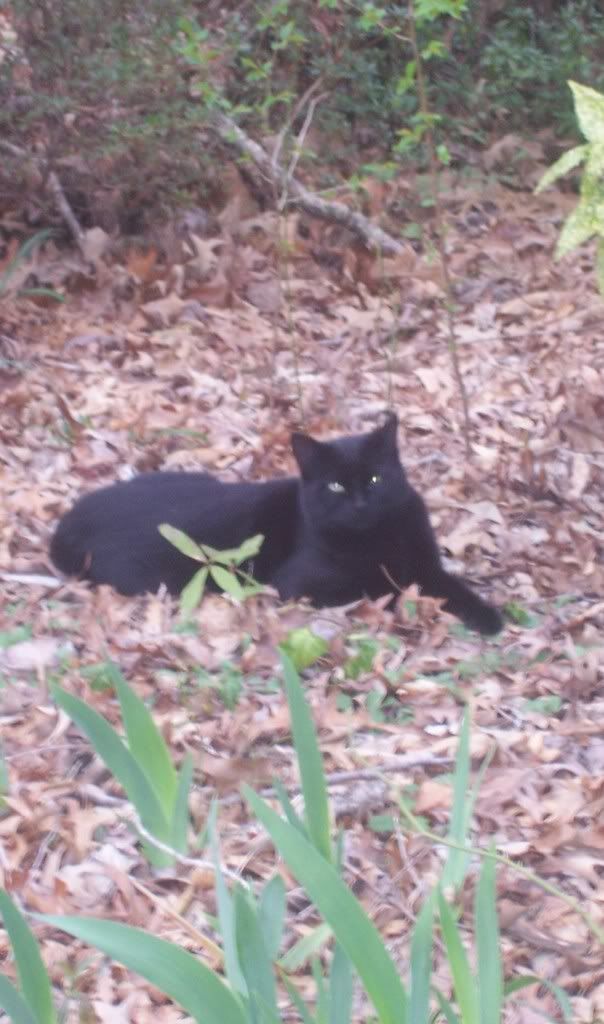 Fooful is not generally impressed with much. However, laying around in the sun all day makes him sleepy so at night he finds something to nap in. This photo reminds me of Garfield sleeping in his bed.... He's such a BIG tomcat....how he ever squeezed himself into this little box is beyond me. Fatttt catttt in a little box.....Fattttt catttt in a little box. :)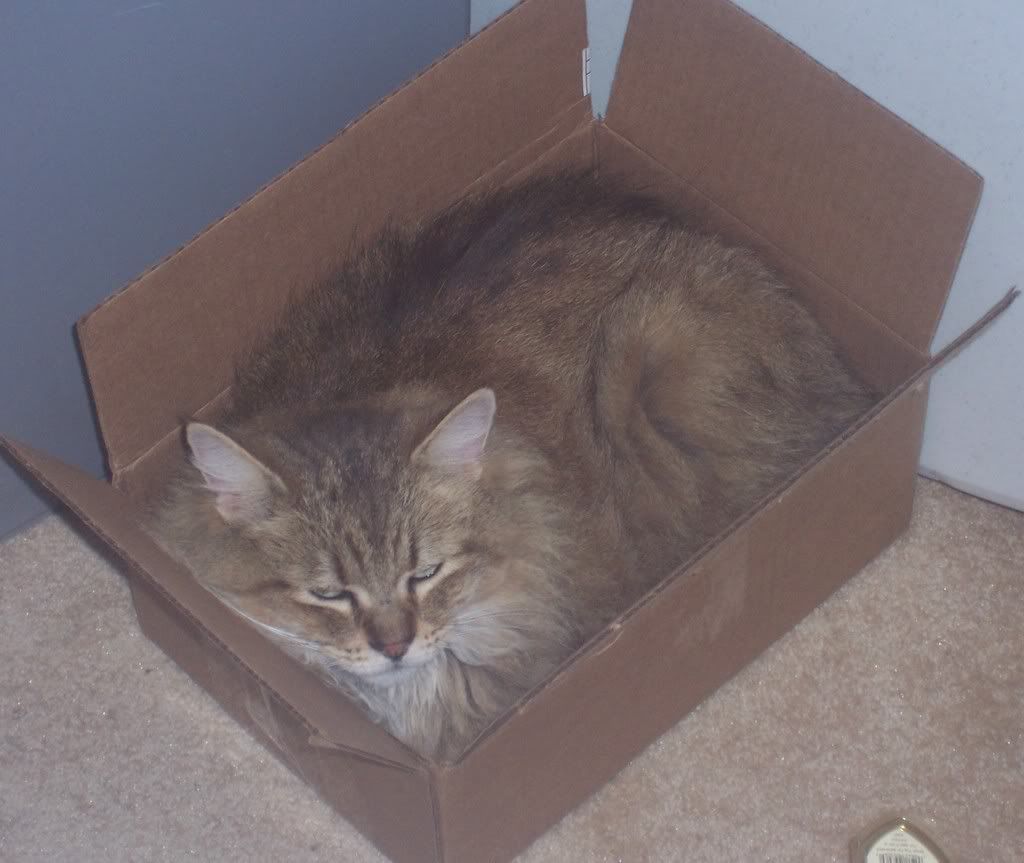 And....the coming of Spring means the kids are happier! My teenager is busy with his friends, and Joshua is frolicing outside every day now.
Daddy got Josh a BIG present...... Lookie!!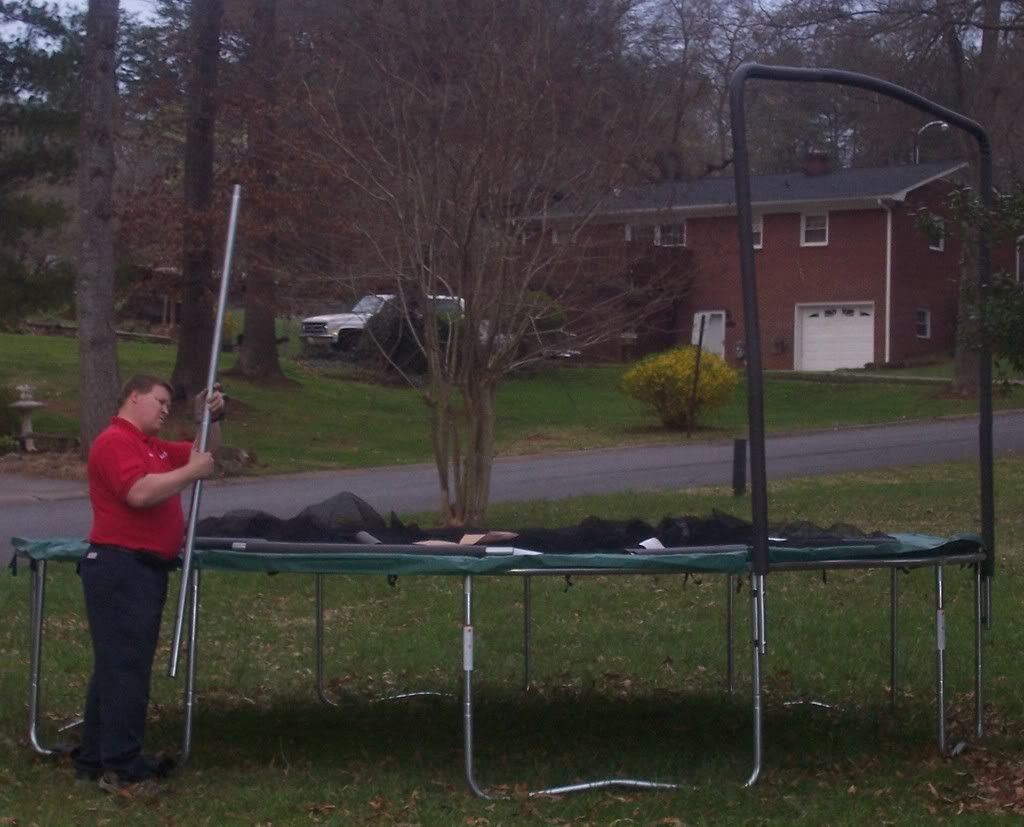 It's all assembled now. Talk about a kid in heaven!! Daddy and Josh bounced on the trampoline together tonight while I cleaned out the flower bed. They had a blast!! :)
I envy Joshua sometimes. He's still young enough to play all day and just enjoy life. And.....he's the only one in the family who can go outside without any pants on and not get strange looks from the neighbors.....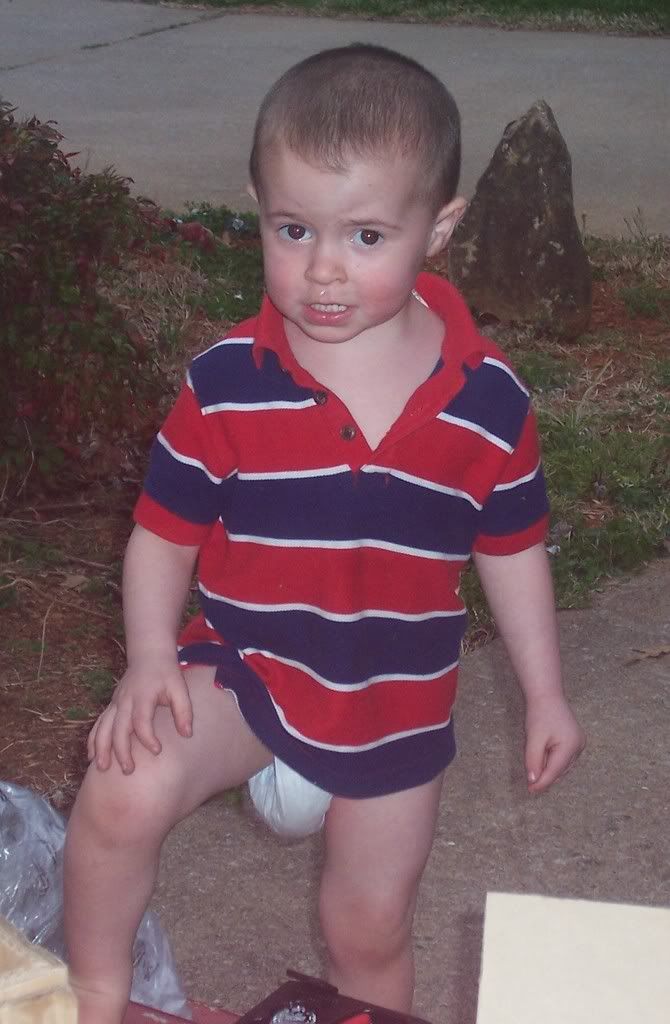 Ahhhhh, freedom!!! :)
On the knitting/crafting side of things ---
A big thank you to Lene for the Great Bookmark Exchange package she sent me a few days ago. I am just now posting photos.....had to replace the memory card in my camera before I could post photos. I kept going to Walmart and forgetting to buy one!!! Finally remembered!!

And, just an aside......does anyone watch "How Clean is Your House?'' I just love that show!! Our Tivo recorded it the other day and the description sounded intriguing so I watched it. I'm hooked. These 2 British women travel around cleaning people's homes who are totally lacking in cleaning skills......oh my, some of the houses they have scrubbed make me feel totally great about my house!!! They give out some great easy cleaning tips too. :)
TTFN!