My Yarn Diet is OVER!!!
I am no longer restricted from buying new yarn!! WOOHOO!!! I spent months whittling down my UFO list so that I could once again breathe that New Yarn Smell, and so that visits to the LYS were not just to buy yarn for other people...but to buy new wonderful yarn for MEEEEEEEEEEEEE! :)
Believe me.....I went and frolicked at the yarn shop a few days ago. I'm glad I did they had lots of new yarns and kits....I was in knitter's nirvana. :)
One new yarn that came home with me was some pretty brown boucle organic cotton called Colorganic by Foxfibre. The LYS gave me a little piece of the unspun cotton to show that the coloring of the yarn is natural.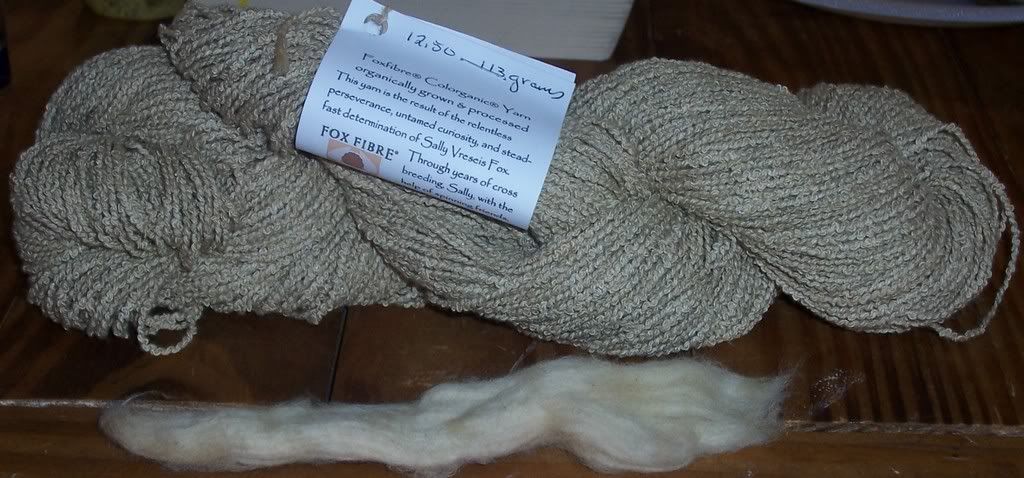 Sally Vreseis Fox experimented with different types of cotton to produce organic cotton that grows naturally in several different shades from beige to light green. It's just beautiful yarn. One skein wanted to come home with me so that I can knit a scarf with it. :) There is a website about Foxfibre natural cotton
here
.
And, they had all sorts of Soy Silk yarn. :) I bought several skeins of a brand called Pure by South West Trading Company.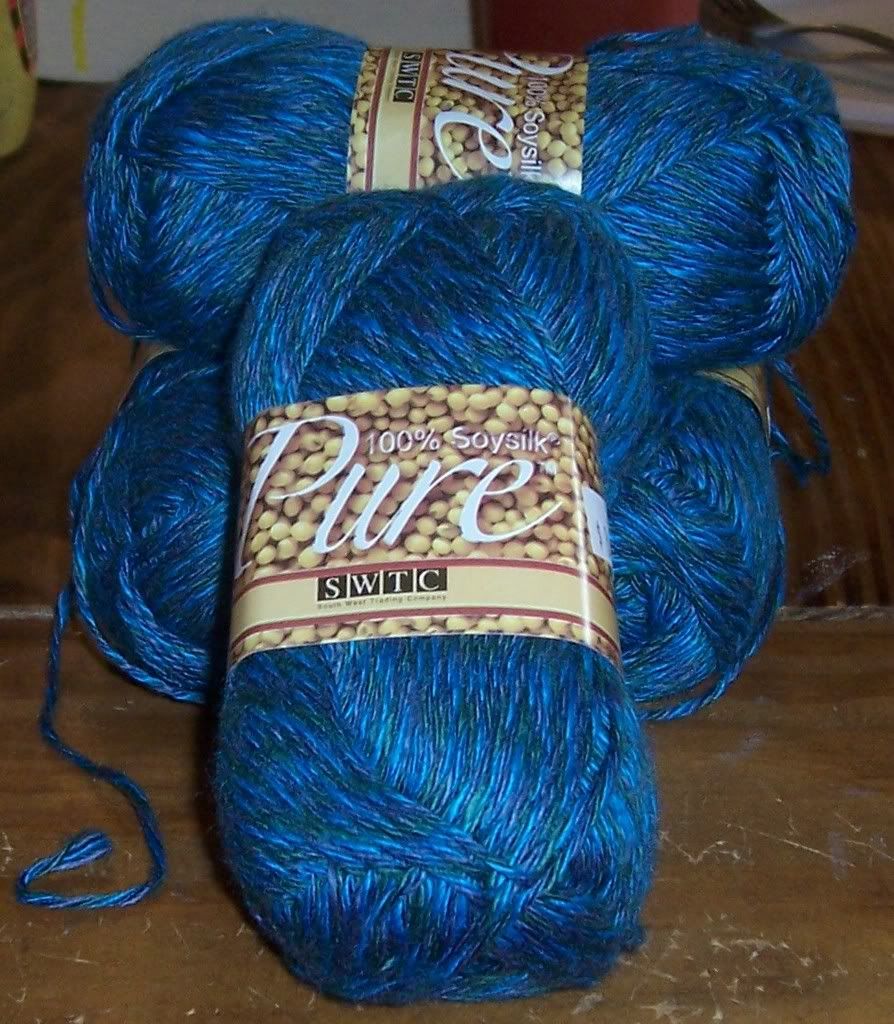 Isn't it gorgeous???!!! Soy Silk is made from byproducts left over from making Tofu, according to the gal at the LYS. They had lots of 100% soysilk, and even some soysilk/wool blends that are feltable. I have my eye set on the wool blends....they had Noro-like colors that I'm going to have to try out! I sent 2 skeins of this blue-green soysilk to a yarn swap partner in Sweden and kept 2 for myself. :) Definite scarf in mind there! :)
Did you know they also make yarn from corn now?? And, I also saw bamboo yarn and all sorts of new things! Ahhh....the joys of being off a yarn diet!
To further celebrate my purchase of new yarn, I picked up some Fibre Trends lace scarf patterns on this visit to the LYS as well. :)
Ok.....on to something else besides my yarn addiction......
A big Thank You to Gurli H., my SP9 partner. I received her final giftie box from Norway! I loved everything you sent Gurli -- thank you for being my SP partner!
Here is what I received: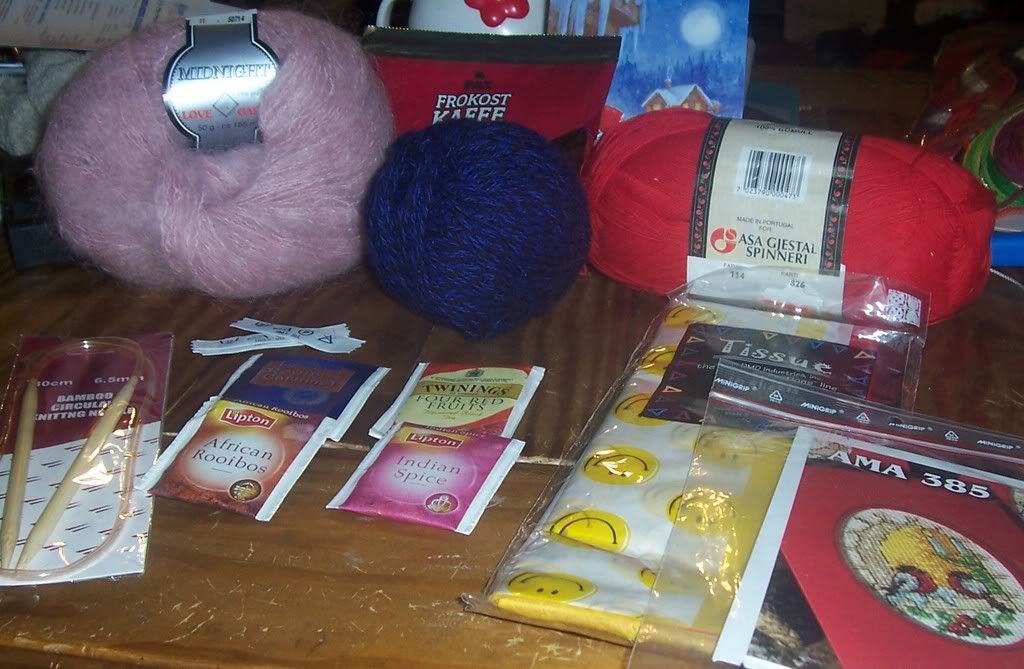 She sent some blue and black wool sock yarn, a big ball of red fingering weight yarn, one skein of Midnight Mohair in pink, yummy teas, a chocolate bar, a package of cute tissue paper, coffee, a set of circular knitting needles, and a little Christmas cross stitch kit.
Not much on the needles right now. Today it's rainy and cold outside (Winter finally hit NC!), so I'm knitting on dishcloths for 2 exchanges.
It's so grey and drab outside that I got out my cone of Peaches and Creme "Gumdrops'' to knit dishcloths. It can rain, drizzle and be icky outdoors, but I'm knitting with happy spring colors -- keeps me smiling! :)
TTFN!!!