First Sock all Done!
I finally finished my first sock! Here's a picture!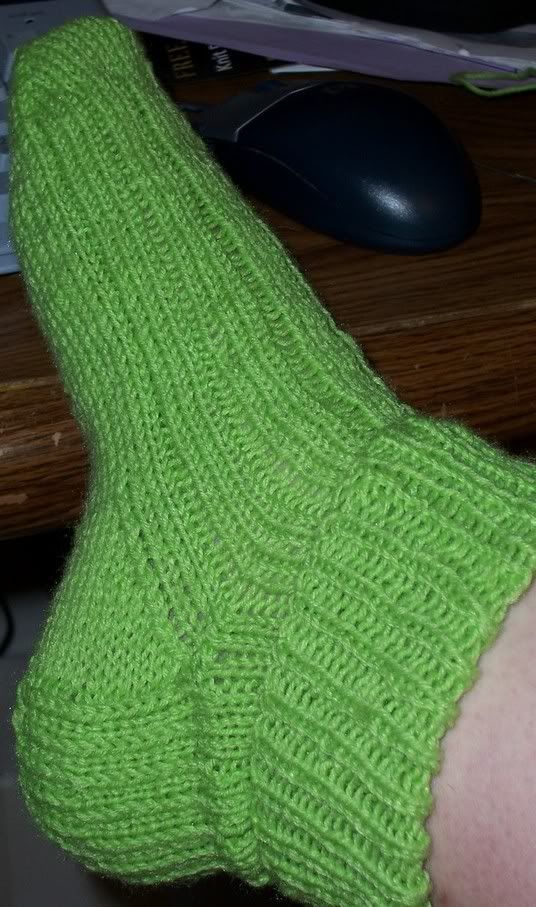 I used larger dpn's this time since I hadn't used them before. When I make my second pair, I'll use size 2 or 3 dpns to get a tighter look.
I used Bernat Sox yarn in lime, and a ankle sock pattern from the Bernat website.
Now to start sock #2. :)
I bought some variegated sock yarn in autumn colors and a set of size 3 needles to make my next pair.
I still have the cursed Fun Fur scarf on my needles, plus a homespun scarf. A polka dot purse is another UFO I have to work on. I want to get all my unfinished stuff done before knitting class starts up again in September. My MIL wants me to make a sweater vest for her, and I want to be able to concentrate on it. That will be my first attempt at cables! :)
Still working on my craft room. I have all my yarn up on shelves. Just need to sort out my pattern books and other supplies. I'll take a picture of the finished room when it's all done and organized.
You Are 30% Weird

Not enough to scare other people...
But sometimes you scare yourself.
TTFN!!