Black Cat and the Cursed Scarf
The title sounds a bit like an alternative band, doesn't it?? lol.
I have FINALLY finished the cursed scarf!!!! I have never been so glad to bind something off in my life! :)
I started a scarf in red fun fur for my MIL about two months ago or more. The project has been cursed from the beginning. I had to pull it all out and start over 3 times. Once the baby pulled it off the needles, once one of our cats thought it looked fun to play with and pulled it off the needles, and once I had it in my knitting bag and my point protectors came off. ARGH!!!
But...despite the curse....the scarf is now done. All I have to do is walk half a block to my inlaws and give it to her. Just watch.....an eagle will probably swoop down and rip it into shreds before my eyes. lol.
Just to prove I did finish it, here's a photo:
Do you see the two skeins of Fun Fur next to the scarf?? Yes, despite all my problems with the Cursed Scarf, I am going to start another one in those colors for myself. LOL. What can I say?? I'm a glutton for punishment! I'm going to use two strands this time. One skein is Fun Fur Prints in a really pretty mix of green, yellow, pink and orange. And the 2nd skein matches the green in the variegated. :)
On another good furry note, a neighbor adopted the calico stray cat that I blogged about a few days ago. She didn't get along with our other cats, but she loves it over at our neighbor's house. She's now happy and healthy. :) And, we did a kitten rescue a few days ago.
A friend of mine has neighbors who have about 20 cats. They don't feed them or take care of them. A litter of kittens was born about six weeks ago, and the poor kittens were extremely thin and just doing poorly in the 100 degree heat. So, I brought a big shopping bag over to her house, scooped up one of the little kittens and took him home to live with us. My friend is working on adopting out more of them to good homes.
We named our little fur ball Grover. Here he is: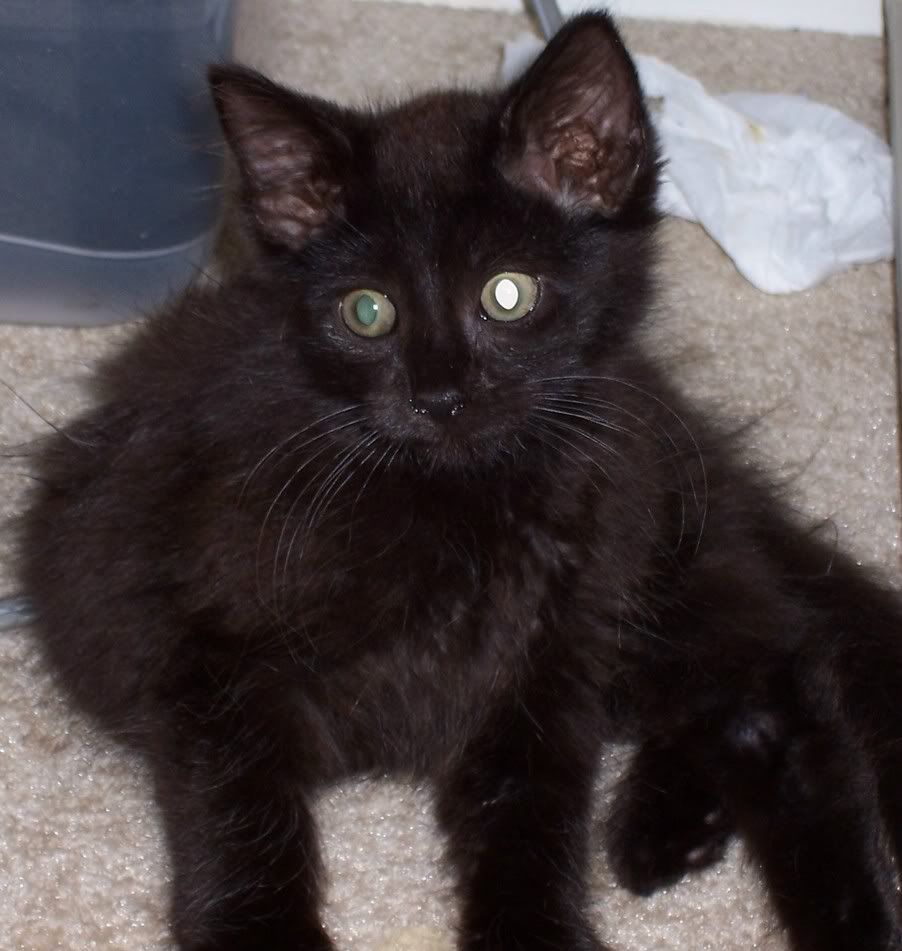 Isn't he a cutie?? He's gaining weight, and after a bath he's all clean and happy. He's scheduled for a trip to the vet for shots and a physical exam. He's a smart little thing and potty trained in no time at all. And he's already learned that if he hangs out under the high chair at meal time, that he will probably get a goodie or two. :) He's a loveable little thing and loves pats. He gives kitty kisses to anyone who picks him up. I think he's just glad to have a full food and water dish, clean ears and fur, and to not have fleas and worms anymore.
Just a common sense reminder: PLEASE don't have too many pets or even one pet that you can't take care of and provide proper food and veterinary care. And spay/neuter your pets. Consider adopting from an animal shelter if you do want a pet. I am now off my soap box. :)
TTFN!!!