The Beginning
I have started knitting a cabled button up vest from an old Bernat sweater book that I have from 1978. My mother in law saw the pattern and just loved it, so of course I said I would make it for her. It's my first real advanced knitting adventure, and what an adventure it will be. lol. Cables, cables and more cables. :)
I've never made a sweater before....and this one has very interesting shaping and decreasing instructions. But I can do it! And I have several very experienced knitters who are just an email away if I get stuck. This is the first time I have done cables, too.....so I'm learning as I go. So far, so good. I'm using a dpn to hold the stitches instead of the cable needle I bought. For me the bamboo dpn works a lot better than the slick aluminum for holding the stitches. I remember seeing on a website somewhere that you can also do cables without a needle at all, but I'll save that for when I have more experience with them. I don't want to have to go chasing dropped stitches. :)
I have really just begun. I'm working on the left front piece, and I have the pattern repeat done twice. Whew. I love a challenge, and I'm learning a lot as I go.
Here's what I have done so far: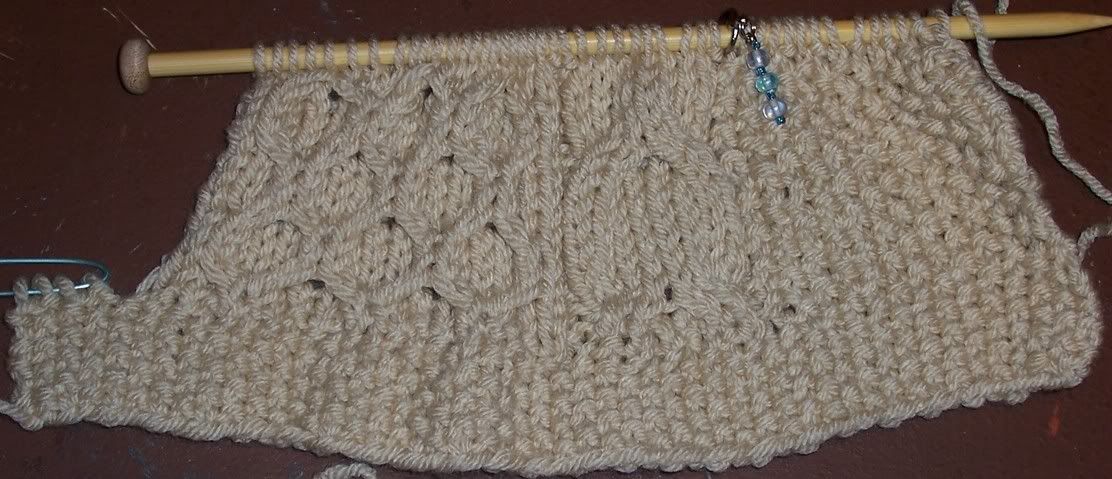 I wish it was easier to see the detail....the front and back twist pattern is so neat looking!! And the stitches aren't difficult.
The hardest part so far is really just reading the pattern. It's complicated, and was a bit intimidating at first.
When I finish this project, I think I will try an Aran afghan. The patterning just comes out so beautiful, and it's almost like it just pops out of nowhere! Very cool!
And so far, I'm right on gauge. I'm being very careful to check, because I don't want to make this really gorgeous cabled vest, and have it be too big or too small for my MIL.
It's a great incentive to lose weight (I told myself I will NOT make myself any sweaters until I've lost a significant amount of weight and can fit into a Large), because I'd love to have one of these sweaters in a pretty teal blue. Yep....I'd break the off white tradition. :) I'm a rebel.
Well, I'm off to get a few more rows done before the baby wakes up.
TTFN!!!