MMMMMMMMMMMMM.....tea!
I got some goodies in today's mail!! :) Here's a picture of everything!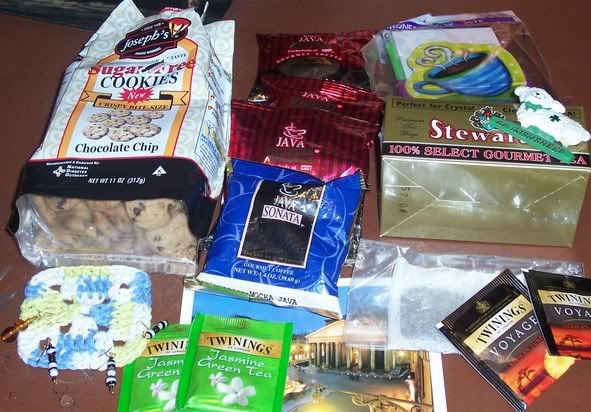 First off I got my Tea and Coffee Swap package (Crochetville) from AndiM. She sent a box of Apple Cinnamon tea, a cute notepad set with a coffee cup on the front, and 4 baggies of flavored coffee (mmmmmmm!). She also sent a bag of sugar free chocolate chip cookies!!!!! The baby and I both tried them -- totally yummie!! I'm diabetic, so I don't get chocolate very often. But I can have 4 of the cookies for a snack with no worries -- THANK YOU Andi!!!
And...I also got my C'Ville Stitch Marker swap puffy from Kimberly! She sent me four very pretty stitch markers. They were cleverly hooked to a crocheted coaster...which I can use with all the wonderful tea she sent me!! :) She sent some Earl Grey (mmmm....love it! My favorite tea!), and two different flavors of Twinings Tea. :) She also included a postcard from Rome and the cutest litte Irish Sheep magnet. He is happily grazing on front of our fridge already. :) THANK YOU Kimberly!! :)
Also thank you to Jessi R. and AndiM for sending me gift certificates to Adagio Teas. :) I ordered their holiday sampler -- the candy cane tea is great! And plan to place another order this week. It's even more fun to shop their website when you've got a $5 gift certificate! :)
TTFN!!!!