UFO's are flying!
I think I must have KADD -- knitting attention deficit disorder. I always have to have several knit or crochet projects going at once. Then if I get bored with one pattern, I can switch to one of the other projects I'm working on.
Right now, I'm working on a poncho and scarf for a friend's little girl. I'm also making several dishcloths for exchanges. And, I'm making a sweater vest for my MIL. Plus two pairs of socks for myself. I want to start on a mohair shawl for myself, but haven't gotten that started yet.
I had an angel to make for an exchange, so I pulled out my thread hooks and had fun making a Halloween theme clothespin angel yesterday.
Here's how she came out:
And if you look from the back, you can see her wings are actually a bat.
If I had more time, I would paint the stand to look like shoes and put her on a base with some leaves and pumpkins. But it's for an exchange, and I need to get it in the mail. I think I'll make a more detailed Christmas angel, or maybe a Thanksgiving one and spend more time on it. I love to paint! And usually I only work on miniatures....but I think I could expand to painting other things.
Here's one of my miniatures that won a miniatures painting contest: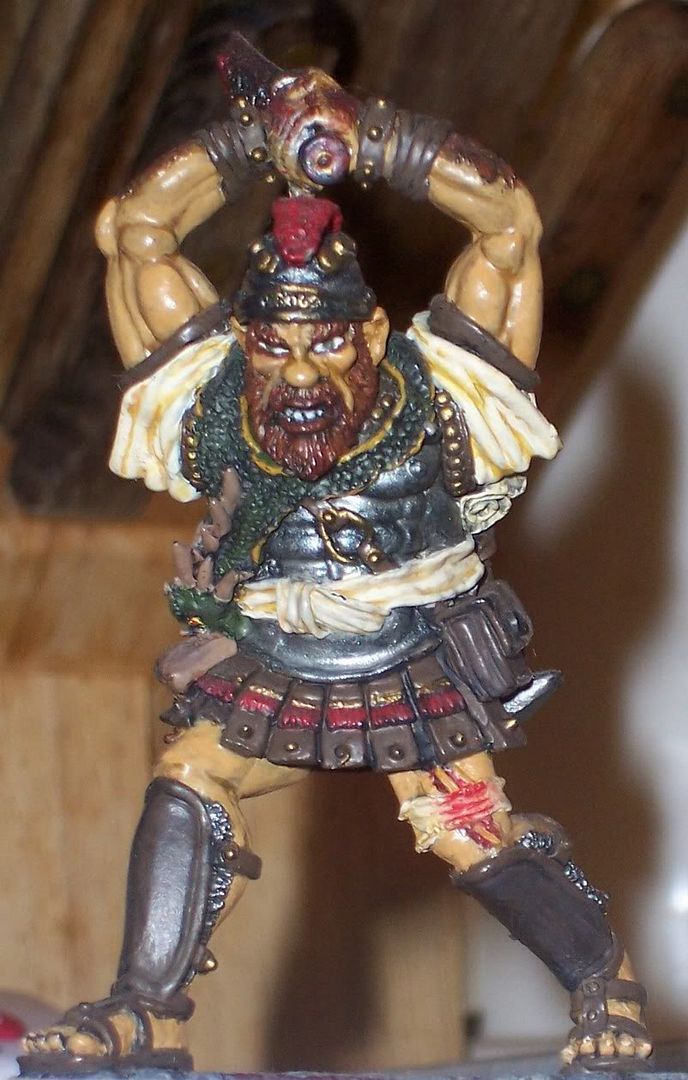 Pretty gruesome, eh? lol. The giant is a pewter model and stands about 4 inches tall. I enlarged the photo so you could see the details of his face, etc. The giant is a large model. Most of the models I paint are between 1 and 3 inches tall and are used in games like Warmachine (by Privateer Press), BloodBowl (football played with miniatures) and WarHammer. My husband and teenage son like to play, and I like to paint their minis for them. :) Although I do love football, so I enjoy BloodBowl. I have a team made up of Nun models (I went to Catholic school....lol). We usually play BloodBowl on Superbowl Sunday while the game is on. :)
On the knitting/crochet front, the Halloween angel is the extent of my FO's this week. I'll take a picture of Charity's crocheted poncho when I finally have it all done. The pattern I'm using is on BellaOnline
here
. Very simple, fast and very cute!! It works up like a granny square with a hole in the middle. :) Great mindless crochet while watching television. :) I should be done with it in the next couple days and I'll post a photograph of Charity modeling her poncho. :)
Here's a quiz I thought was cute:

Who doesn't love a pony? You are one of these miniature horses, renown for your beauty and desired by many. Full of grace, you are a beautiful and very special animal, full of strength and majesty.
You were almost a:
Puppy
or a
Bear Cub
You are least like a:
Chipmunk
or a
Frog
The Cute Animals Quiz