Making Progress
Finally, I found a bit of time to get in some knitting. I'm still working on the left front of the cabled vest I'm making for my MIL. So far, so good. Here's how it looks so far: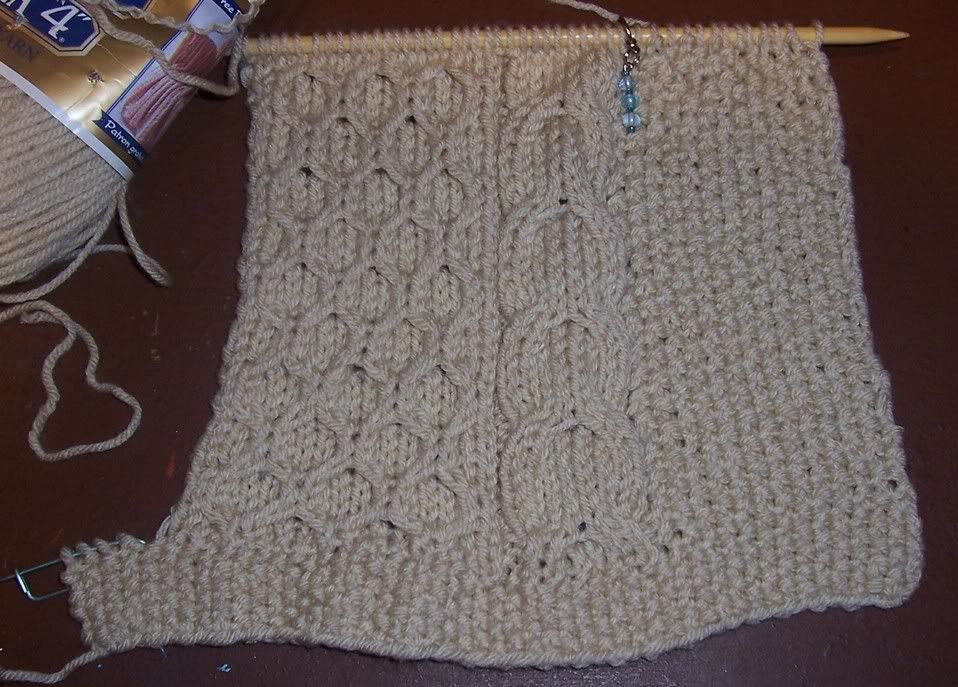 Now that I have the hang of cables, it's not as intimidating as it was when I first started. But, I haven't gotten to the shaping and decreasing yet. lol. That might give me a few grey hairs. :)
So far, I'm on gauge and no big boo-boos. *Crossing fingers*
On the home front, got started painting the patio furniture and Joshua's swingset yesterday. One coat of hunter green Rustoleum on two patio tables and one pole of the swingset. I figure if I paint a bit each day while Joshua is taking his nap, that I can have it all done in a few days. The green dries a lot prettier than I thought it would.
After I get all the patio furniture done, I'm going to get concrete paint and repaint our front and back porch. The folks we bought the house from used some sort of gloss finish paint on the porches. Not only is it peeling off, but when it gets wet, it's very slick. I've almost taken a header off the front porch steps several times. So, I'm going to re-do the porches with concrete paint, with just a touch of sand added between coats. I'm leaning towards painting both porch floors a dark blue. Then coordinate the furniture cushions with hunter green/dark blue accents. It's a good creative outlet for me. :) I'm going to make the cushions and pillows myself. Might take me awhile to get it all done, but I do have all winter. So...no hurry. :)
TTFN!!!! :)