Postcards, Purses and Projects
I received my Crochetville purse swap puffy today from Jackie. The package arrived from the Phillipines, and I just love the gorgeous purse she made me!!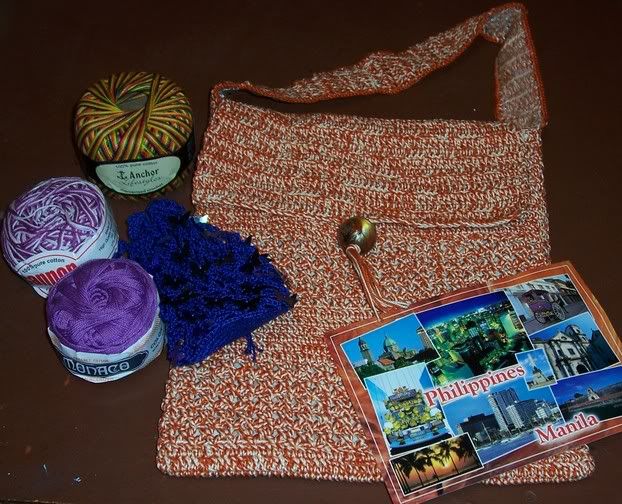 She also sent 3 balls of thread, a postcard from Manila, and a pretty blue thread bag.
I love the purse Jackie! Thank you!!!! :)
I also received the Winter issue of Interweave Knits. Boy....lots and lots of gorgeous sweater patterns in this issue!! And a great pair of socks that I will have to knit. :)
Speaking of magazines, I tried the dishcloth pattern from the January issue of Creative Knits a second time, and got through it without any boo-boos. The last one came out a bit wonky as I was trying to knit and watch a scary movie at the same time. Obviously for me, knitting and scary don't mix. lol. Here's a picture of my 2nd dishcloth (and the stripes came out right on this one!)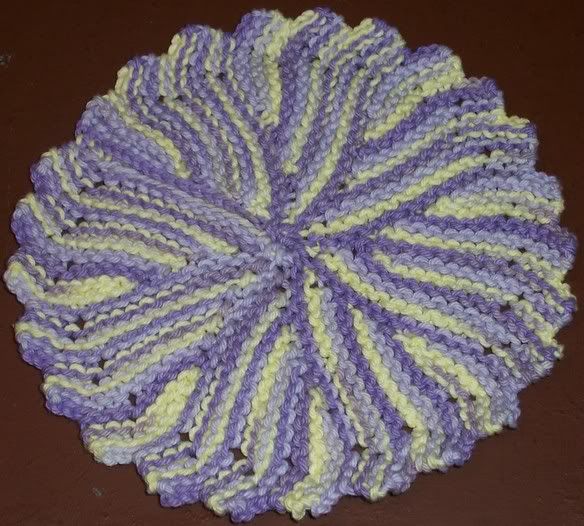 I received some more postcards/letters from Postcrossing. Here's a picture of the latest: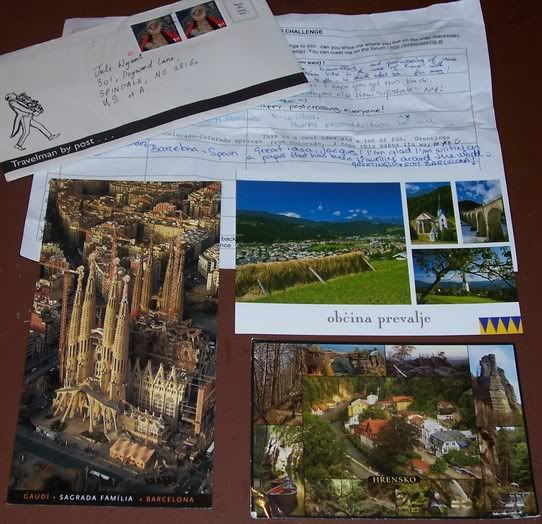 The cards are from Spain, the Netherlands and Slovenia. I also received a letter with a short story pamphlet from the UK, and a traveling letter from France was included with my postcard from Barcelona, Spain. The travelling letter was started by a man in France and has travelled back and forth across the Big Pond several times. It started out in Britagne in France, and has been to New York, Norway, the Netherlands, Colorado, Spain, and now North Carolina. I will add my information to it, and I'm going to send it to Kiikka, Finland with my next postcard.
I have decided on a rather silly contest to celebrate my first year of blogging, and going over 30,000 hits on my blog. I will be taking the necessary photos tonight, and the contest will be posted either tonight or tomorrow morning. :) The contest winner will receive a nice box of goodies from me!! :) Stay tuned!
TTFN!!! :)