Stash Enhancement
Made a visit to the LYS, and some nice yarn and a few extra goodies hopped in a bag to come home with me. :)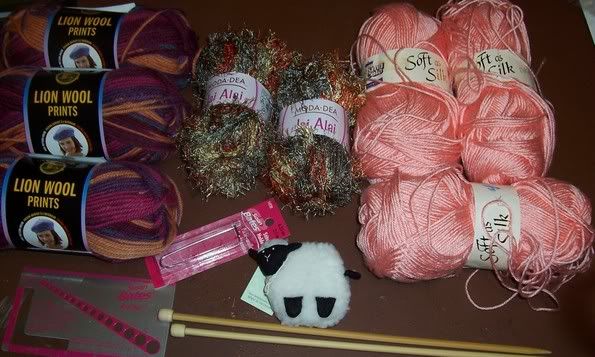 The Lion Brand Wool Prints is in the color Autumn Sunset. I saw it in the LB catalog I got in the mail a couple days ago and thought it was really pretty. So when I saw 3 skeins of it at Goodwin's, I bought it. I want to try the reverse cable scarf pattern from my
Scarf Style
pattern book.
The skeins of Soft as Silk are a really pretty apricot color. I want to make a cable and bobble scarf (also from Scarf Style)....hopefully 3 skeins are enough yardage. I haven't checked the pattern yet. If I can't make the bobble scarf with it, I'm sure I can find another pattern that will work with 3 skeins. :)
I bought the Modea Dea Jai Alai in Raffia. It's a pretty mix of autumn shades of rust, tan, sage green, and grey. Definitely will make a great scarf to go with my dark green sweater. I have visions of a long skinny scarf, or maybe a wider keyhole scarf. Not sure yet.
I also finally remembered to get a needle sizer, a long set of #10 needles for the sweater I'm working on, and a cute sheep tape measure. And a small size stitch holder. Now I have large, medium and small. Before I had one small and one huge one. I'm using the small one to hold four stitches for the frontband on the cabled vest I'm knitting. So when I started the right front, I had to put those 4 stitches on the huge one. Very annoying! Knit one, push stitch holder out of the way, purl 2, push stitch holder out of the way....grrrrr! So I was very glad to bring home a much smaller version that isn't in my way all the time.
Funny thing is.....the only thing I went into the LYS to get was the little stitch holder. And I came out with a bag of yarn and several other goodies. I can't ever get out of the yarn shop with just what I went in for. It's too tempting a place!!!
My name is Juli. And I'm a yarnaholic. :)
I received some beautiful stitch markers in the mail from Donna at Crochetville!! Lookie Lookie!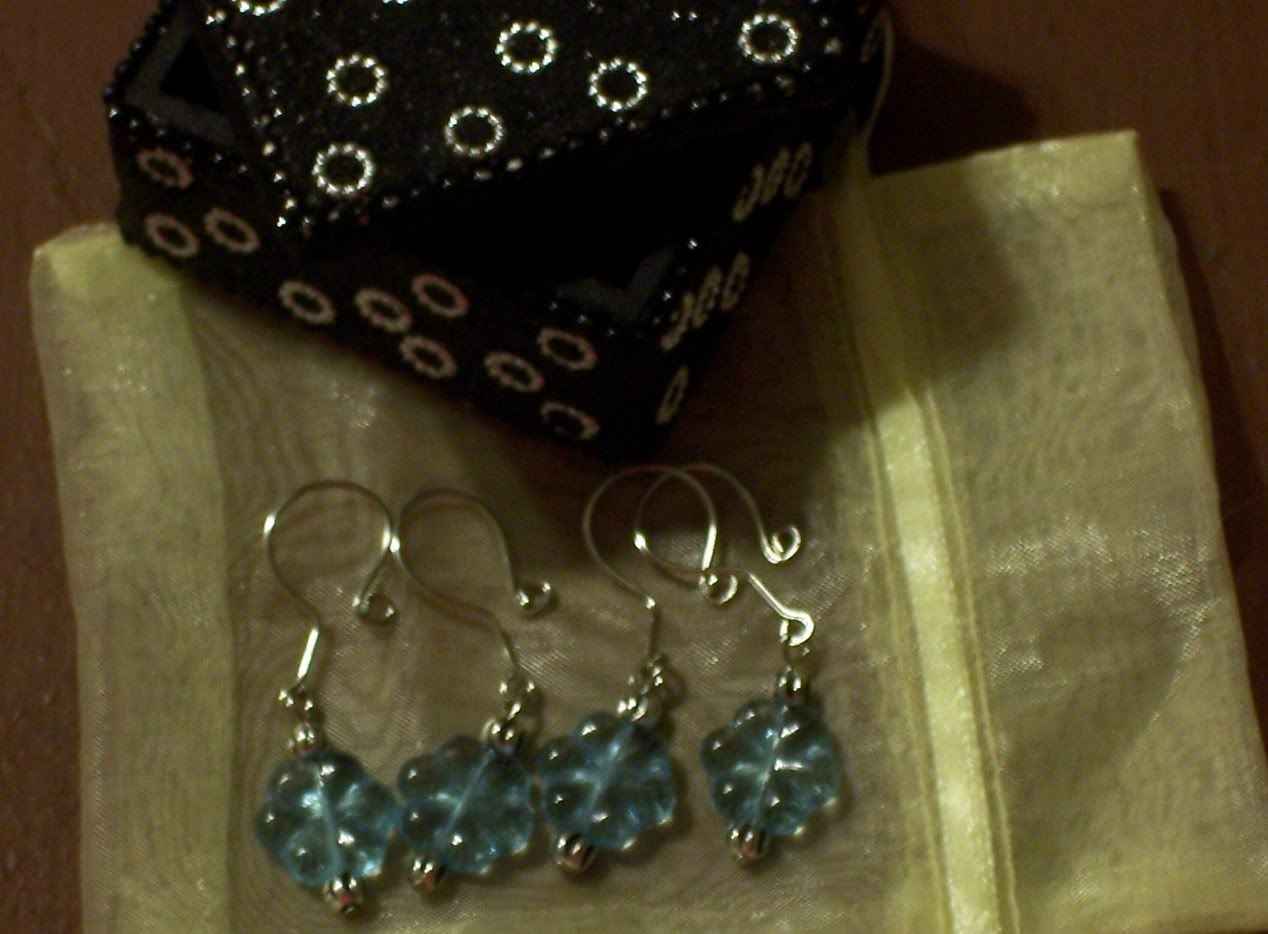 I just love the little box she sent them in!! I've got the other markers I received from this exchange in a little envelope because I was afraid I'd lose them. I'm going to let them all live in the cute little black box. Then when I need markers, I know just where they are!!
The stitch marker exchange was a blast!!! I had fun making my first set of stitch markers, and seeing everyone else's handiwork was really cool!!
Update on Millie the Puppy. She's doing great -- she's eating dry puppy food just fine and is very energetic. She loves to play with our black cat, Grover. Grover is still a kitten and our two grown cats don't like to play with him. Grover doesn't seem to realize Millie is a puppy....the cat is really enjoying playing with the little dog.
I woke up at 4 a.m. this morning (time change still messing with me) and took the puppy out to piddle. She sacked out on the sofa next to me. It's a rough life, isn't it! :)
TTFN!!