A big thank you to my SP10 pal!! She sent me the nicest box of goodies!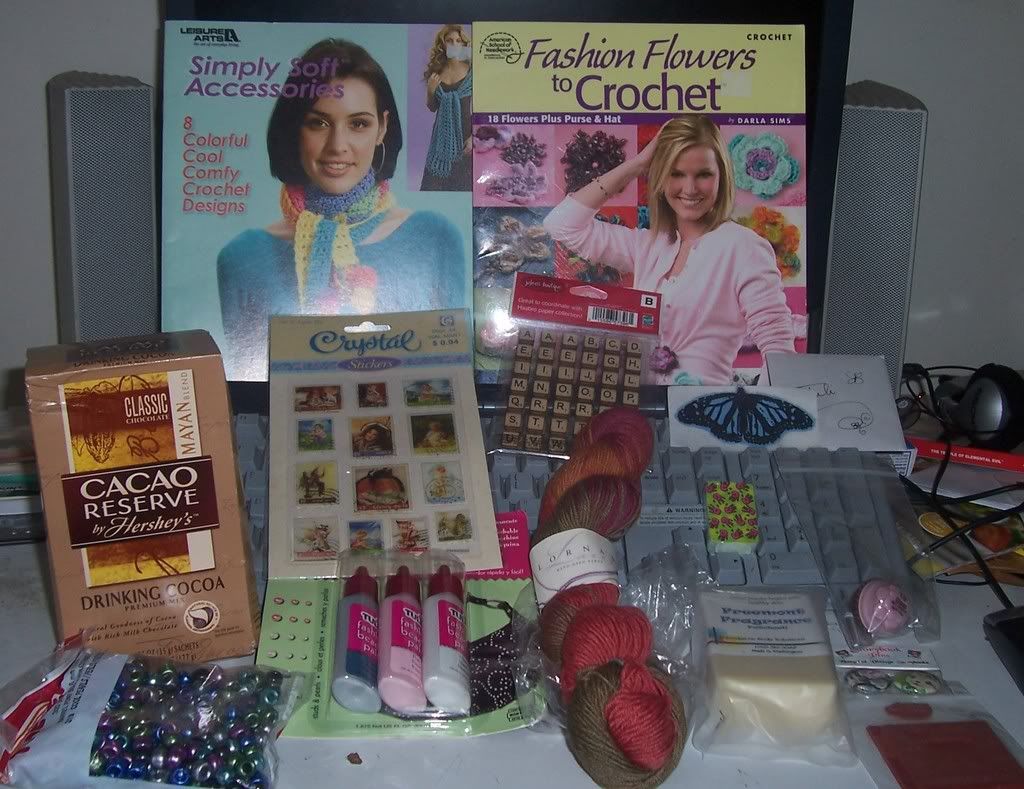 She sent some nice scrapbooking supplies, some tulip bead paint, pony beads, Patchouli scented soap (it smells heavenly!!!!), some cupcake lipgloss, a mini deck of cards (the baby claimed it...smile), some special Hershey's cocoa called Cocao Reserve (yummy!), 2 crochet pattern books, and a beautiful skein of Shepherd Sock yarn from Lorna's Laces.
THANK YOU!!!! :)
Here's my questionaire for the
Spring into Summer Dishcloth Exchange
1. When did you learn to knit? Who taught you?
I learned to knit in 2004, after being a crocheter for 16 years. I taught myself to crochet, but couldn't figure out knitting on my own so I took a class at the local community college. Once I had the basics, I took off running on my own. :)
2. What was your very first completed object?
A very ugly dishcloth. lol.
Your most recent?
A felted purse.
3. What was the very first thing you sent to the frog pond? (pulled out and started over)
The ugly dishcloth that was my first attempt at knitting. My tension was horrid when I first started and I just kept pulling it out and starting it again until it looked presentable.
Your most recent?
A scarf that I started in a soft furry yarn.....I decided smaller needles would be better and pulled it all out to start again.
4 What is currently on the needles for you?
Lace scarf for ISE4 exchange, and a couple dishcloths.
5 What types of needles do you enjoy working with? What have you tried and hated?
I use all types of needles....plastic, bamboo, aluminum. I love my Fiddlesticks brand bamboo needles the best. I don't like needles where the tips are too blunt to easily catch under stitches...it makes me knit slower. I'm a thrower, but I can still knit along at a fast pace with a nice pointy set of needles.
6. Have you knit dishcloths before?
Tons and tons of them. :)
7. What was your favorite one?
Don't know that I have a favorite, but I do have a book of heart motif dishcloths that I really like! :) I like dishcloths with a cute design -- lots to choose from online.
8. Least favorite?
I don't like dishcloth patterns that are so intricate that it's more work than fits what it will be used for when it's done....
9. Do you use homemade dishcloths or face cloths yourself, or give them as gifts, or both?
Both!
10. What are your favorite and least favorite scents? (For your body, such as soap/lotion/etc) I love spicy scents like patchouli, sandalwood, cinnamon, etc. I don't like floral scents as they make me sneeze and sniffle-- I'm allergic to them I guess.
11. What are your favorite colors? I like jewel tones, especially blues and greens. I don't care for pastels all that much, except I do like light yellow a lot. I don't like light pink at all. Comes from growing up with red hair, I guess. I just loathe pink....lol. :)
12. What colors (if any) are your bathroom and kitchen decorated in? Kitchen: wood, with a wallpaper border in jewel tones of red, purple, yellow and green, white textured linoleum floor (yes, it's awful to keep clean!). Bathroom -- hall bathroom is ocean theme so it's mainly blue with fish and shell decorations. Master bathroom has a fishing village motif -- beige, blue and red colors with fishing net, lighthouse decorations, pirate statues, etc.
13. What other hobbies and crafts do you enjoy? metal miniature painting, some crochet, reading, cute computer games (I love to play kid's computer games like Turtle Odyssey and the Harry Potter games....cute and just fun without me having to be skilled at video games...lol), word games/puzzles, card games.

14. Chocolate: Dark? White? Milk? Ew? **I am Diabetic** So please, I can't have any chocolate at all unless it is sugar free chocolate. I do allow myself one cup of cocoa or flavored coffee per day though as my one "treat''. And I love flavored coffee creamer.
15. Do you like salty treats? What kinds? I try to stay away from most snack foods because I am on a strict restricted diet, but I can have a small handful of salted nuts each day.
16. If you could go anywhere in the world for one day and spend the day any way you wanted, where would you go and what would you do? Space!! Just to see the gorgeous view from up there!!
17. Do you have any allergies? (Yarns, foods, etc. that might impact what your pal can send) I am VERY VERY allergic to cigarette smoke....it can make me have an asthma attack. So please, if you smoke, please please please air out everything before sending to me, or I'll be sucking on an inhaler for two days. And I'm allergic to floral scented perfumes, candles, etc.