The needles are a'clickin!
I recently bought a new knitting book, and Easy Knitting magazine's Spring issue. Lots of great patterns!! My "to do'' list is now much longer!! :) And my wonderful SP7 secret pal Tammie sent me the Knit Picks Adamus shawl pattern and the yarn to make it with! :)
Here's a picture of my recent pattern acquisitions: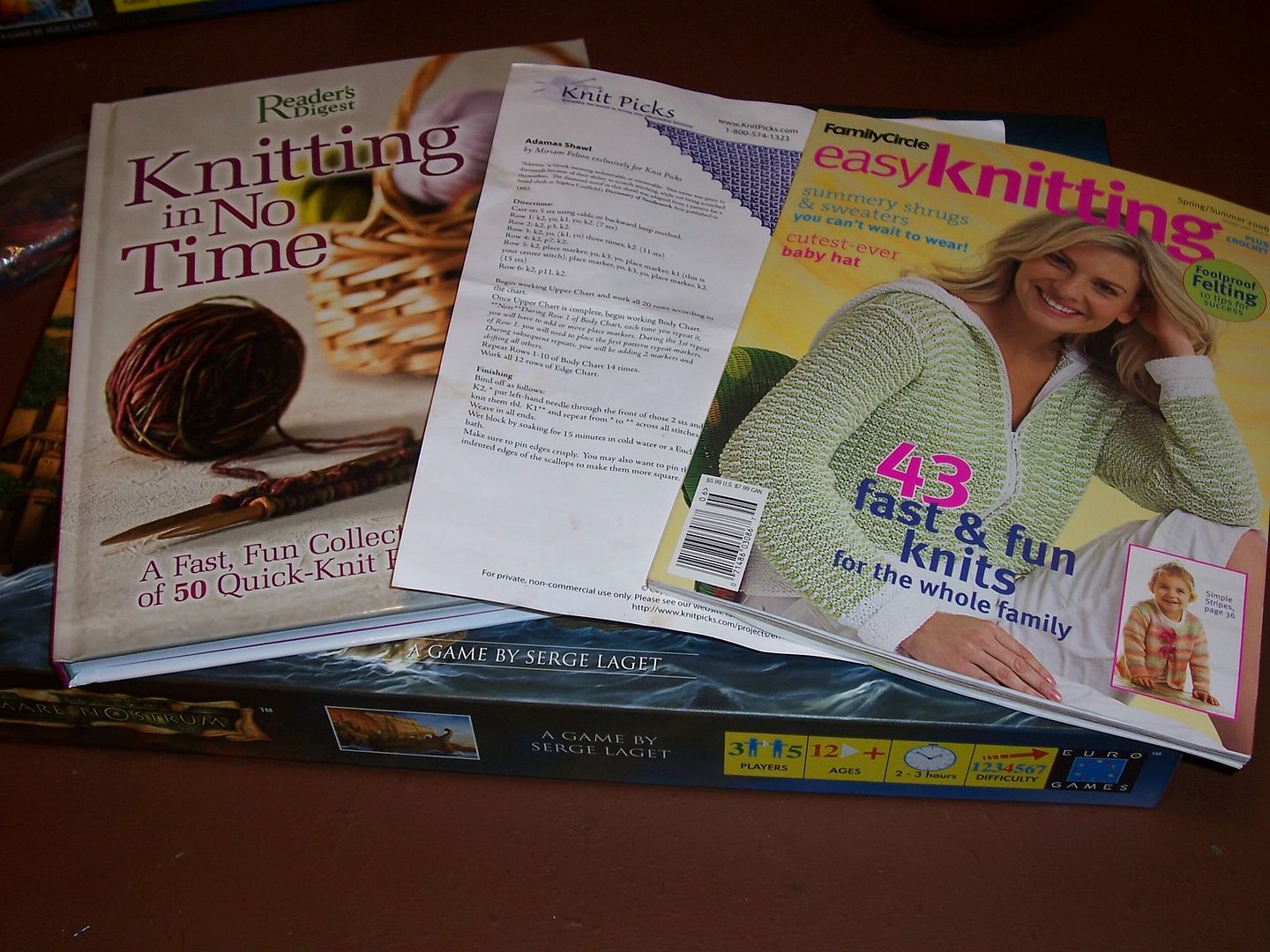 I have a new Crochet pattern book too -- I'll post about that tomorrow.
The Reader's Digest book is very good -- it has lots of quickie projects that look fun to make. Great gift ideas!!
Easy Knitting (and Crochet) has some great patterns in their spring issue. There is a cotton purse that I'm going to make -- very very cute! And there are 3 very cute knitted pillows that I'm making for our screened in porch. I've started on the knit stitch diagonal one already.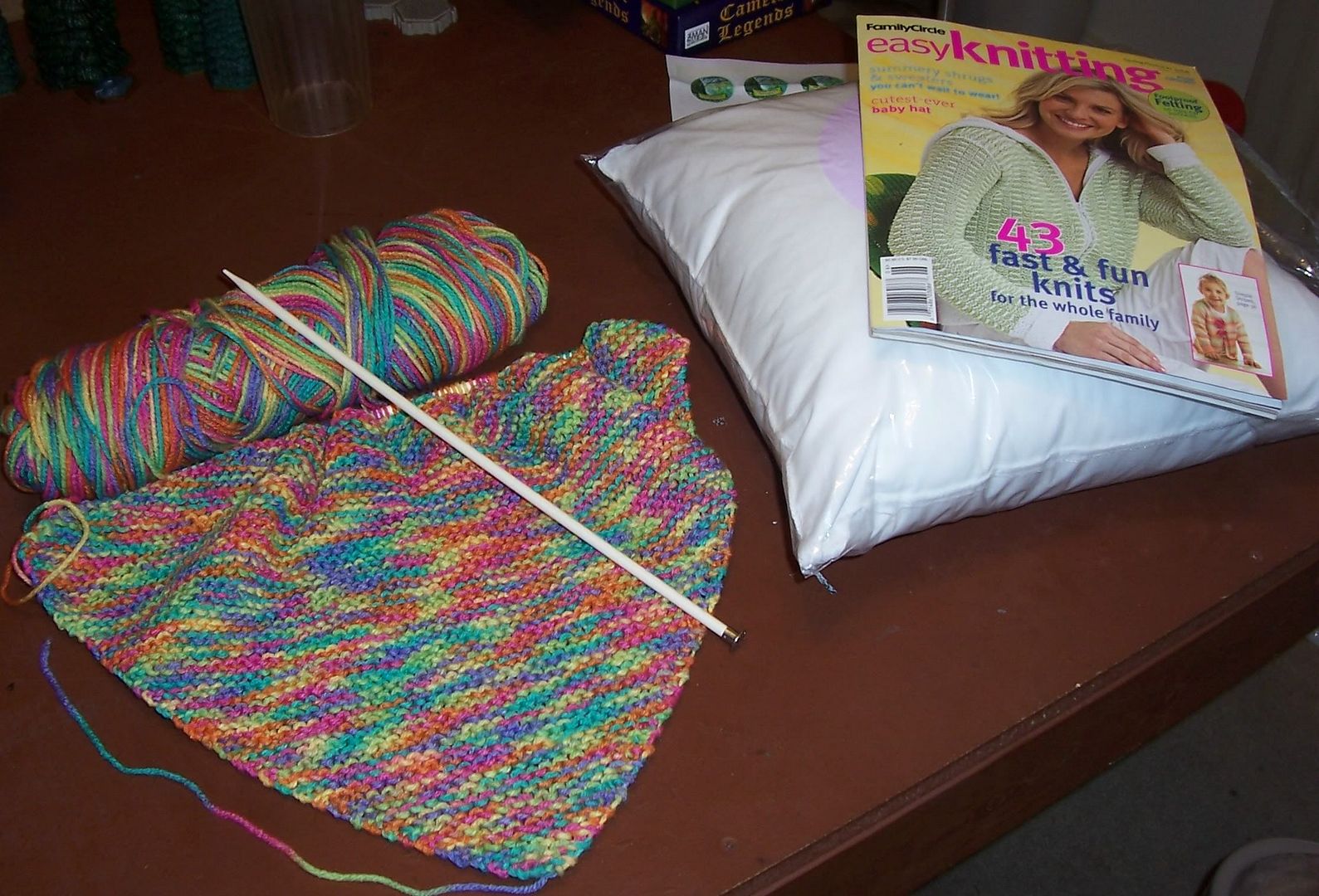 The pillow is 14"x14". The yarn I'm using is Red Heart Multicolor in Pinata. It looks a lot like tie dye colors.
I have also started the Adamus shawl, but I'm using bamboo circular needles -- and the blunt ends are driving me nuts!! It's hard to pick up lace weight with rounded ends........I think I'm going to pull out the little bit I have done and start again with aluminum needles that have a more sharp needle point. That way my language doesn't get bad everytime I have to SSK. :)
A big thank you to my SP7 secret pal, Tammie! I got her reveal package, and just loved it!
Here's the goodies she sent!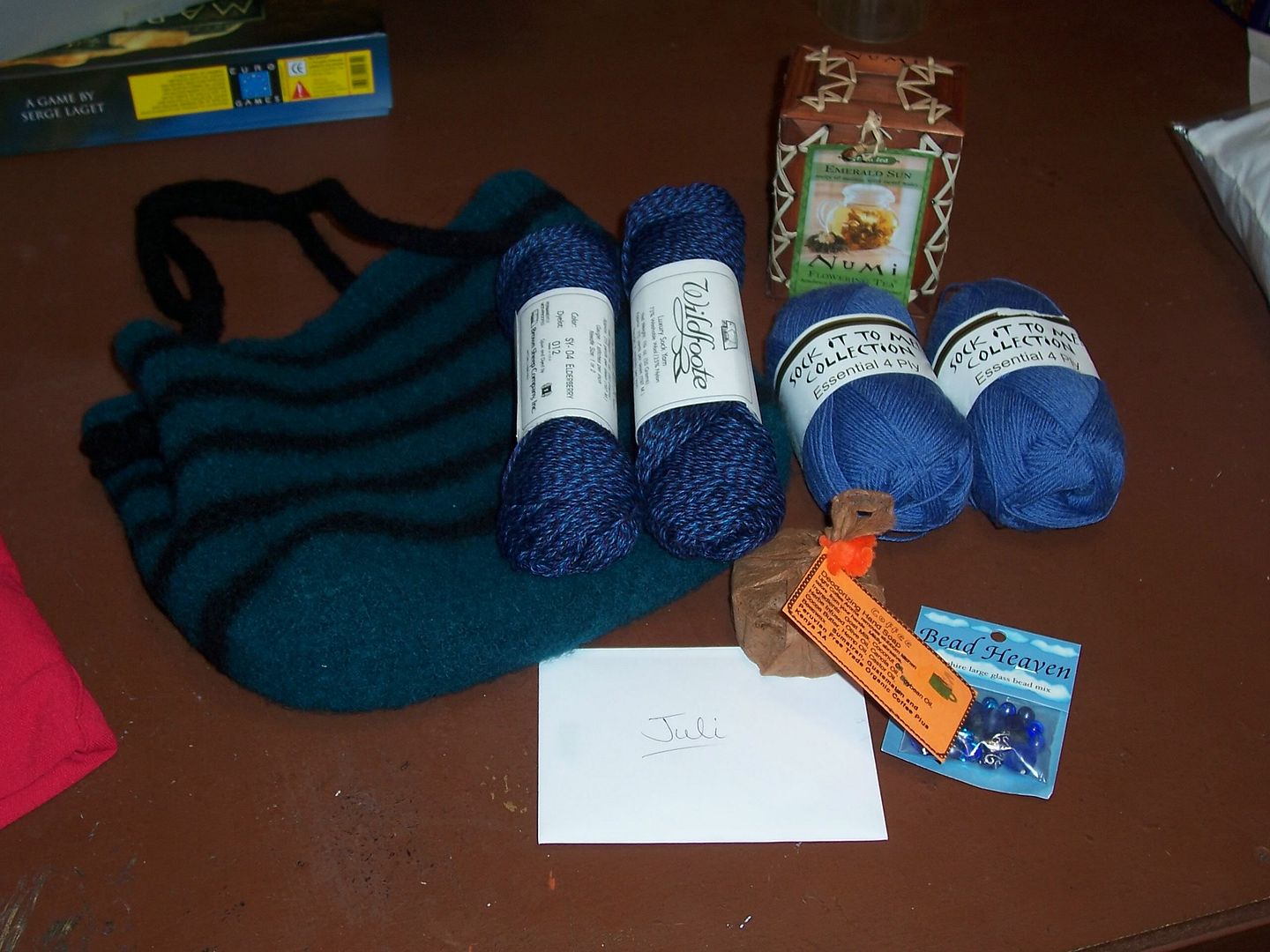 She also sent a book, some candy and two mini beanie babies for my son Joshua -- he wouldn't let me have them back to take the picture. :) Thank you Tammie!! You are super secret pal!
I also received a boxie from my C'ville DC secret pal!! She sent me some really yummy yarn -- and some candy, which my sons enjoyed! Here's a picture: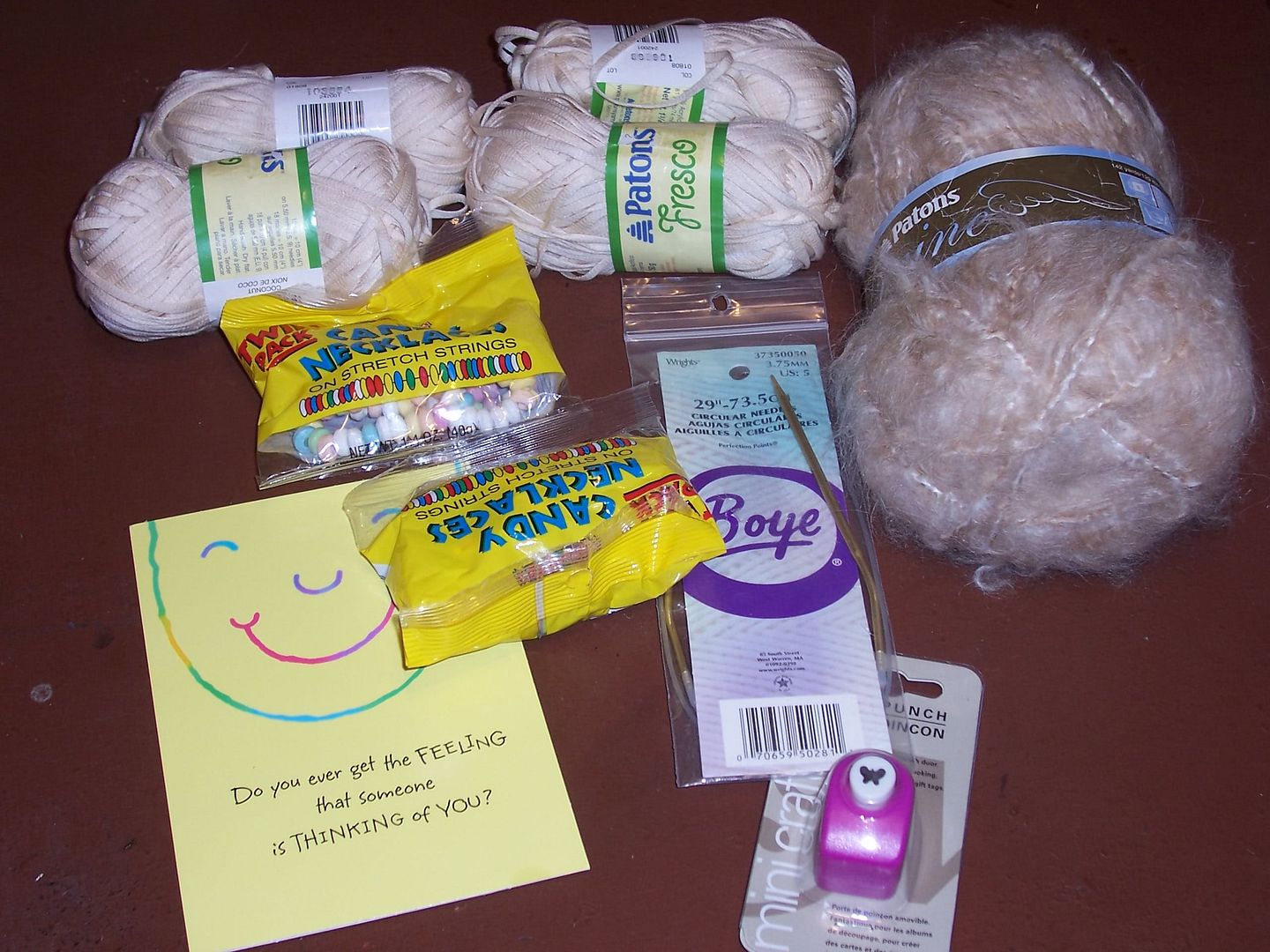 Thank you to my C'ville Secret pal!! :)
On the home front, I'm still doing a lot of yard work, and my husband is still working on the addition he's putting on the house. He's got most of the sheet rock up, so he's working on finishing up the walls. :) Almost done!
We've done lots of clean up in our yard this spring already. And I've planted flowers (which I have to cover every night since it still gets cold at night). I'm also painting our patio furniture, and I bought new cushions.
Here's a before and after: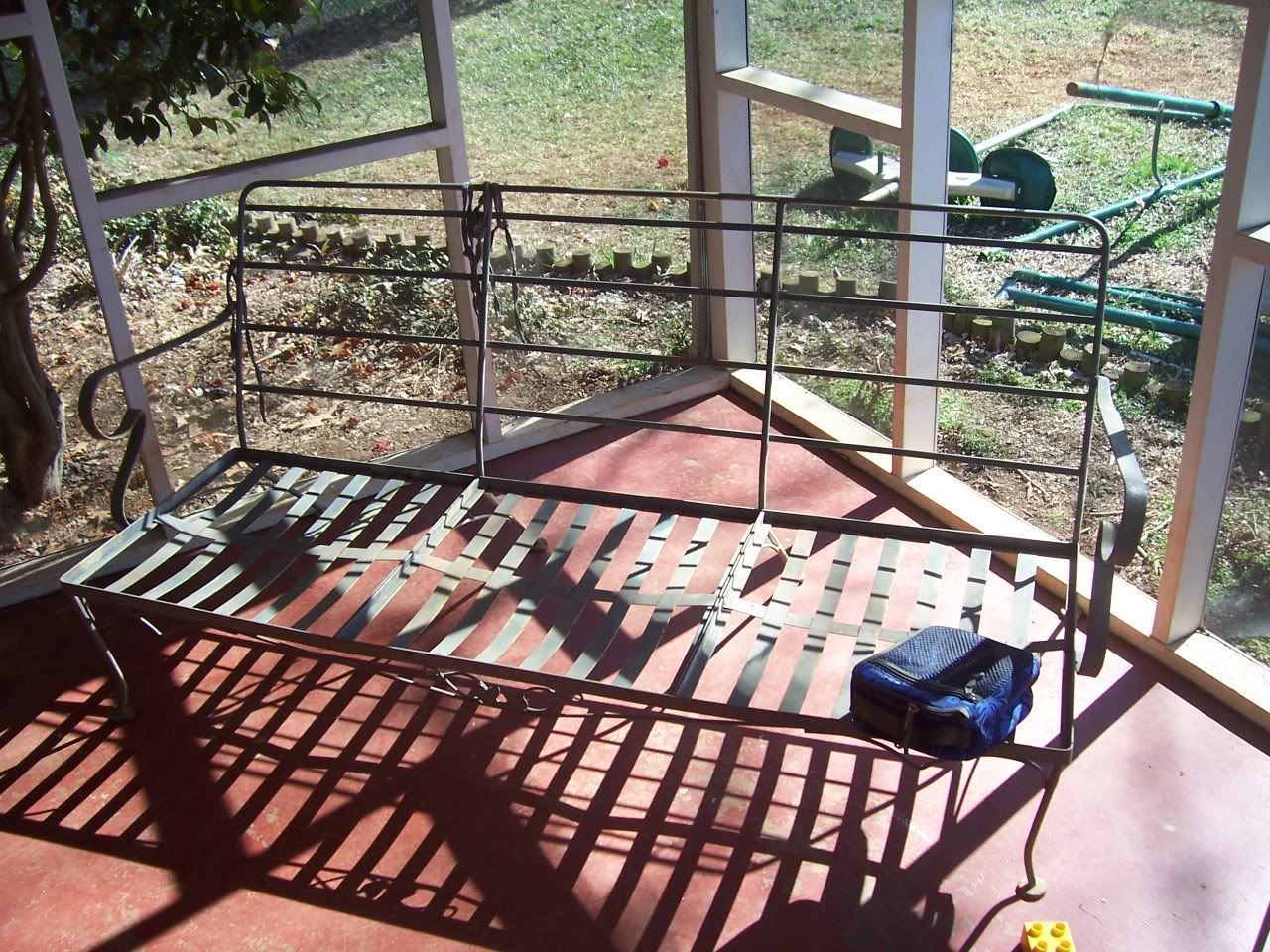 It's hard to tell -- but they were painted in blue textured spray paint, and had rust spots. So I threw out the old cushions and sanded everything down.
Now it looks like this:
I'm still working on sewing ties on the new cushions. I'll take another photo when I have the cushions all done. :) It looks like we bought new patio furniture! Amazing what a little rustoleum enamel can do! The color is technically Hunter Green, but I call it park bench green. :)
I'm nearly done with the back porch furniture. I have one more chair to paint, and two tables to touch up a bit. Then I have the front porch furniture to paint (the same color) -- four chairs and one table. :) Then when I'm all done with that, I need to repaint both porches.
While I was working on the furniture cushions today, the birds were very busy in the back yard. The robins aren't afraid of much of anything this year. I nearly walked right up to one, and he walked away rather than flying. I guess I don't look that threatening.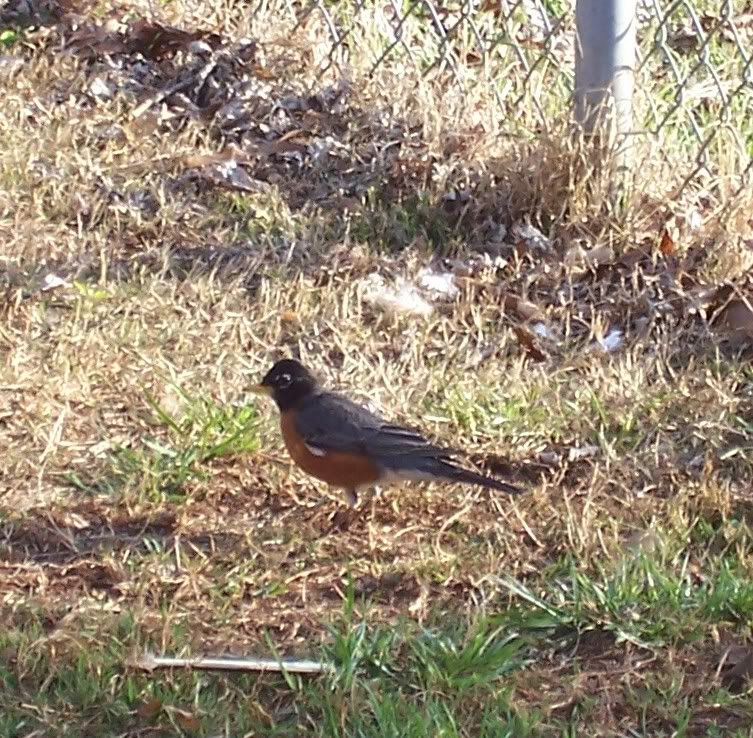 This cheeky little bird sat right there and posed for a picture. :)