Socks and Elves
My first attempt at knitting a sock is shaping up nicely. I turned the heel this morning, and am now working on the foot part. Here's a picture of my progress so far:
I did get a gap where the heel joins the instep -- not sure what caused it. I wonder if I did something wrong when I was starting to pick up stitches along that side of the heel. Not sure. Any ideas? It's a fixable problem. When the sock is finished, I'll turn it inside out and sew the gap closed.
It finally looks like a sock! :)
For any beginner sock knitter like me, there is a great video/tutorial/easy pattern on diynetwork.com. Knitty Gritty had a great
sock episode
!! There's a great clip listed under "heel and gusset'' that shows how to turn the heel. It was very helpful to me!
I traded a crochet book to someone for a copy of "Learn to Knit Socks.'' I'm trying to decide which pattern to try when I get this first pair finished. Not sure yet. I have time to make up my mind though -- still have another green ankle sock to make after I finish the first one.
I got 3 very nice Christmas in July packages today from Crochetville elves in OR, OH and India.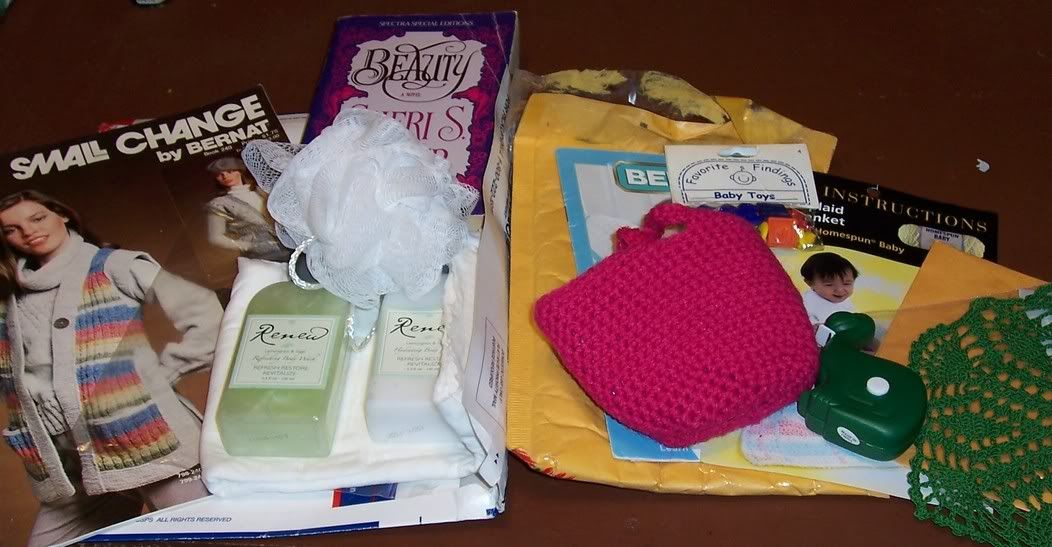 From India, I got a very pretty green doily. I'm going to put it on my mantlepiece in the livingroom. THANK YOU!!
From OR, I got a great knit vest pattern book, a paperback book, a shower scrubbie, and some wonderful smelling soap!! The soap made the whole puffy smell great! THANK YOU!!
And from OH, I got a crochted purse pack with gum and Brush-Ups, a children's sweater pattern book, the cutest package of children's buttons, and a dinosaur shaped measuring tape!! I just love the measuring tape. It's already being put to use! THANK YOU!!
You Are a Peppermint Cappuccino

You're fun, outgoing, and you love to try anything new.
However, you tend to have strong opinions on what you like.
You are a total girly girly at heart - and prefer your coffee with good conversation.
You're the type that seems complex to outsiders, but in reality, you are easy to please

What Kind Of Coffee Are You? Take This Quiz :-)

Find the Love of Your Life (and More Love Quizzes) at Your New Romance.
TTFN!!!