June Craft Challenge
It's almost June! I can hardly believe the year is nearly half over! I've been so busy so far this year, that time is just whizzing by me.
I have quite a few projects that I want to finish. I have a tendency to start projects when I see a pattern I really like.....and then I never get them finished. I can't justify buying new patterns or yarn when I have so many projects that aren't done.
I am not going to join any more swaps, or start any new projects until I have all of my UFO's completed. I can do it, if I put my mind to it!!!! Anyone else want to join me???
Ffor the month of June, I am challenging myself to start finishing all my UFO's (unfinished objects for those who don't speak internet crafty), so that I can move on to things on my WIM (works in mind) list. If the month of June isn't enough, then I will continue into the month of July. Anything new I want to start, I will put on my WIM list. Whenever I reach my goal, I will treat myself to a nice yarn shopping day, and get started working on my WIM list. BUT....I am not going to start more than 2 projects at once.
Think I can do it??? :)
I have already finished one project. I was making two stuffed animals for a swap at crochetville. I made two crocheted toys first, and didn't like them. Too bumpy and just not all that cute. So, I asked my partner if I could start over, and fudge a bit. Her kids are getting 2 knitted toys instead, or the "K-word'' for crocheters who don't like knitting. :)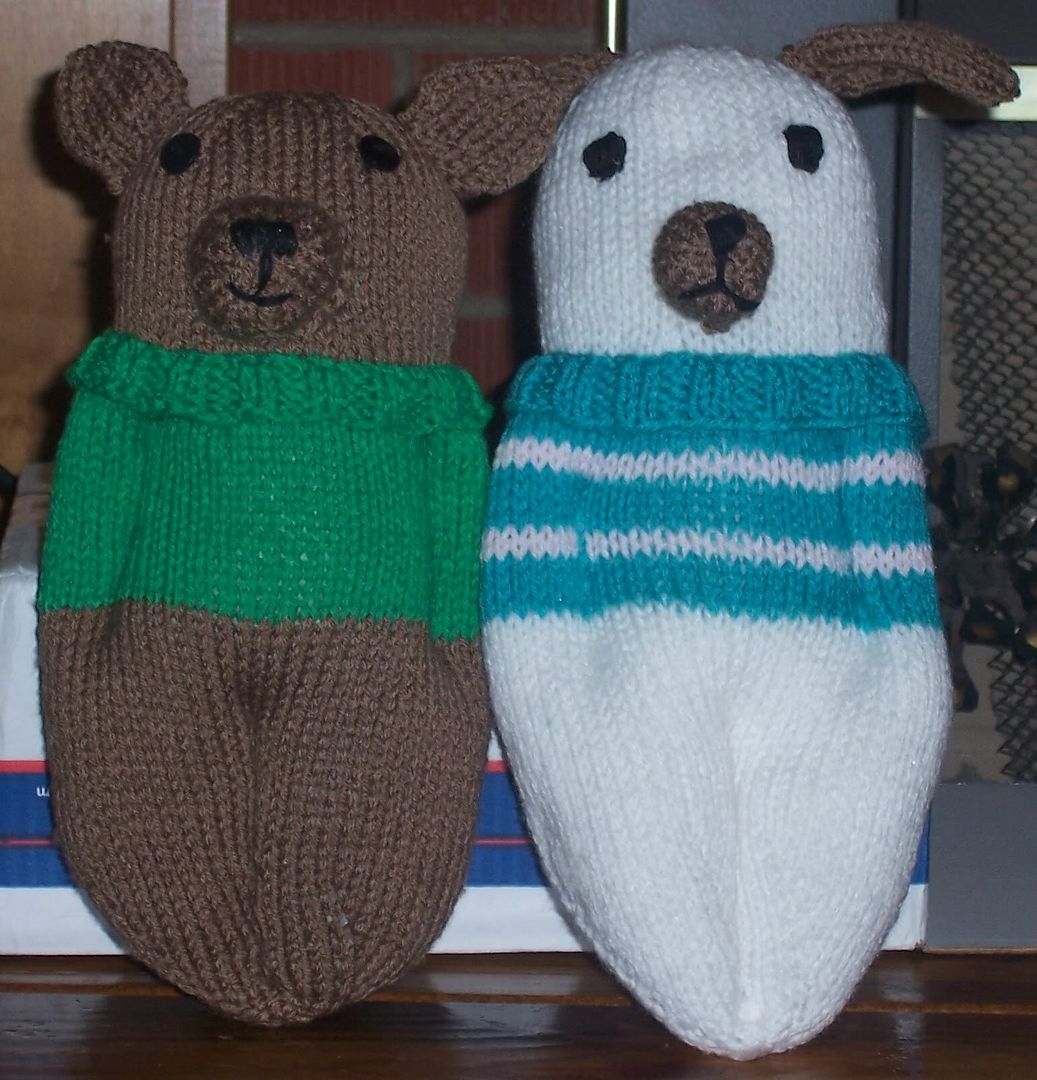 Both were made from Red Heart acrylic. The patterns come from AA Knit Animal Friends (designed by Michelle Wilcox). There are six patterns in the book: teddy bear, puppy, rabbit, pig, elephant, and cat. :) When I get to my WIM list (after June), I will make an elephant for Baby Josh.
One project down.....lots to go. lol.
UFO List (just off the top of my head) - All Crafts
Knitted diagonal pillow
from Family Circle Easy Knitting - 2/3 done.
Cable sweater vest
- started months ago. Two fronts done. Back and finishing left to complete.
Sequin applique/embroidered Christmas tree skirt
-- about half done. Started in 1999 and packed up for a move. Never unpacked. lol.
Kitten latchhook kit
- started 1999. About 1/2 done. Packed up for a move -- never got unpacked.
Scraps of Beauty crocheted afghan
-- started 3 years ago. Color change every two rows...got annoying. But very pretty pattern. About 1/3 finished. Will look great on the couch when it's done!
Kitchen swap for C'ville
- Need to finish up kitchen items and get it mailed by June 15.
Bookmark Swap
- Need to make several cute bookmarks for c'ville swap, plus bookmark/book swap group.
Baby scrapbook
- scrapbook stuff bought, and pictures/baby stuff in box marked "scrapbook''. That's as far as I got. LOL. Gotta get this done before joshua is 27.
12" square swap
- Have about six more crocheted squares to make.
Items for SP8, c'ville SP, and Knitting Pal swaps
- Finishing up a felted totebag, and other items for my swap pals. :)
Accessories swap
- making 2 jewelry/accessory items for swap at c'ville.
Knitted scarf
- in LB wool from Scarf Style pattern book
Branching Out scarf
from Knitty in multicolored mohair
Ankle Socks
- pattern from Bernat site.One sock done, one to go. Pretty knitpicks variegated sock yarn.
That's a lot to finish in one month......and some of these projects have been sitting for years. I'm going to work at it until I get it all done!
Then I can start on my WIM list!! So far I want to make:
lace weight shawl
lace scarf
a felted totebag for myself :)
2 more knitted pillows from Easy Knitting
Block scarf from Scarf Style
Stuffed elephant for Joshua
All sorts of felted handbags
Christmas stocking for Joshua
Remote control caddy
Several pairs of socks
On the needles right now is a felted totebag I'm finishing up for a knitting pal. I'm nearly ready to felt. Here was a picture of my progress I took a few days ago: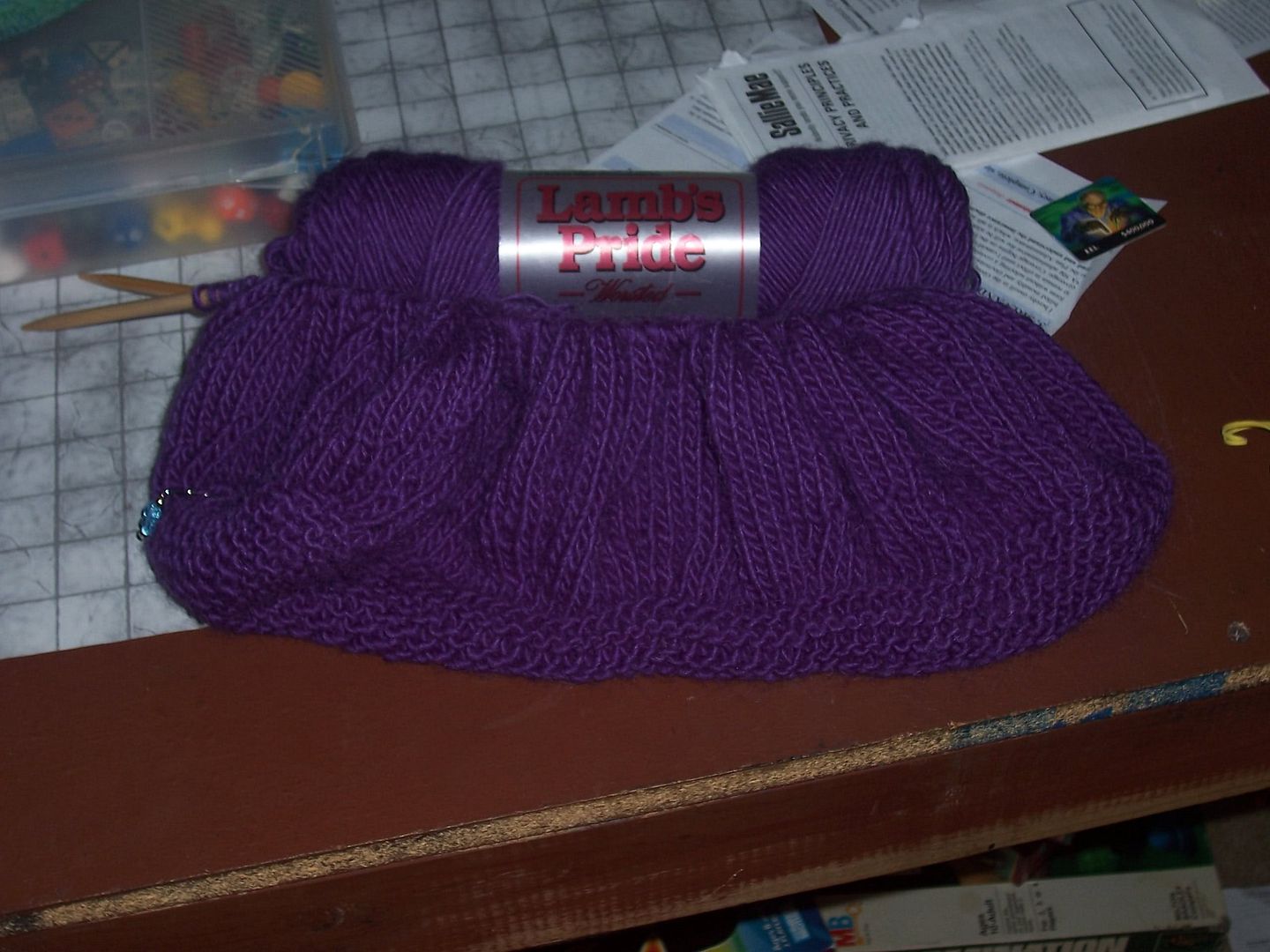 Finishing up Icord and some decoration for the outside, and should be able to felt it tonight. I'll take an updated picture when it's felted and drying.
I really like working with Lamb's Pride wool. :) It keeps its color, feels soft, and the colors are so pretty. This bag is made in amethyst.
Next, I guess I will pull out the cabled sweater vest that I'm making for my mother in law. It takes a lot of concentration to do the pattern correctly......so with the baby, I had to take a break from it for awhile. It's time to get it finished and give it to my mother in law. I will work on finishing up the vest and the knitted pillow this next week. I'll work on the pillow when the aran project makes my eyes cross. :) We'll see how far I can get.
TTFN!!