Sock Nostalgia! Knit for Sammies!
I love to knit socks! Not only is it just plain addictive, but socks are any easy small project to tote around, and the yarns available are just so colorful and yummy!
I also enjoy studying history. I find it fascinating. So, of course, I read everything I can get on the History of knitting and even the history of Socks! I've learned some interesting facts about socks and the 2 world wars.
During World War I, Americans were asked to knit wool sweaters and socks for the soldiers abroad. There is a really interesting essay on the Red Cross knitting drive on historylink.org. Just follow this
link
!
There were many different posters during that time calling for women to "Knit their Bit.'' Here's my favorite: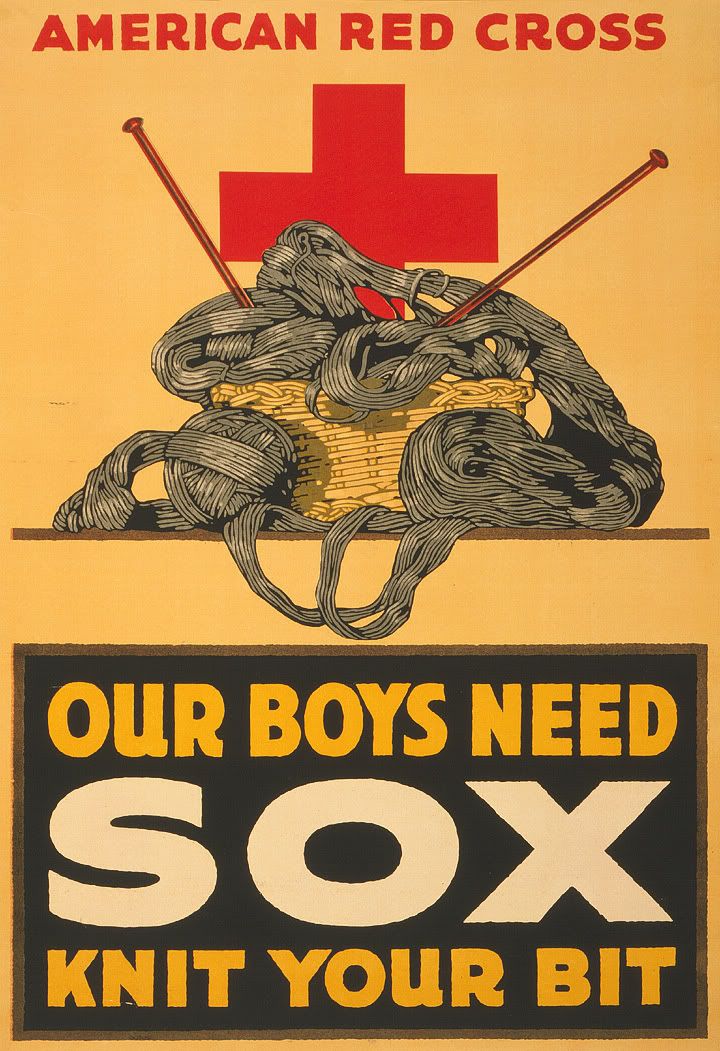 For those who also have Sock Nostalgia, you can buy reprints of this poster on ebay. Just search for wwi posters and "knit your bit.'' There are several different kinds.
The knitting effort was a large relief effort. Even school children were called on to help.
In May 1918 the Seattle School Bulletin printed this patriotic knitting song:
Johnnie, get your yarn, get your yarn, get your yarn;
Knitting has a charm, has a charm, has a charm,
See us knitting two by two,Boys in Seattle like it too.
Hurry every day, don't delay, make it pay.
Our laddies must be warm, not forlorn mid the storm.
Hear them call from o're the sea,
'Make a sweater, please for me.'
Over here everywhere,We are knitting for the boys over there
,It's a sock or a sweater, or even better
To do your bit and knit a square.
Knitters were also called on to "Knit their Bit'' to help soldiers in WWII.
On it's website, the
Red Cross
talks about the impact those knitters had.
~~~ If the Guinness Book of World Records had a category for the biggest knitting party of all time, the winner would be the American Red Cross and its millions of volunteers who "Knit Their Bit" during World War II to support American troops fighting around the world. The Red Cross played a critical role in outfitting troops during World War II with warm socks and sweaters. Nearly 7.5 million Red Cross volunteers supported the war effort then, many of them knitters. The Red Cross provided the materials, and volunteers came back with thousands and thousands of socks, sweaters, "sea boots," and gloves. Each military pattern was designed to be compatible with soldier's and sailor's uniforms and were required to be knitted in olive drab or navy blue. "If the garments did not pass inspection, they were ripped out and redone," said Steve Shulman, executive director of the American Red Cross Museum. "Any leftover yarn or rejected pieces were returned to the Red Cross and recycled for use by another knitter, and not a bit of it went to waste."
Upon passing inspection, each item had a label sewn into the garment reading, "Gift of the American People thru the American Red Cross."
~~~~
And to commemorate the Knitting drives in WWI and WWII, the Red Cross has "Knit Your Bit'' knitting kits for sale in its store! I found out about it while looking through an old copy of "Knit It'' from 2004 that I picked up at the thriftshop yesterday.
All proceeds from the "Knit your Bit'' kits benefit Red Cross projects. The kit is in a nifty nostaligic tin, and contains everything needed to make a pair of servicemen's socks: an original 1940's knitting pattern, one skein of olive drab wool yarn, four knitting needles and one finishing needle. It sells for $25.00. I ordered mine this morning -- 2 day Fed Ex shipping is about $9. Ground Fed Ex shipping is about $6. I can't wait until mine comes!!! I will be sure to post pictures. I'm really curious about the 1940's sock pattern!
Check out the Red Cross vintage store
here.
There are lots of books that talk about the history of knitting, whether its women and girls knitting for their families, or the people who worked in early mills. It's very interesting!
A great book, if you love history and knitting socks is "Knitting Vintage Socks'' by Nancy Bush. She took old sock patterns from 1887-1914 and updated the instructions. Lots of wonderful illustrations and information from the old pattern books is included, as well as background on knitting at the time, and color photographs of all the socks.
It's an awesome book!! :)