Under the Weather
I feel awful. I have spent the last 3 days coughing, sneezing and just feeling totally miserable. And my 2 year old is sick too. Ugh.
Just when I was wallowing in self pity this afternoon, the mail man showed up with an armload of mail....and it was all for me!! Boy, do I feel better!! :)
I received several swaps from Swap-bot. My international book exchange partner sent me a copy of "Tattoo Blues'' -- it looks like a great funny read! I can't wait to read it! She also sent some tea. :) In the Do it Quick swap -- I received a celtic music tape and tea, a cute pincushion,a nd 2 handmade little notecards today. I also received an ephemera swap package -- lots of great odds and ends for scrapbooking, ATCs and letter writing! :)
I also received 8 books I ordered from PBS (paperbackbookswap.com) -- The Lemon Merangue murder, Blueberry Muffin Murder, Strawberry Shortcake Murder, Two Old Women, Trollslayer, The Weight of Water, Bark M for Murder and Peach Cobbler Murder. :) It was a great day for books! :) *Notice the line-up of cold medicine beside my goodies....lol*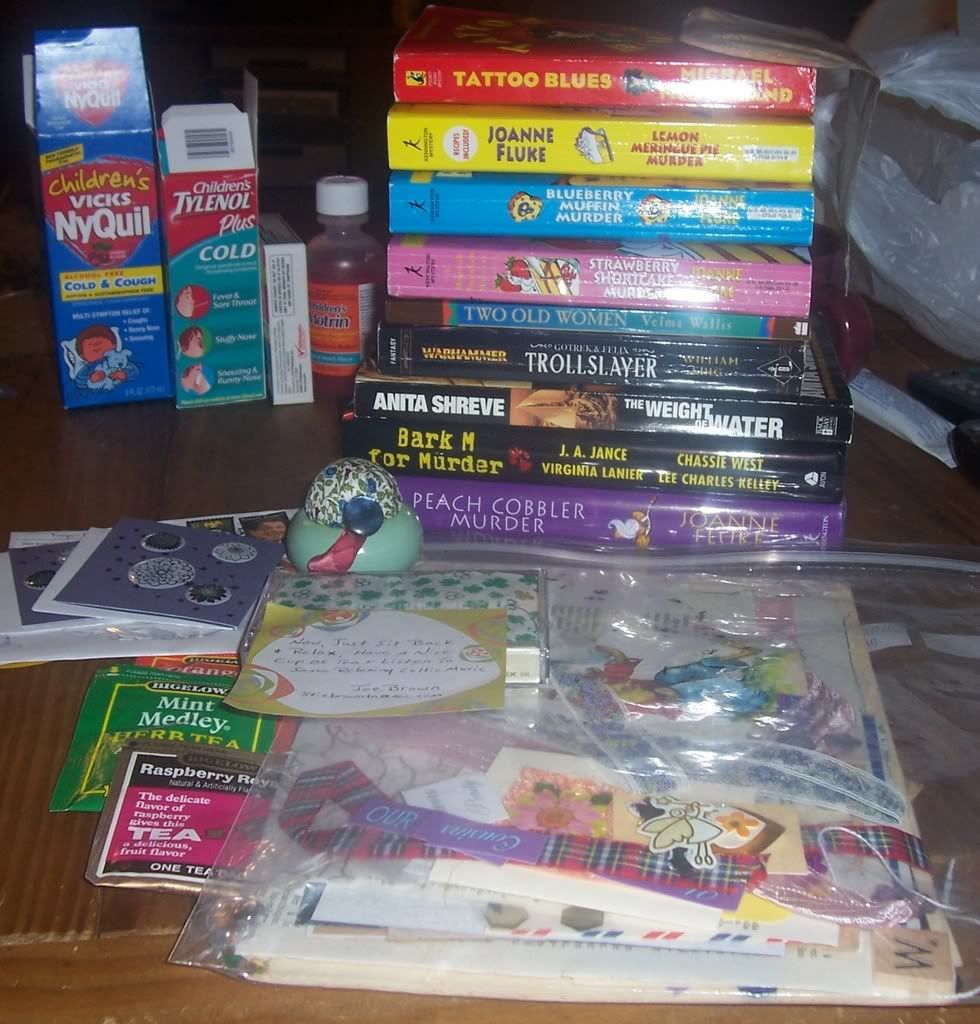 I also received my winter scarf knit kit swap package today!!!! I LOVE IT!!!!!
She sent me Peru DK yarn in a pretty red, a pattern from MagKnits, and the cutest tea mug with kitties on it, along with trader joe's chocolate tea. mmmmmm! :)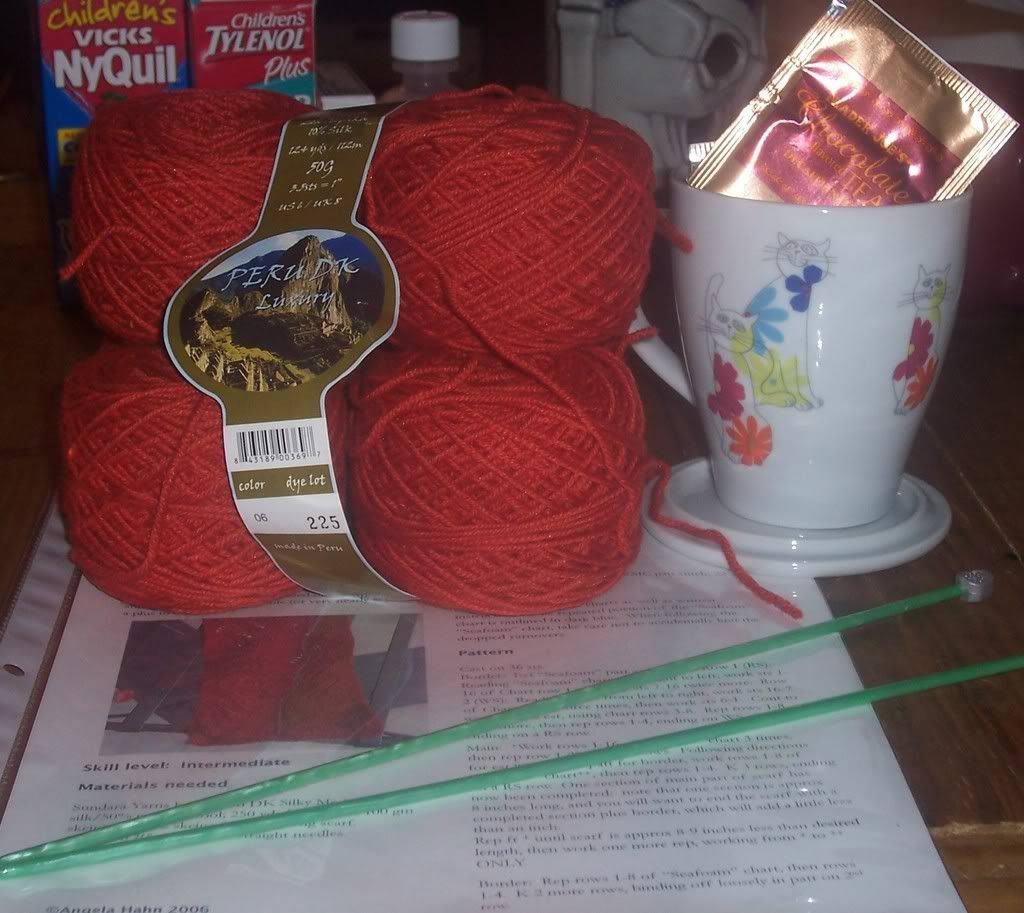 So the great mail day herniated my postman ...... but it made me feel better. :) I absolutely HATE being sick. Ugh. I've coughed so much my ab muscles hurt.
Since I was under the weather and not going anywhere, I made my first 2 ATC (artist trading cards) for a beginner's swap at Swap-bot. I enjoy collage art, but have never really tried it myself, so I gave it a whirl. And I love to make little doodle art cartoons to make my husband laugh....so I decided to do a few ATC's with some of my doodles on them. I'm not talented at drawing (I'm not quitting my day job anytime soon), but I still see it as a creative outlet even if I'm never going to be a Picasso.
Here's the collage card I made: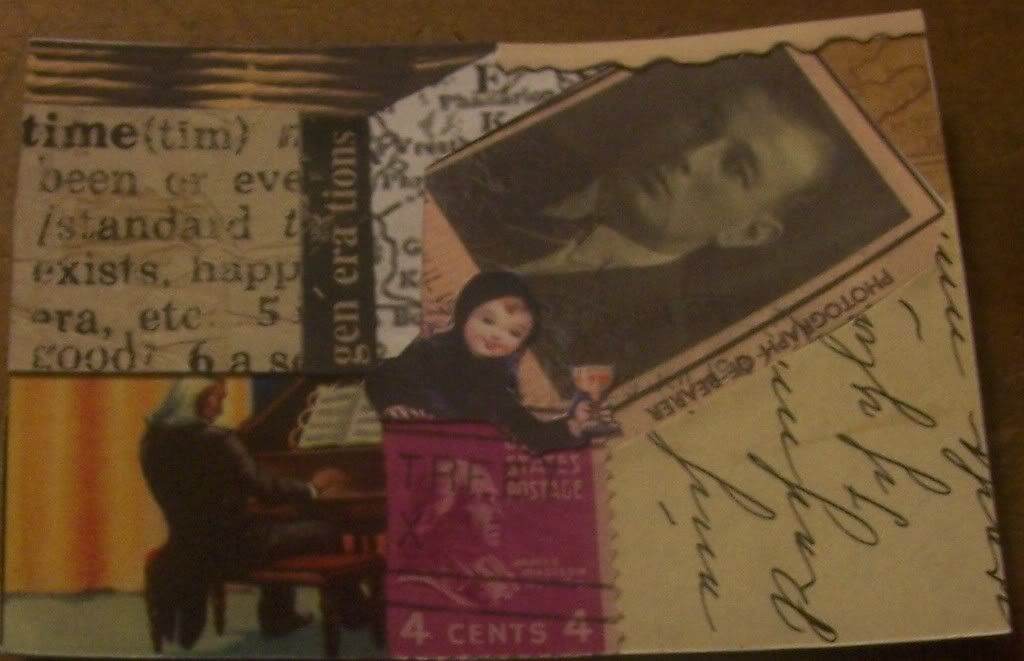 I titled it "Here's to Yesteryear.''
And, here's my cartoon ATC: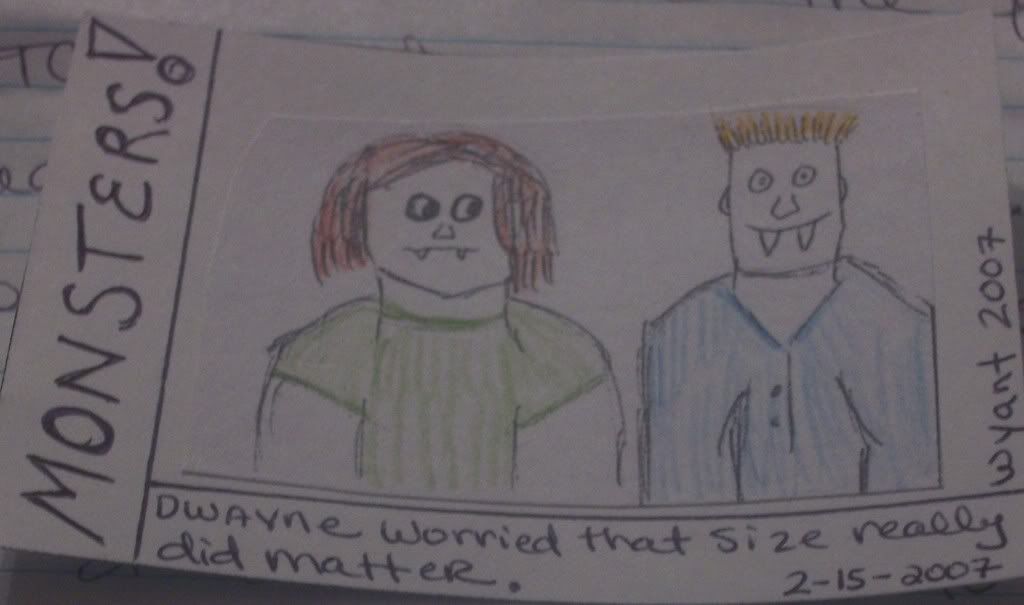 Well I'm off to put the kettle on to drink my 1000th cup of hot tea today. This cold has gotta go!!!!!! :)