A Sea of Yarn!
I received a great box of yarn from Mary (dennymare) at Crochetville! See the goodies: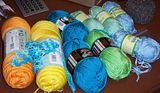 She sent me 2 skeins of Caron Simply Soft in orange and yellow, two skeins of a gorgeous blue Microspun and a skein of lime green Microspun, plus four skeins of Paton's Fresco. She also included a pretty cross bookmark and some beaded stitch markers. The stitch markers are sooooo pretty!!! I just love them! Thank you Mary!!!
Microspun feels SO soft and silky. Anyone ever used it to make socks?? Just wondering how it feels/wears??? If it won't work for socks, I'll use it as a carry along yarn in a scarf. :)
Today I made a trip to Columbus, SC to Goodwin's Stitchin' and Readin' to pick up some new yarn. If you're ever in this neck of the woods, make a point to stop by there. They have a great selection, and the staff is the friendliest bunch of knittin' ladies you could ever meet. :) My friend Kathie went with me. I picked up some pretty pink and purple Fun Fur to make a scarf for her. And 3 skeins of a really pretty yarn called Wild Thing -- the light purple and pink touches really look great! 3 skeins is enough to make a scarf for each of us.
I also got two skeins of Lopi wool in green to make a felted purse. I've been wanting to make the
Little Bag
(designed by Alyssa Orme) from Knitnet.com for a long time. When I got home and checked my pattern I noticed it calls for 3 skeins -- so I'll have to jet back up there tomorrow and pick up one more. I haven't worked with Lopi before, so I'm really interested to see how it works up differently than Noro Kureyon.
Here's a picture of the new additions to my stash: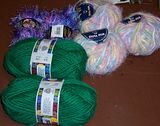 The Wild Thing yarn is in the upper right corner -- it's so soft!! I'd never seen it before. I'm glad I bought it -- it will make very cute airy scarves! :)
The hard part will be finishing up the 3 UFO's I have before I start something new. I'm still working on a red Fun Fur scarf, a polka dot purse and a dark green homespun scarf. I will work on those for the next few days and try to get them finished. I will be so glad when I cast all those off and can start all new projects!!