My Newest Endeavor
Lately I have been trying to spend more time reading. In an effort to challenge myself, and encourage others to read more also, I have started a reading/book review blog. :)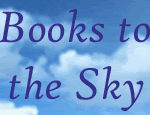 The name of the blog comes from a quote by Arnold Lobel:
Books to the Ceiling,
Books to the Sky,
My pile of books is a mile high
How I love them! How I need them!
I'll have a long beard by the time I read them!

That is the first blog button that I have created all by myself too! :) Here's a smaller version if anyone would like to snag it to put a link on their blog. :)

As I read books, I'm posting a picture of the front cover and doing a review. 3 so far!
Anyone else have reading blogs?? Email me and let me know....I'd be happy to put a link on my site!
And since we're talking about books and reading.....I found an awesome website last week!
PaperBackSwap
(PBS). Membership at the website is free. You type in the ISBN #s from books in your library that you would be willing to trade, and you search for books you would like to have and put them on a wishlist. The books you list to trade are compared with the wishlists of everyone on the website....when you get a match, you print off a mailing label and send your book to that person. In return, you receive a "credit'' good for requesting one book from another PBS member.
I've sent out 6 books already.....and I have 4 coming in the mail to me. :) Using media mail, mailing a book averages about $1.59 to $2. So, it's a cheap and fun way to trade out books you're done with, and receive some that you've been wanting to read!
TTFN!!