Just Call me Grace
Well, my photos are back up finally!! :) No more bandwidth worries! :)
I didn't have a particularly good day on Thursday, despite getting my photos and graphics back from the Bandwidth Police. As I was leaving the house to pick my husband up at work, I slipped on our porch and totally fell on my left knee. Talk about ouch!! I've been limping around ever since.
You never realize how important knees are until you hurt one of them. It's really frustrating!
But on the positive side of my prat fall --- I have gotten in some great knitting time!!
After a six week hiatus, I pulled out the cabled vest I've been knitting and got to work on those decreases. I hadn't worked on it for a long time as I was busy knitting scarves and dishclothes for Christmas, and at the request of friends. Since I wasn't going to be running any marathons with one knee out of business for awhile, I brought the sweater back out and got busy.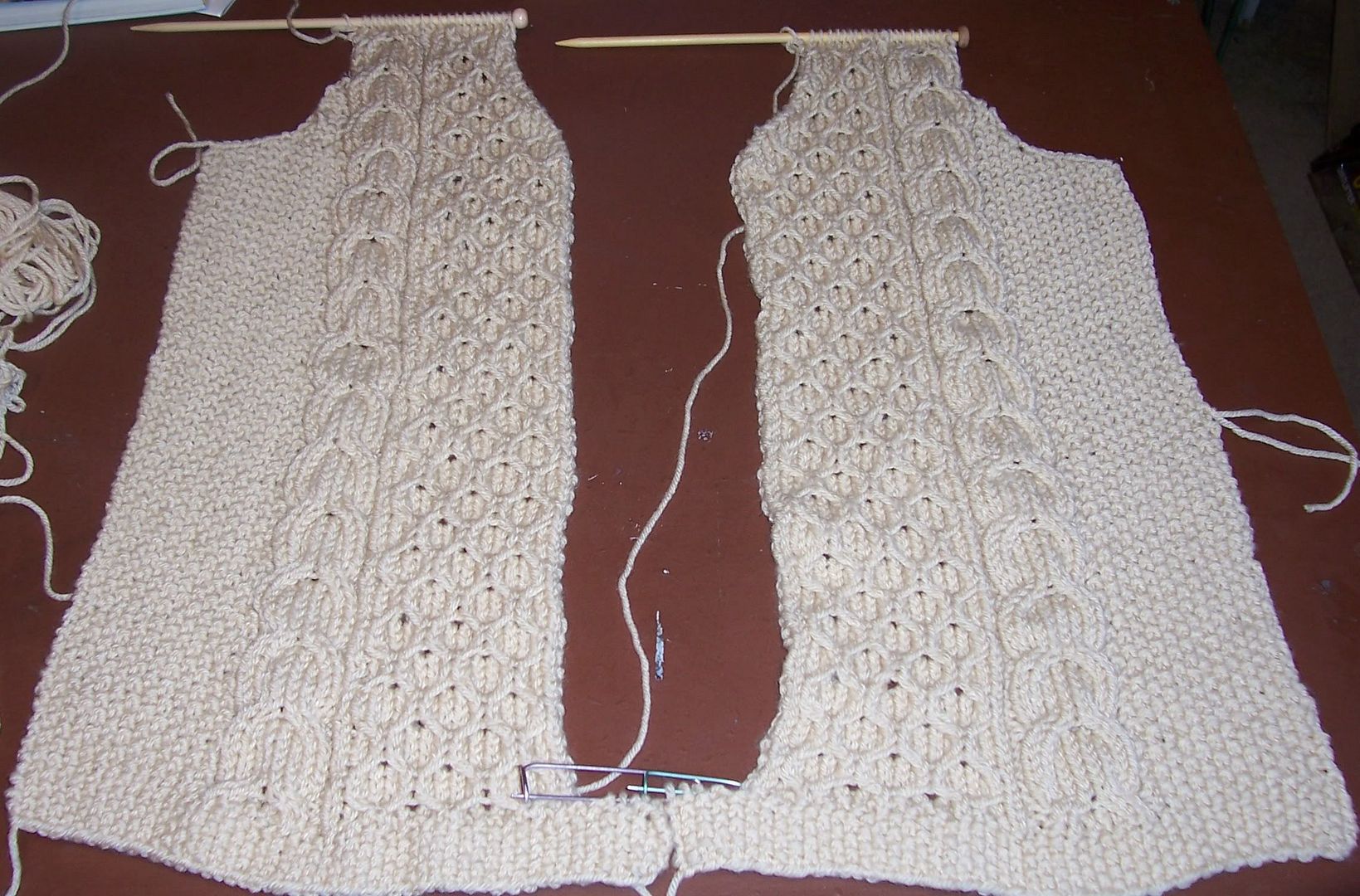 The decreases weren't as complicated as I thought they would be. I wrote out some notes, and made sure to keep close track of where I was...and so far, it's working just fine. Almost done. I have all the armhole decreases done, and I'm nearly done with the neck decreasing.
Big thanks to a great knitter -- Cathy B. -- who helped me to understand how to decrease and still stay in pattern. This is the first sweater I've ever knitted, and the first time I've done cables. Cathy is an experienced knitter, and her advise was wonderful!!! :)
I still have to finish the back (only about 16 rows done on it), and do the armhole facings, and the front facings, buttonholes, etc. It's for my MIL, and I just hope and pray it fits her when I'm done. I measured her, and have been very careful about gauge, etc......but still nervous since this is the first time I've made any clothing besides scarves, shawls, ponchos, hats, etc where gauge isn't quite as critical.....and where there aren't so many hours invested in knitting.
I have some new yarn in my stash. :)
I'm making a scarf out of Modea Dea Jai Alai in Raffia (a pretty mix of gold, grey, and rust). I just love it!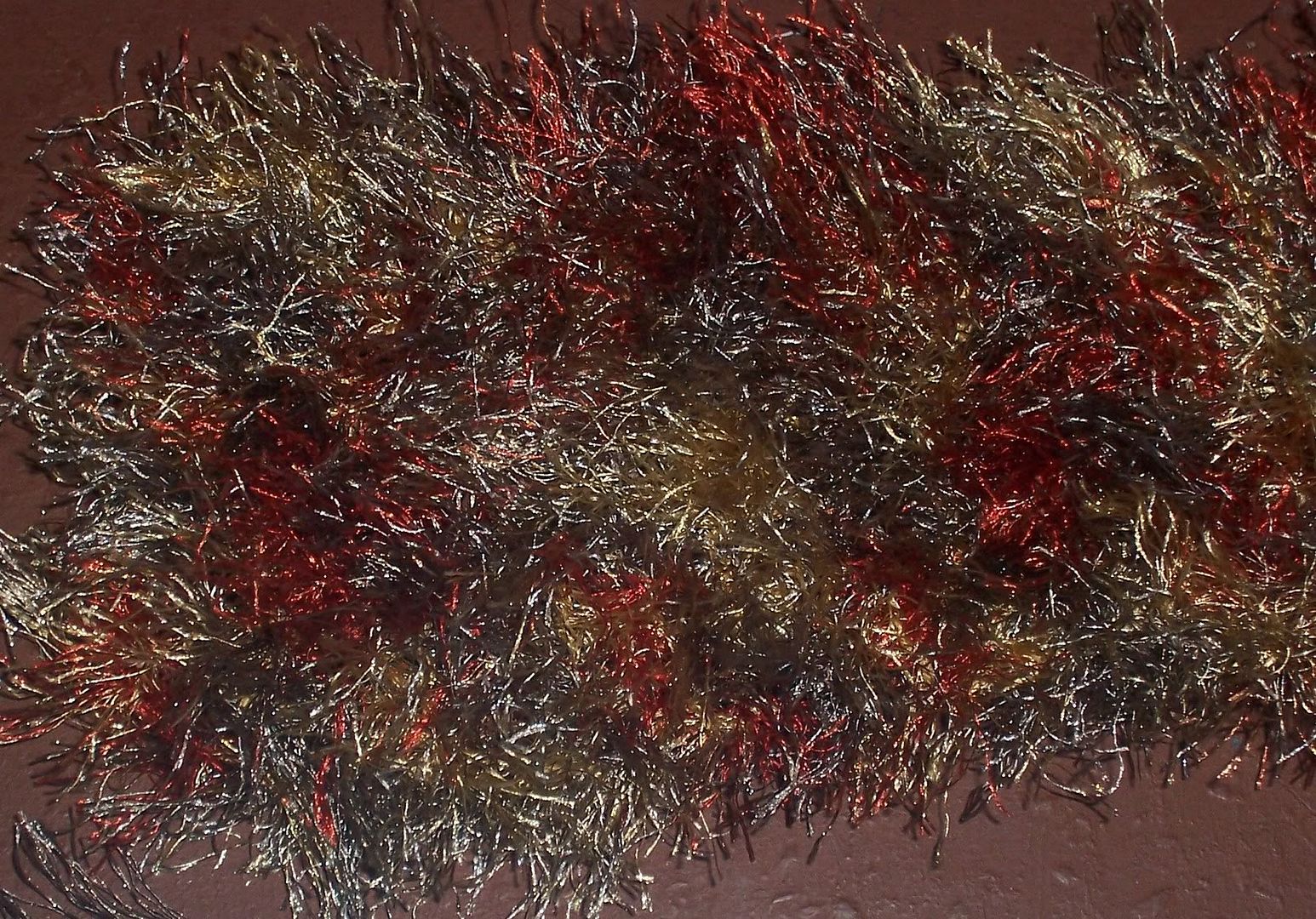 And I also bought some No Boundaries (NoBo) yarn at Walmart last night. It's so soft -- it's white and fuzzy with little pastel nubs of color.
It's acrylic and nylon and very soft. :) $3 a skein -- I thought that was a pretty good price.
And someone sent me two skeins of Yarn Bee Topkapi (sold at Hobby Lobby stores):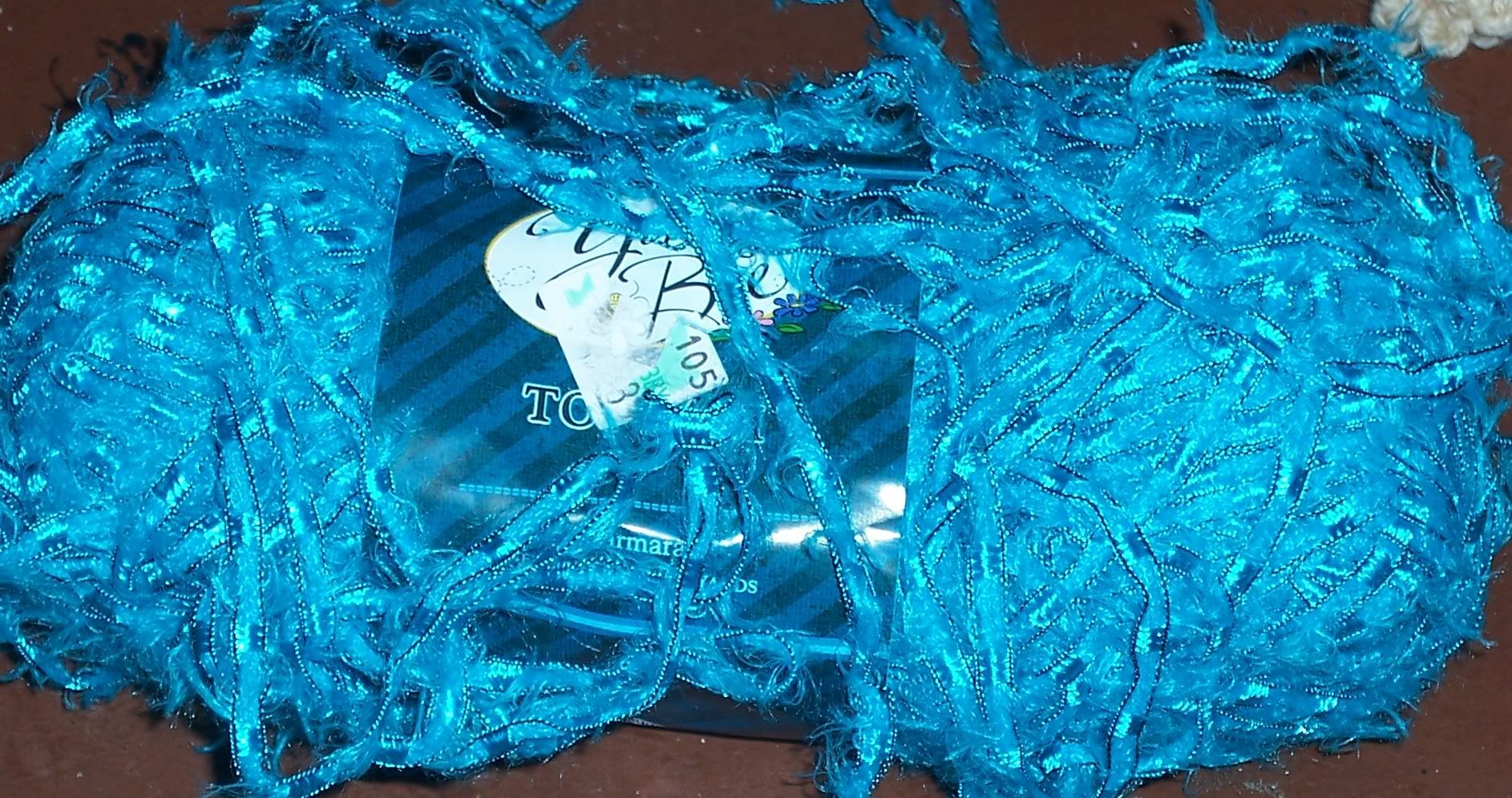 It's like a fuzzy ladder yarn -- very pretty in a bright turquoise. :) Not sure what I'm going to make with it yet -- but I'm sure anxious to try something! :)
And today's
Contest
question:
If you aren't familiar with the CONTEST, check out this earlier post for details. The prize box is worth more than $100! The winner will be chosen on New Year's Day! :)
http://julisjots.blogspot.com/2005/12/celebration-contest.html
Today's
CONTEST QUESTION
:
What is your favorite type of yarn to work with -- type/brand/fiber??? And do you have a favorite sort of project ??
TTFN!! :)